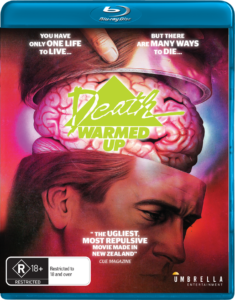 Splatter hounds rejoice because New Zealand's open-brain nightmare Death Warmed Up is now on Blu-ray thanks to Umbrella Entertainment. Directed by schlock-master David Blyth (My Grandpa is a Vampire), this incoherent horror/sci-fi mash-up follows a man set on avenging his horrific treatment at the hands of a crazed scientist, whose experiments involve a barbaric form of hypnosis.
I'll be perfectly honest. I didn't particularly enjoy Death Warmed Up, but that's not to say it's not without merit. Pre-dating the early works of Peter Jackson's Bad Taste and Braindead, staples of the splatter sub-genre, director David Blyth offers up something so nonsensical and relentless that it's hard to ignore. If you're expecting an engaging narrative or gripping story, you won't find one, but if your gore is your jam, then you're in for a real treat! I've never seen brain surgery look so disgustingly realistic with close-up shots of pulsating pink matter falling into the hands of our central antagonist like Jell-O. Our holiday making protagonists are set upon by walking experiments gone foul, led by the maniacal Spider (David Letch), who stalk their victims through abandoned structures and lab complexes, which add to the film's lunacy whilst providing some grisly atmosphere. However, if this is the type of cinematic chaos you crave then I think Death Warmed Up will provide you with your fill and then some.
VIDEO AND AUDIO
Despite presenting a clean image, overall quality does not exceed far beyond standard definition, with a noticeable lack of clarity and sharpness throughout most of the film. Some short sequences are difficult to make out due to excessive noise, which convolutes the picture. However, considering the film's obscurity and the fact it was clearly a very low budget production, much can be forgiven and Umbrella's efforts in delivering a quality product are still evident. Fortunately, sound fares a lot better in both 5.1 & 2.0 DTS-HD MA, enhancing a lot of the audio work from the many gruesome scenes.
SPECIAL FEATURES
Audio commentary with Director David Blyth & Writer Michael Heath
I'LL GET YOU ALL: Interview with actor David Letch
Deleted/Missing scenes with optional audio commentary
Original New Zealand 4:3 VHS cut
Interview featurette with David Blyth and Michael Heat
Theatrical & VHS Trailers
TV Spots
Image Gallery
Umbrella has scrapped together a fine assortment of bonus content, including the exclusive featurette of I'LL GET YOU ALL:  Interview with actor David Letch. Coming in at 26 minutes long, the former poster boy of Death Warmed Up reflects on his experience playing the role of 'Spider' and how the film ushered him into the world of eccentric international fandom. Interviewers with David Blyth and Michael Heat go further into the making-of on top of the audio commentary; and for fans that may be feeling especially nostalgic, the VHS cut is a nice touch without the burden of a troublesome VCR.  Trailers, TV spots and an image gallery serve well as a glimpse into the film's marketing campaign, quite a fascinating contrast to today's digital platforms and online advertising.
Death Warmed Up is quite the literal title with its loose zombified theme of mindless mayhem and carnage. While it's mostly devoid of substance, bodily visuals are obviously the hook for its respective market.
DEATH WARMED UP  
(1984, dir: David Blyth)
★★★
direct blu-ray screen captures
You can follow cinematic randomness on Twitter and Facebook where you'll find all my cinematic exploits. Thank you for visiting!