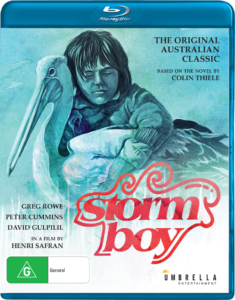 Umbrella Entertainment have brought many obscure Australian films to the home media market, titles that would have otherwise remained unheard of by most. However, their March line-up featured the staple classic Storm Boy, on Blu-ray for the very first time in a release I'm confident will never be matched. Based on Colin Thiele's acclaimed novel, Mike (Greg Rowe), a lonely Australian boy lives on the coast with his reclusive father Tom (Peter Cummins). In search for friendship, he encounters an Aboriginal native and together they form a bond over an orphaned pelican.
I had never seen Storm Boy prior to this release, but I've been familiar with the renowned favourite as far back as I can remember. That almost iconic image of a tired and weary Greg Rowe holding the beloved Mr. Percival was a common sight in school libraries and of course in videos stores on humble VHS, where the film had spent most of its life. Now I understand and appreciate its importance within Australian cinema, especially how it elevated the industry during the New Wave through such powerful storytelling. Mike's curiosity as a child allows him to see the natural beauty of his home and all its inhabitants, far beyond the novelty commonly viewed by those living among civilisation. Yet he yearns for the chance to mix with other his own age despite his father's resistance to formal education. Tom is a man who has clearly become disillusioned with the life he once lead; either by way of heartbreak or just a general disconnect with his peers. It's clear that both father and son share a mutual love for each other, but in many ways, they're opposite sides of a coin so to speak. Fingerbone (David Gulpilil), the lone Aboriginal who Mike encounters, is the film's spiritual guide. His connection to and respect for the land is a subtle means of expressing how the natural world is a life in itself. Violent acts against the environment are shown to have consequences, but they also offer the chance for growth, which comes in the form of the playful Mr. Percival, one of three orphaned pelicans at the hands of careless shooters. While his behaviour and antics humorously border on 'Lassie' territory, Mr. Percival is the film's most enriching element, changing the lives its characters for the better and acting as the connective tissue between child and adult audiences. Pelicans have never been so adorable and show it in such an endearing manner.
VIDEO AND AUDIO
Mastered from a 4K restoration, Storm Boy has never looked better, but in comparison to many of Umbrella's previous HD releases, it does pale slightly, lacking the same level of sharpness. Nevertheless, the improved picture quality does a wonderful job at enhancing Geoff Burton's stunning cinematography, capturing the seaside landscape and its signature colours and textures. Universal playback is optimised with a region free disc in 1.85:1 widescreen, while the sound output is 2.0 DTS-HD MA English, coming in perfectly clear and balanced.
SPECIAL FEATURES
Theatrical & VHS Trailers
Story Makers: Colin Thiele – 1988 documentary on the author of Storm Boy
Blue Fin – Carl Schultz's (Carful, He Might Hear You) 1978 adaptation of Colin Thiele's novel, starring Greg Rowe (Storm Boy), Hardy Kruger (Hatari!) and Hugh Keays-Byrne (Mad Max). Presented in Standard Definition
Wild Reel: Hardy Kruger & Greg Rowe featurette
Hardy Kruger Profile
Theatrical Trailer
Editions that give the viewer a history of the film they've watched are among the best kind, and Umbrella has done just that by compiling some excellent vintage bonus material to say the least. Story Makers: Colin Thiele looks at the source material behind Henri Safran's screen adaptation and highlights the educational qualities and importance of the story. Furthermore, it serves as a nice little slice-of-life of the Australian education system during the mid-70s and how books and films like Storm Boy found a place in the school curriculum. Blue Fin is a full-length feature film generously included, which is of a similar vein to Storm Boy regarding its themes, plus the strong family-friendly vibe. Having not seen it myself since childhood, it scrubs up quite well in standard-def and was well worth revisiting. Remaining content is focused on accomplished German actor, Hardy Kruger, co-star of Blue Fin, who talks about the making of experience Down Under in addition to his career.
Consider your life incomplete until you see Storm Boy, especially if you're Australian. It will change your outlook and hopefully make you appreciate for what's at home. If you have children of your own, this treasured film is a valuable learning tool and should be passed down from generation to generation.
STORM BOY  
(1976, dir: Henri Safran)
★★★★½
direct blu-ray screen captures
You can follow cinematic randomness on Twitter and Facebook where you'll find all my cinematic exploits. Thank you for visiting!