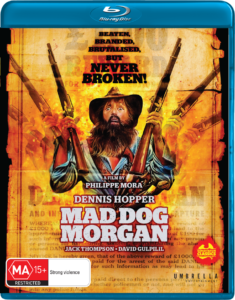 I had my first taste of Philippe Mora's body of work recently in the form of Howling III: The Marsupials, an off-the-wall send up of cheap and nasty B-pictures, but with an Australian flavour. Now I've jumped back eleven years with his more celebrated 'Ozploitation Classic' Mad Dog Morgan, which like Howling III, made its Blu-ray debut under Umbrella Entertainment. Starring the unconventional Dennis Hopper (Easy Rider), this seminal Australian 'western' follows Irish outlaw, Danial Morgan, as he evades capture throughout the rugged Australia landscape during the 1860s.
Set less than one hundred years after the arrival of English settlers, the great southern continent was still very much a group of colonies where law-abiding citizens were the minority. It could be argued that Morgan, one of countless immigrants in search for new opportunities, was a product of his environment. Australia was without its own identity outside of being a racial and tumultuous pressure cooker, fuelled by the lust for wealth brought on by the gold rush. We're introduced to Morgan as a seemingly easy-going fellow, although his fiery temper is quickly made evident. Shortly after witnessing a senseless massacre of Chinese goldfield workers he's a changed man forever, compounded by the brutality of a short, but significant prison sentence. Mad Dog Morgan is essentially a story of rebellion against constant and unlawful persecution. While the editing is very choppy during the initial scenes, the film does eventually settle on course for our eccentric anti-hero, who's runaway ego and reckless behaviour makes him both a likeable and reprehensible figure. Morgan is a chaotic personality in an equally chaotic land, but is able to find some escape and peace through his aboriginal friend, Billy, who is able to connect with and experience more natural beauty beyond man's interference. Dennis Hopper is an absolute madman as Morgan, dancing on the fringes of sanity throughout the entire film. His performance is spontaneous, sincere, and raw as he chews up the scenery, but doesn't overshadow his supporting cast, including Jack Thompson, David Gulpilil and Frank Thring as the sadistic Superintendent Cobham. Philippe Mora's direction doesn't fail in capturing the literal and social wilderness of this infamous story and the level of production value makes it very clear why Mad Dog Morgan helped put Australian Cinema more on the map than previous big-name productions.
VIDEO AND AUDIO
If you're a regular collector of Umbrella releases I'm sure you'll agree that they like to crank up the dial on contrast, which is especially noticeable on this particular disc. However, I wouldn't say it gets in the way of what is another amazing transfer from the Australian-based label, but some restraint could have been exercised. Australia's distinctive colour pallet is more vibrant than ever and in stunning clarity, bringing out the best of what the film has to offer, which does include a few shocking splashes of blood. Presented in 2.35:1 widescreen, the 2.0 DTS-HD Master Audio isn't the richest in terms of quality and impressiveness, but it's clear and balanced nonetheless.
SPECIAL FEATURES
Audio Commentary with Director Philippe Mora and author Jake Wilson
Audio Commentary with Director Philippe Mora
TO SHOOT A MAD DOG: Making Mad Dog Morgan
Extended NOT QUITE HOLLYWOOD interviews
HOPPING MAD: Looking Back on Mad Dog Morgan
Radio interviews with Philippe Mora
MAD COUNTRY: SHOOTING LOCATIONS REVISITED with optional audio commentary
Dennis Hopper interview by Philippe Mora
Trailer
Image Gallery
Philippe Mora is a filmmaker I could listen to all day and with two commentaries and a stack of interviews from the veteran director, there's enough content for hours. HOPPING MAD: Looking Back on Mad Dog Morgan was produced by Umbrella and is the best in terms of a retrospective standpoint and Mora has plenty of amusing and insightful anecdotes. TO SHOOT A MAD DOG: Making Mad Dog Morgan is a brilliant vintage featurette from 1976, taking viewers through the day-to-day production capturing interactions with the cast and crew. Mora's interview with Hopper, which presumably took place in the mid-2000s is another fascinating watch considering how much Hopper had mellowed in his old age, but still speaks fondly of the film and working with Mors. The two shared a very genuine friendship, not to mention a mutual respect for their craft which never diminished over the years.
MAD COUNTRY: SHOOTING  LOCATIONS REVISITED is a stunning featurette that uses drone footage spliced with clips from the film to the reacquaint audiences with many pivotal locations and how they've changed over time. Much like the release of Howling III, I enjoyed the bonus material immensely and it should not be skipped.
Mad Dog Morgan isn't the masterpiece it's often touted as, but Ozploitation at fever pitch and with Simon Sherry's cover art featuring the rifle-wielding protagonist, I recommend making space on your shelf.
MAD DOG MORGAN  
(1976, dir: Philippe Mora)
★★★★
direct blu-ray screen captures
You can follow cinematic randomness on Twitter and Facebook where you'll find all my cinematic exploits. Thank you for visiting!