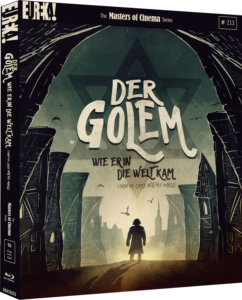 The first time I heard the term "Golem" was in an episode of The Sopranos, when the name was hurled at mob boss, Tony, by a prominent New Jersey rabbi after a business deal between the two had soured. Described as a Frankenstein-like abomination, this imposing figure in Jewish folklore came to life in the German silent classic, Der Golem, which has been awakened by Eureka Entertainment via their splendid Blu-ray release.
Set in 16th century Prague, a rabbi creates a giant creature made of clay, and with the help of sorcery brings the 'Golem' to life to protect the Jewish population from persecution by the ruling class. Der Golem is a surreal experience and journey through a distinctive period of fantasy horror, under the hyper-visual stylings of German expressionism, which fill the screen mostly in the form of abstract-shaped sets. It's easy to see how influential the art pieces were on future filmmakers, Tim Burton is an obvious example, especially if you're watching Beetlejuice. Our titular Golem is a truly bizarre incarnation, mostly in regards to its appearance, retaining much of its clay-sculptured shaped and texture when brought to life, most noticeably his very odd 'hair cut'. While obedient to its master, hints of free will and a darker side become more apparent during his interactions with people, alluding to the ominous otherworldly powers which granted it life. Der Golem is an easy film to follow, which is essentially a 'deal with the devil' scenario that of course backfires on our more heroic characters to come degree. Thrown into the mix is a subplot of forbidden love and the main narrative of unjust treatment towards a faction of society deemed inferior by those in power echo sentiments that would reach its most horrifying height in the not too distant future. However, the film does end on a positive note of peace and harmony among different cultures.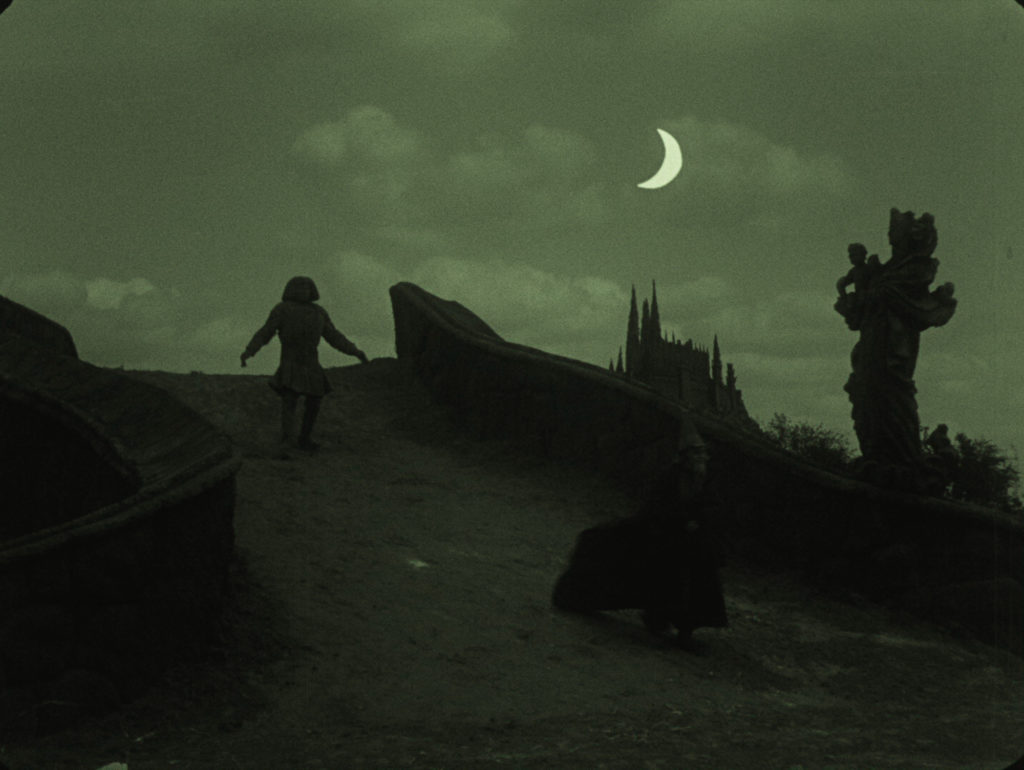 VIDEO AND AUDIO
Presented in 1080p from a stunning 4K digital restoration of the original film negatives that were completed by FWMS (Friedrich Wilhelm Murnau Foundation) in 2017, never has a film so old looked so good. I remember watching Eureka's restored edition of Nosferatu on DVD and thought that it was very impressive for the time, but Der Golem is a feat of film preservation like no other. While not a colour film per se, the range of single colour saturation is broken up nicely and appears very vibrant, featuring blue, green, purple, sepia and a darkened shade of orange. Incredibly clear and sharp, the image itself is amazingly clean for something that been pieced together from various sources, while sound is very much in high definition for all three scores, which greatly compliment the film.
SPECIAL FEATURES
Limited Edition O-Card Slipcase (First 2000 copies).
Original German intertitles with optional English subtitles.
Option of THREE fantastic and unique scores, by composer Stephen Horne; acclaimed electronic music producer Wudec; and musician and film-score composer Admir Shkurtaj.
Brand new and exclusive audio commentary by Scott Harrison.
Brand new and exclusive video essay by critic David Cairns.
Brand new and exclusive video essay by filmmaker Jon Spira (Elstree 1976).
The Golem (60 mins) – The US version of the film, also fully restored, and featuring a score by Cordula Heth.
A video piece highlighting the differences between the domestic and export negatives of the film (22 mins).
PLUS: A collector's booklet featuring new writing on the film by Scott Harrison; and reprints of illustrations from the original 1915 novel.
Eureka Entertainment have not skimped on bonus material, providing a comprehensive history about the Der Golem from filmmakers, critics and historians alike. Plus, there's also the US cut of the film, presented in equally pristine condition. With video and written essays, illustrations and other visual references, you'll likely walk away from the landmark feature as a bonafide expert yourself.
Der Golem remains an effective film to this day with some ambitious special effects that remarkably don't appear all that dated, especially upon first glance. Eureka Entertainment in the UK are offering a Limited Edition O-Card Slipcase (first 200 copies) so get in quick if you want those collector's bragging rights.
DER GOLEM
(1920, dir: Carl Boese & Paul Wegener)
★★★★½
direct blu-ray screen captures
You can follow cinematic randomness on Twitter and Facebook where you'll find all my cinematic exploits. Thank you for visiting!