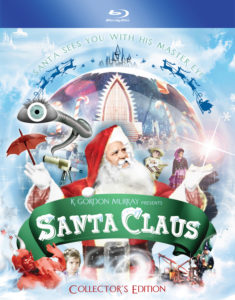 I return to reviewing cult cinema thanks once again to Cinemassacre's James Rolfe, who first made me aware of Mexico's very own Christmas fable Santa Claus way back in 2008. Now that I have a platform of my own, I can now give you my thoughts on this holiday wonderment, which is available via a special collector's edition Blu-ray from VCI Entertainment.
Santa Claus is high above the North Pole in his enchanted floating castle in the clouds, and with Christmas Eve approaching, 'ol Saint Nick has discovered that the Devil's loyal minion, Pitch, is influencing innocent children into misbehaving. I admit there's a lot about this film that warrants criticism and it's certainly one that can be easily viewed ironically, but it is important to note that Santa Claus is well-intended. Among the moments of unintentional body-horror and the sheer bizarre, like the human ear-shaped satellite, the message of Christmas is not lost with some of the film's less fortunate characters wanting only their parents love and time. I watched the original Mexican version of Santa Claus which comes in at 94 minutes, nine minutes longer than the American cut, and in all honesty, the film would have worked fine at an hour's length, which brings me to the main issue. Almost every scene drags considerably, some literally moving at a snail's pace, which is kind of ironic since Santa has only one night to visit every child on Earth. Although to be fair, he manages at least five before the credits rolled, plus he had Pitch to deal with on top of that. I think some snappy editing would have had a significant improvement overall, especially in regards to the films energy, of which there is plenty. Creatively, you can't fault the 'world' that's been created within Santa's realm, not to mention the mechanics of his operation. He even has the help of Merlin the Magician. Who came up with that? Instead of elves, he has children from all over the world making toys for his journey across the globe and there's an emphasis on representing different cultures. José Elías Moreno is very jolly as the titular Santa, an actor who had established himself as a fixture of exploitation cinema from the 50s into the early 70s, whereas professional dancer José Luis Aguirre 'Trotsky' as Pitch gives a very physical and theatrical performance.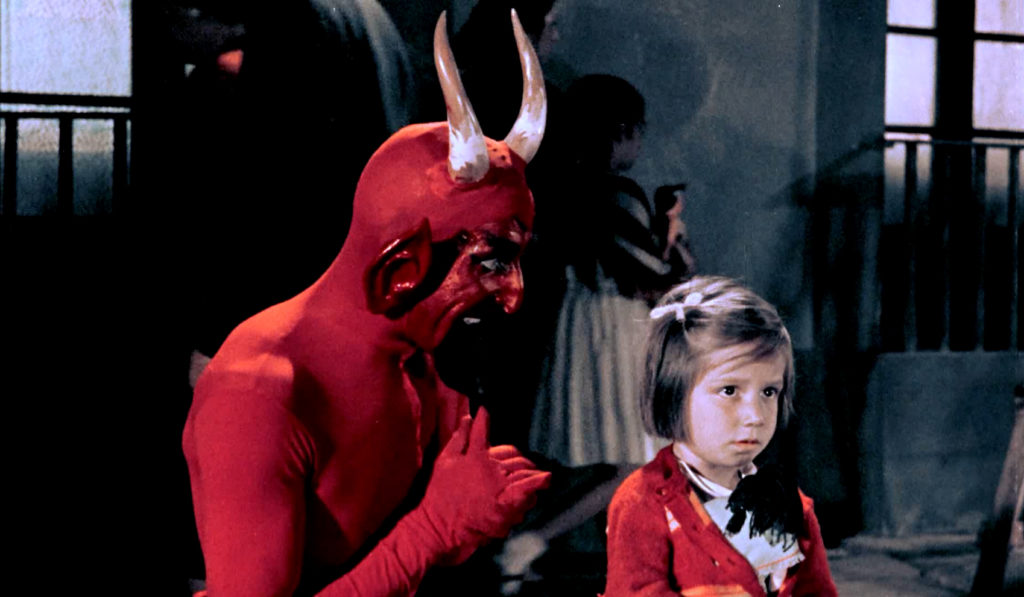 VIDEO AND AUDIO
Santa Claus is awash in the most unusual colour scheme with various shades of grey, blue and red being the most dominant, However, the NTSC HD image is very sharp for a film so obscure and the colours, although limited, are remarkably vibrant. Contrast is a little harsh in places, but general brightness is consistent throughout. Presented in 2.35:1 widescreen, the disc contains two audio tracks, Dolby Digital 2.0 (American Version) & 5.1 (Original Mexican Version) which don't have a lot of depth but are serviceable enough. One glaring issue for non-Spanish speakers are the English subtitles, that appear as plain white text with no letter outline, making them entirely difficult to see at times as they tend to become lost in the image. It's strange that this was overlooked during the disc's production as the flaw is very obvious, but as an overall release, it deserves much praise.
SPECIAL FEATURES
Contains both the American K. Gordon Murray and Original Mexican Versions
Commentary by Daniel Griffith (K. Gordon Murray Historian)
Making of Featurette (Santa Claus Conquers the Devil)
Animated Stills Gallery
Original Santa Claus Theatrical Trailer
TV and Radio Spots
Deleted Scenes
Bonus Santa Claus Novelty Short Subjects
Bonus K. Gordon Murray Trailers
Bonus "A Howdy Doody Christmas" – classic Castle Films Short Subject
VCI Entertainment has put together a release that will never be matched and very much worthy of the label 'Collector's Edition', with an extensive list of bonus material that almost amounts to a 1950s-time capsule. Santa Claus Conquers the Devil is a 14-minute featurette with film historians talking about the film from a cultural perspective and the influence of American holidays traditions. Trailers, TV and radio spots complete the package including an episode of Howdy Doody while snippets from producer K. Gordon Murray's filmography add further behind-the-scenes insight.  
Santa Claus may have achieved its notoriety for all the wrong reasons, but it's far from a train wreck and frankly, I've seen a lot worse. Also available on DVD, there's still time to snap up this cult classic before the big man comes down your chimney. It's an amazing release.
SANTA CLAUS
(1959, dir: Rene Cardona)
★★★½
direct blu-ray screen captures
You can follow cinematic randomness on Twitter and Facebook where you'll find all my cinematic exploits. Thank you for visiting!