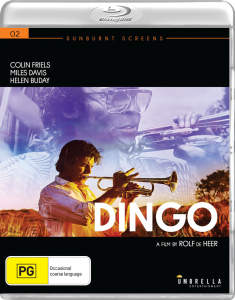 Following the inaugural release of The Last Wave under Umbrella Entertainment's new sub-label, Sunburnt Screens, another obscure classic has finally been given an HD treatment. Rolf de Heer's Dingo hit shelves in January; an endearing drama about an average resident of the Western Australian outback, John Anderson (Colin Friels), who sets out to meet his idol, Jazz trumpeter Billy Cross (Miles Davis) after a chance encounter many years earlier.
In an opening scene that I think is best described as transcendent, the outback community of Poona Flats are briefly visited by Cross and his band of fellow jazz musicians; an encounter that feels almost alien given the contrast between the two walks of life. Not surprisingly, most of the locals don't seem particularly interested, probably because it's interfering with their drinking, but young John's life is changing before his eyes.
Fast-forwarding to the present day, John, who now makes a modest living as a dingo trapper, has since taken up the trumpet, emulating his idol, and has become a talented player while incorporating the sounds of his environment into the music. Dingo doesn't tell an original story in terms of narrative and its core idea, but de Heer does a wonderful job in making this piece unique to Australia, specifically common life in the Outback. John's dreams and aspirations extend far beyond his home, which can't begin to accommodate them. Friels with all his energy and personality does a great job in playing up the larrikin personality of John, while emphasizing the burning desire that stirs deep inside the character. Helen Buday plays his wife Jane, who supports her husband's musical ambitions, but takes a more level headed view of their situation; the main factor that has kept John grounded. Buday looks the part and really goes toe-to-toe with Friels in regards to performance. Having not seen her in anything other than Mad Max Beyond Thunderdome, I was genuinely impressed.
Miles Davis, in his first and last film role, is presented as somewhat of a "helpful hand" that isn't looked upon fondly in retrospect. However, in the case of Dingo, de Heer's intentions for the subtle mystical quality surrounding the jazz legend are justified, as it doesn't dictate too much of John's journey. Davis, who is essentially playing a fictional version of himself turns in a very natural performance as he more or less guides us through the film's second half which takes place in Paris.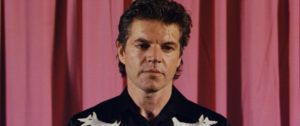 VIDEO AND AUDIO
Typical of many Australian films that are restored by Umbrella, the 2.35:1 presentation of Dingo has a very warm hue, especially during the Outback scenes where every character is rockin' a healthy tan. I dare say this release will stand as the most literal definition of Sunburnt Screens. The image on this debut Blu-ray comes from a 4K restoration supervised by Rolf de Heer, which gives a whole new level of clarity and detail, enriching the viewing experience for old fans and a new audience. I would personally rank it as one of Umbrella's best efforts to date. Dual DTS-HD tracks give the film's music an almost live quality, sounding remarkably clear, while dialogue and effects are both robust in volume and audible clarity. If you have the means, go with 5.1 over 2.0. You'll be more than amazed. English subtitles are included.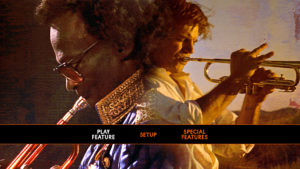 SPECIAL FEATURES
Interview director Rolf de Heer
Interview with lead actress Helen Buday
Rushes Reel: The Desert Runway with audio commentary by Rolf de Heer
Theatrical Trailers: Dingo – The Tracker – Bad Boy Bubby
Despite the social restrictions placed on us by COVID, we're treated to a couple of fresh interviews with director Rolf de Heer and actress Helen Buday via video chat, conducted by Paul Harris, host of "Film Buffs Forecast". de Heer gives a candid behind-the-scenes account of Dingo, most interestingly how the film lost all its momentum following the sudden passing of Miles Davis, plus not being listed among the eligible films for the forthcoming Academy Awards, despite unanimous praise from critics. Helen Buday speaks more broadly about being in Dingo and her career as an actress, although the interview is a little frustrating as Harris tends to jump from one question to another before Buday has a chance to answer. The very raw quality of the Rushes Reel is a nice bonus and comes from a very high-quality scan of the original film with all its tiny imperfections.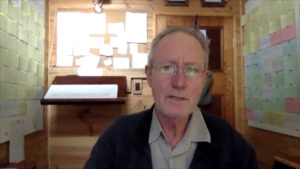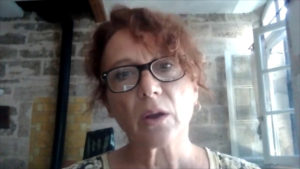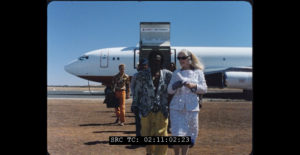 Dingo has unfortunately spent most of the past thirty years in the category of the lesser-known, but I'm very confident this new release will result in a prompt rediscovery, and what's more, its placement among Sunburnt Screens makes the film additionally enticing.
DINGO  
(1991, director: Rolf de Heer)
★★★★½
You can follow cinematic randomness on Twitter and Facebook where you'll find all my cinematic exploits. Thank you for visiting!