At age nineteen, a rock 'n' roll hopeful named Eddie Cochran, entered Gold Star Recording Studios in Hollywood, California on March 28, 1958, where he proclaimed through song that there ain't no cure for the summertime blues.  However, he failed to consider time travel, which proves to be both an adventure and paradox during the blistering heat for a group of university students in the Japanese sci-fi comedy, Summer Time Machine Blues – one of three debut titles released this past August under new Australia label, Chameleon Films, dedicated to Asian cinema.
When the remote to their air conditioner becomes accidentally drenched in Coca-Cola, the members of a small 'Sci-Fi Club' seek a replacement when a time machine suddenly appears in their clubhouse along with a mysterious visitor. With the help of a frustrated physics professor, our gang and two female members of an adjoining photo club, become entangled in the space-time continuum as impatience, distraction and fooling around, leads to jumping back and forth.
Based on the play of the same name, Summer Time Machine Blues is a fun-spirited feature with a lot of obvious affection towards Back to the Future, and while there are some subtle parallels to the beloved classic, Makoto Ueda's screenplay is nicely confined to a small group of lively characters. I watched this movie on a particularly hot day, and I have to say that not since Do the Right Thing has the depiction of blistering heat felt so palpable, yet it's a strangely satisfying feeling, almost bringing you within close proximity of what's happening on the screen; or a fourth dimension in you like. I'm not going to lie, there is an element of confusion to the plot, as you would expect, dealing with time travel. Still, you're just as confused as the characters, adding to the fun of following their little quantum adventure, which lands on a question with seemingly no answer.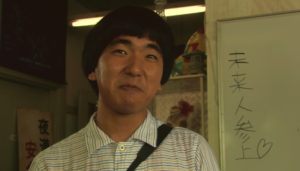 Japanese comedy is very reactionary and animated, which may strike western viewers as odd, but you quickly adapt to the film's heightened nature, yet I think audiences with get a kick out of the mid-2000s vibe that's very recognisable. Our ensemble cast, all give terrific performances, which have a very theatrical quality, exhibiting a lot of energy; culminating to what is on overall an entertaining and inoffensive comedy.
VIDEO AND AUDIO
Summer Time Machine Blues has been licensed from Pony Canyon, which provided the HD master, also used in the UK release by Third Windows Films. Presented in 1.78:1 the array of colures not only show up beautifully on modern LED screens but match the vividness of the Blu-ray cover design, although a light yellow/orange hue has been applied to accentuate the summer heat, evident in the screen captures you'll find below. Japanese DTS-MA 5.1 & LPCM 2.0 are both quality tracks, but for the sci-fi experience, take advantage of the surround soundtrack if you're able.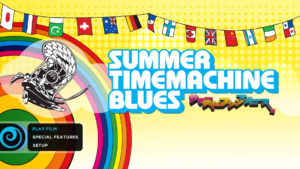 SPECIAL FEATURES
Limited first-pressing collector's booklet featuring a new essay by film writer Hayley Scanlon
Original audio commentary by director Katsuyuki Motohiro & writer Makoto Ueda with newly translated English subtitles
New interview with writer Makoto Ueda (21 mins)
Teaser (Archival)
Theatrical Trailer (Archival)
Chameleon provides a variety of different supplements for this release in the form of an audio commentary, video interview, and a booklet essay; all of which wonderfully complement and provide insights on our feature presentation. While the commentary comes ported from a previous release, it will no doubt be new listening material for English speakers thanks to its recently translated subtitles. Katsuyuki Motohiro and Makoto Ueda have a friendly and laid-back discussion all the while giving background on how certain scenes and scenarios were established in ways respective to their fields. The video interview with Ueda, which runs for around 18 minutes, goes further into the screenwriter's personal and professional history, thus giving context for the inception of Summer Time Machine Blues. Aesthetically coded to the packaging, the 16-page booklet featuring an essay by Japanese cinema specialist Hayley Scanlon is the perfect finishing touch for this release. Not only does the article analyse themes and various key scenes present in the film, but also gives background on the director's previous work, and references similarly themed movies (which is helpful for Western viewers). – by Hannah Lynch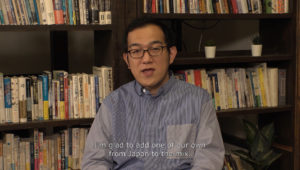 Summer Time Machine Blues is currently on sale for $28 online at Chameleon Films with other titles Breaking News and Exiled both listed at $34.95, or you can buy the bundle for $94.95.
SUMMER TIME MACHINE BLUES   
(2005, director: Katsuyuki Motohiro)
★★★★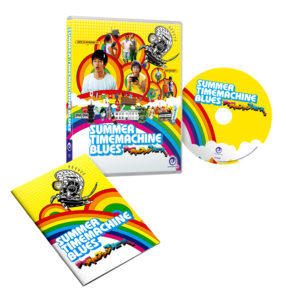 direct blu-ray screen captures
You can follow cinematic randomness on Twitter and Facebook where you'll find all my cinematic exploits. Thank you for visiting!