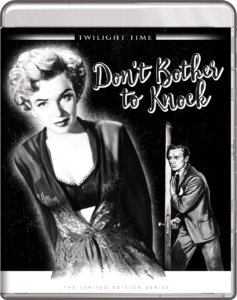 Currently available on Blu-ray through the pristinely modest Twilight Time Movies, Don't Bother to Knock is a touching noir-drama set inside a swanky New York City hotel; a black & white classic ahead of its time regarding the portrayal of mental illness. Starring established leading man Richard Widmark, Marilyn Monroe and Anne Bancroft, a commercial pilot is on the rebound after being dumped his girlfriend. He pursues a babysitter in the hotel room opposite his own but soon realises she's dangerously unwell.
Don't Bother to Knock was somewhat of a milestone film that gave Marilyn Monroe her first leading role and introduced film audiences to newcomer Anne Bancroft. Needless to say, the film boasts a very attractive cast among its three featured players. Directed by British filmmaker Roy Ward Baker, a name very familiar to fans of Hammer Horror, his intimate focus on the social hive of a busy high-rise hotel is very compelling. Richard Widmark as the charismatic Jed Towers (of course that's his name) is suffering from a lack of empathy and compassion for his fellow man, bluntly pointed out by his frustrated girlfriend and lounge singer Lyn Lesley (Anne Bancroft). Not willing to accept this flaw in his personality, Jed seeks the company of the emotionally distance Nell Forbes, the niece of elevator operator Eddie, played by the unmistakable Elisha Cook Jr. Eddie has arranged for Nell to babysit the young daughter of a wealthy couple and while all seems well enough, Nell is clearly in a very fragile state, barely keeping it together and Jed's prompt entrance onto the scene sends her spiralling. I love the classy mood and aesthetic of Don't Bother to Knock; it's a rather dramatic shift from light and in some capacity, frivolous drama to something deadly serious, serves a tremendous hook for the viewer. Monroe's performance as Nell very much proves her capability as a dramatic actress, despite the common and unflattering perception that later grew around her. Initially, Widmark isn't particularly likeable as sulky Jed, but the growth of his character to someone with a heart and genuine concern for those in peril is a testament to Daniel Taradash's screenplay and ol' Widdy's impressive skill as a performer. Anne Bancroft spends much of film providing a loose and impromptu soundtrack, but her presence has value as the voice of love and understanding.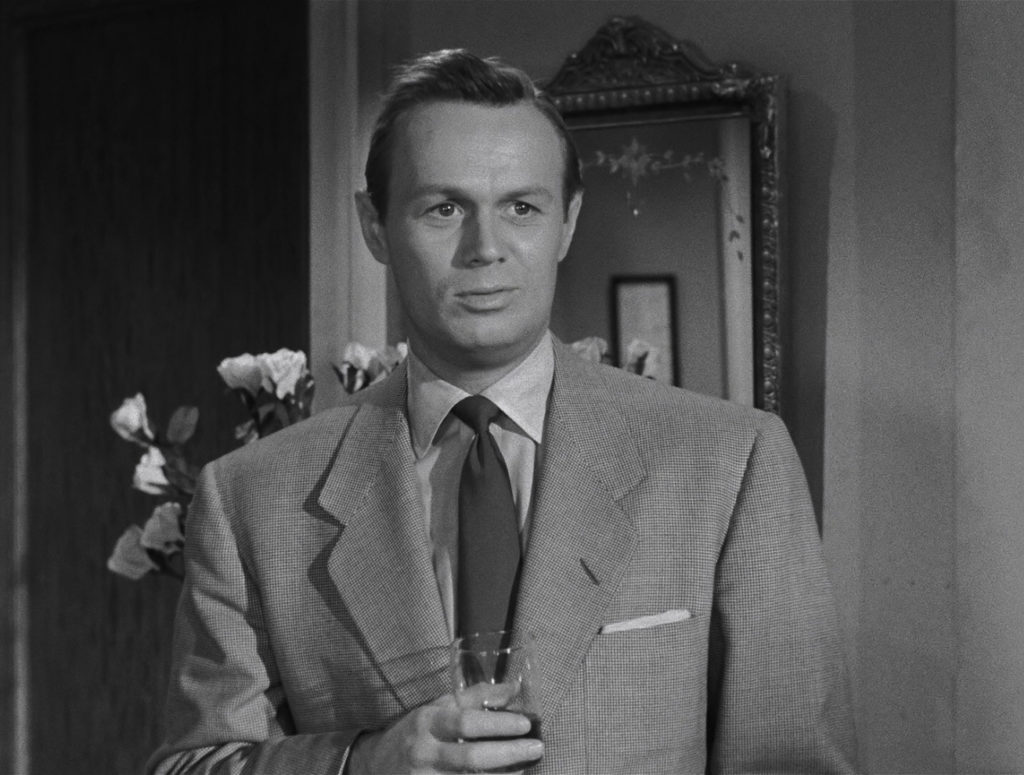 VIDEO AND AUDIO
Presented in 1.33:1 1080p, this region-free disc is a shining example of a perfected black and white transfer in high definition, with an ambient glow, film grain, and crystal clear picture clarity that will give you a newfound appreciation of the industry. Sound is in the usual 1.0 DTS-HD Master Audio and sounds impressive for a film of its age; solid in volume and well-balances. English subtitles are also included.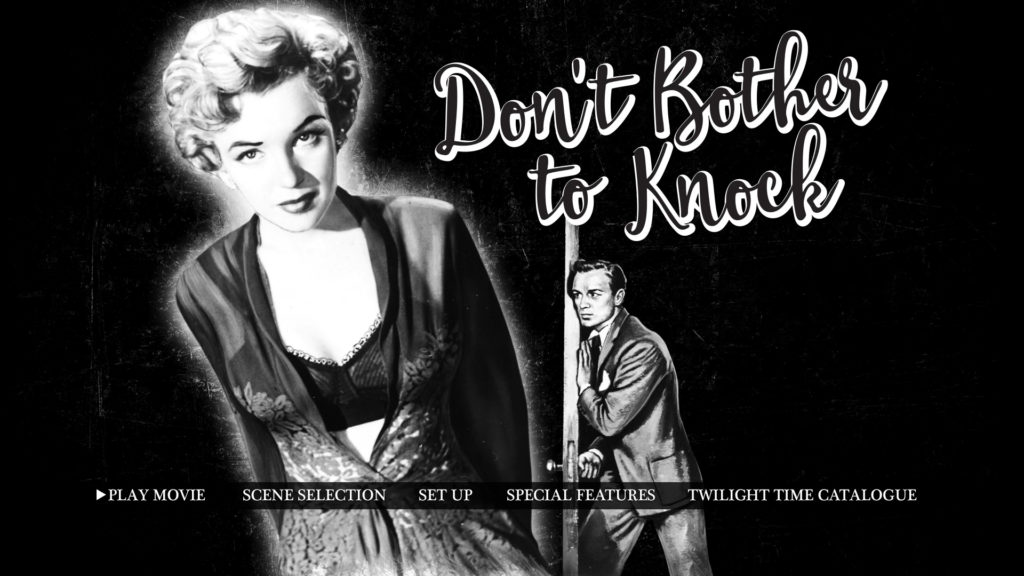 SPECIAL FEATURES
Isolated Music Track
Marilyn Munroe: The Mortal Goddess and Richard Widmark: Strength of Character, both as seen on Biography on the A&E Network.
Original Theatrical Trailer
6 Page Booklet
While usually light on bonus content, Twilight Time has appropriately sourced two 45-minutes specials from Biography, which both serve as beautiful tributes to two of cinema's brightest stars. Cover design paints a nice picture of what's in store for the viewers, while previous releases have been very vague: showing only Monroe in a seductive pose, and not as her character in the film. Inside the 6-page booklet are some nice production stills from the film which nicely complement the always educational writings of Julie Kirgo.
Often the world can be a cold place, but Don't Bother to Knock is a film that shows how far the kindness of strangers can go in helping someone all but lost in their own past trauma. Simple gestures of compassion and warmth can offset the torment of mental illness, the symptoms of which are presented accurately here, rather than in an exploitative manner.
DON'T BOTHER TO KNOCK
(1952, dir: Roy Ward Backer)
★★★★½
direct blu-ray screen captures
You can follow cinematic randomness on Twitter and Facebook where you'll find all my cinematic exploits. Thank you for visiting!