Umbrella Entertainment launched a modest new series late last year to champion the old-timey action flicks in their library, Combat Classics – War Stories on Film, beginning with Destroyer, starring Edward G. Robinson, Glenn Ford and Marguerite Chapman. Produced by Columbia Pictures during World War II, this naval adventure follows shipyard worker, Steve Boleslavski (Robinson), who re-enlists in the U.S. Navy to serve aboard the S.S. John Paul Jones II, the destroyer he helped build. Appointed as the ship's Petty Officer, Boleslavski quickly alienates himself from the crew by micromanaging, but after more setbacks, the war eventually catches up with the underperforming destroyer.
I imagine that Destroyer would have been broadcast regularly on networks like TCM over quiet weekends for members of the older generations, and it probably still does in some capacity. Finding the film on a physical format, however, has been a different story, which could be due to numerous reasons. Destroyer is a morale booster for the troops serving in combat at the time of its release, especially since 1943 was such a pivotal year in the Pacific for the Allied forces, who had finally managed to turn the tide on the Japanese. It's a well-made film for the time, with great use of archive footage that shows the ship's construction and its impressive firepower while at sea. Miniatures are used during the film's final act and blend in well with the night time setting, particularly a Japanese submarine. Story-wise, the film is very light for most of the 99-minute runtime with Robison acting overly stubborn as the veteran officer, who is clearly out of step with many of the modern practices. His young rival Mickey Donohue (Glenn Ford) seems more interested in Boleslavski's daughter (Marguerite Chapman), who he wins over with ease, because it's 1940s cinema. Our trio has a good dynamic, while Robinson and Ford play off each other well as screen veteran and rising star; with numerous supporting players helping the audience grow attached with the titular vessel.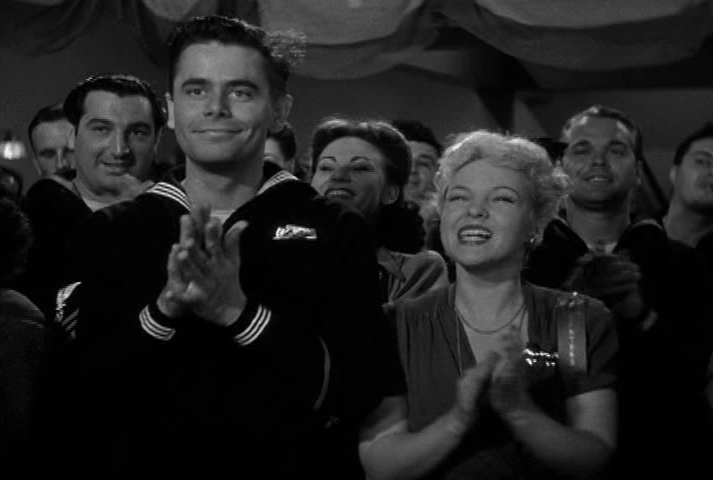 VIDEO AND AUDIO
I first have to point out that the film's aspect ratio of 1.33:1 appears to be wrong, or it's the shape of Edward G. Robinson's head which is throwing me off. Although, according to IMDb the film is presented in 1.37:1, and the region 4 disc's slight horizontal stretching is noticeable. I wouldn't say this discrepancy is overtly distracting, but I know many physical media enthusiasts would consider it a capital offence. However, I suspect Umbrella is not at fault as they were likely supplied the film in its current state and it probably wasn't viable to make the correction. Considering the rarity of this studio classic, the NTSC formatted image is pretty decent with no visible damage, but it is very bright. I feel a restoration would go a long way in giving the picture more balance and clarity, even on DVD. Sound is presented in 2.0 Dolby Mono, which is nothing amazing; it's a little patchy at times, but overall clear and audible.
Destroyer really shows off the versatility of the warship and why it's remained the most practical in modern naval warfare to this day alongside the mighty aircraft carrier. As a film, it served its nation well and holds up as an entertaining look at war-time Hollywood.
DESTROYER
(1943, dir: William A. Seiter)
★★★½
direct dvd screen captures
You can follow cinematic randomness on Twitter and Facebook where you'll find all my cinematic exploits. Thank you for visiting!