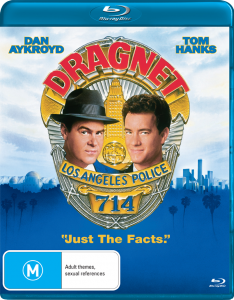 Accompanying the Blu-ray release of The Great Outdoors from Shock Entertainment is the slightly more obscure Dragnet, a comedic parody on the classic TV show of the same name, which ran from 1951-1959 and 1967-1970 respectively. Dan Aykroyd is the by-the-book and equally straight-laced nephew of Joe Friday, who together with his laid back partner Pep Streetbek (Tom Hanks) must solve a mystery which blatantly attacks moral decency.
Sadly, Dragnet doesn't have a whole lot of fans, but I've been a proud follower since I received it in a rare Tom Hanks VHS boxset for my 16th birthday, which I enjoyed watching endlessly on modest 34cm TV. If you've happened to catch the TV show, then you know it takes only a minute or so to get the gist of its straight-laced atmosphere, and the same applies for the film. However, the deadpan seriousness only extends to Detective Friday as the plot takes viewers on spontaneous journey of gags and hilarious encounters with the City of Angels' most colourfully odd characters. Christopher Plummer is rather camp as the main perpetrator Reverend Whirley, who heads an audacious scheme to exploit social decline, under the guise of a "radical" cult. It's rather inconsequential, but succeeds in getting plenty of laughs from the film's law enforcement duo. Dan Aykroyd, a great admirer of the show's writer and star Jack Webb, doesn't miss a beat in his performance as Friday, often spouting technical jargon in the same manner as his small screen predecessor. You may have even noticed this trait in some of Aykroyd's other films, such as Ghostbusters and The Blues Brothers. Not to be outshone, Tom Hanks flexes his comedic chops as the wise-cracking Streebek with easy and on-point timing, just shy of his leap into superstardom with Big.
VIDEO AND AUDIO
While there's no wow-factor to speak of with this particular transfer, both picture and sound are clear, although colouring isn't particularly strong. Overall, both more than qualify as high definition and the disc comes presented in my favourite aspect ratio of 16:9 (1.77.1), region B encoded.
Dragnet is for all intents and purposes a fun movie, that sits a little off centre to other titles starring it two leads. Poking fun of conformative and serious attitudes of the 1950s, it's easy viewing with a lasting quality.
Note: Dragnet is also available on DVD from Shock Entertainment.
DRAGNET
(1987, dir: Tom Mankiewicz)
★★★½
You can follow cinematic randomness on Twitter and Facebook where you'll find all my cinematic exploits. Thank you for visiting!