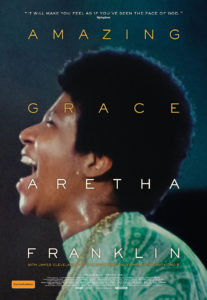 Coincidentally, the sign that beckoned me away from afternoon gridlock was Grace Street, which gave welcome passage to cheap parking behind Lido Cinemas, where I had come to see Amazing Grace. Over forty-five years in the making, this documentary feature presents Aretha Franklin singing gospel, the music of her youth, with a choir at the New Bethel Baptist Church in Los Angeles, 1972.        
With only a few brief sentences of on-screen text for context, Amazing Grace is a moving polaroid of divine worship through song, comprising of mostly raw unedited footage, originally intended for release in 1972 under Warner Bros. However, due to technical difficulties in syncing audio with the visual footage, the film was placed in the studio's vault until 2007 when producer Alan Elliot took the reins from original director Sydney Pollack, who sadly passed away in 2008. Despite finalising an 87-minute cut of the film in 2011, legal disputes with Franklin prevented the release until permission was finally granted by the singer's estate after her death in 2018. Pollack, much to his credit, captures the most incredible candid footage of the eventful church service, filled with unbridled emotion and energy from those in attendance and the 'Queen of Soul' herself. It serves as an excellent time capsule of a moment that proves inclusive for audiences both in the film and in cinemas. L.A.'s blistering heart, compounded by studio lights, is evident as our performers endure without complaint, empowered by the crowd and joy that derived from song. Given the celebratory and devoted nature of the film, one can't help but feel the influence of a higher power or force sweeping over gospel renditions, which carry a rhythm and style hip to the times. Visually, the footage is in great condition and the image itself is rich with grain against low colour saturation, adding to the experience, while the sound is on another level entirely.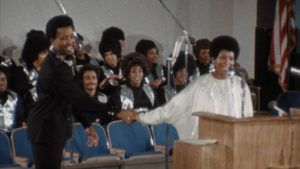 Amazing Grace is currently in limited theatrical release in Australia through StudioCanal and is well-worth travelling the extra distance to see even if the music isn't to your taste. It's a powerful piece of filmmaking regardless, one that captures the heart and soul of a community.
AMAZING GRACE
(2018, dir: Alan Elliott & Sydney Pollack)
★★★★
production stills courtesy of StudioCanal 
You can follow cinematic randomness on Twitter and Facebook where you'll find all my cinematic exploits. Thank you for visiting!