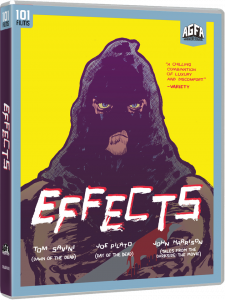 As part of an ongoing partnership with the American Genre Film Archive, the UK based label 101 Films will be bringing a slate of obscure titles to Blu-ray disc for the Region B market throughout 2022. The first is a little film simply named, Effects which, for a long time had all but disappeared due to a botched distribution during its theatrical released.
Created by George A. Romero alumni, a group of Pittsburgh filmmakers combine their passion and what little money they have to a make semi-meta piece about the filming of a slasher, that slowly intrudes on the reality of its cinematographer Dominic, played by Joseph Pilato.
With the cast mostly playing themselves, especially Tom Savini, who portrays a very clownish actor for hire, there is a very genuine quality to Effects that supersedes the lack of experience by its creators. You can sense the eagerness and enthusiasm of the young filmmakers and players who just want to apply their trade above all else. Conversations between our characters at times diverge into a philosophical discussion on horror itself, and the merits it has as a genre in addition to moral questions raised by snuff filmmaking, the notion at the very centre of the film's plot.
Watching Effects often feels like you're sitting through an on-location workshop on DIY filmmaking: from the mechanics behind blood spurting out of prosthetic limbs to basic filming techniques. However, this aspect doesn't get in the way of intended horror, which leans into the meta quality mentioned above and manages quite well in keeping the viewers questioning what's real or not.
Performances from the cast come across as quite genuine, probably due largely in part to the film's subject matter and topic. Joseph Pilato is very grounded as Dominic and his bond with co-star Susan Chapek as love interest, Celeste, feels natural. John Harrison as director Lacey Bickel clearly embraces the role, adding a dark and ambiguous side to the character. Harrison in real life has had an impressive directorial career, having most recently been at the helm of Shudder's Creepshow series.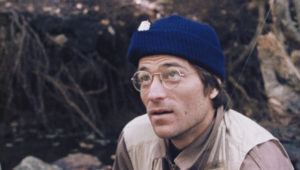 VIDEO AND AUDIO
Teetering on the edge of being lost forever, a "4K scan from the only 35mm theatrical print in existence" has preserved this semi-underground classic in its rawest form. While clarity and detail often vary throughout, I'd much rather watch the film without as it is, compared to an overly polished restoration that can often take away from the film's desired effect. I can't confirm details on the audio track, but I'll make an educated guess and say 2.0 Mono LCPM. Nevertheless, it's loud and very clear all things considered.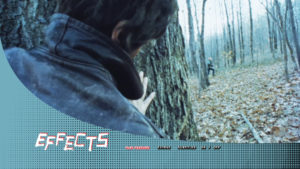 SPECIAL FEATURES
4K scan from the only 35mm theatrical print in existence!
Archival commentary track with John Harrison, Dusty Nelson, and Pasquale Buba
UBU short film
BEASTIE short film
AFTER EFFECTS documentary with optional commentary track
Liner notes by Joseph A. Ziemba of AGFA and Bleeding Skull!
Effects' special features come ported from the previously released U.S Blu-ray and include an hour-long making-of retrospective documentary produced in 2004. The sit-down includes all the film's major players who worked in front and behind the camera, some of whom sadly have passed on. Despite its age, the retrospective is an interesting look back at the Pittsburgh movie scene in the 1970s and covers the entire movie's production and troubled release. Also included are two short films from the creators of Effects, which are featured in the aforementioned documentary. – by Hannah Lynch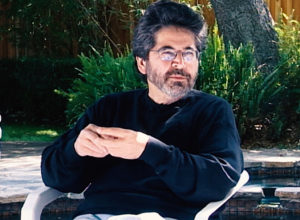 Prior to the release of this Blu-ray, I attempted to watch Effects online, but was undone by a mysterious streaming glitch that I think will forever remain a mystery, but as fate would have it, 101's edition came as a blessing, giving the film the release it truly deserves.
EFFECTS
(1980, director: Dusty Nelson)
★★★★
direct blu-ray screen captures
You can follow cinematic randomness on Twitter and Facebook where you'll find all my cinematic exploits. Thank you for visiting!