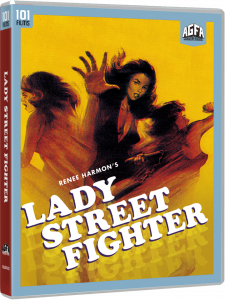 101 have been given the keys to the vault over at the American Genre Film Archive, a treasure-trove of B pictures, some of which venture further down the alphabet scale, like Lady Street Fighter, which was shot in 1975 but not seen by the public until 1981. Now forty years down the road, the dedicated UK label has bought this sleazy cult classic to Blu-ray for region B audiences.
When a middle-aged female assassin touches down in Los Angeles, she goes on the hunt to track down the mobster who murdered her sister, but becomes caught in a web of corruption and criminal activity involving a flamboyant pimp and a helpful FBI agent …there's also an orgy for good measure.
Inspired by spy thrillers and soft-core pornos, Lady Street Fighter is clearly preoccupied with the latter as our Eastern European lead, Linda Allen, played by Renee Harmon, brings an exotic flavour to just about every scene between the very telegraphed fighter sequences. I guess it depends on one's definition of "sexy", but to the film's credit, there's a wildly disorienting quality that culminates with the aforementioned orgy, which you won't forget any time soon.
In regard to the plot, it's not very well-defined, but it does take the viewer through a very 70s street-level tour of Los Angeles and a very fashionable one at that. It's a little hard to follow at times with the constant digressions to "sexy things", but it more or less flows with the focus remaining on the film protagonist. Harmon does deserve praise for her physical performance, despite her lack of acting ability; and I think despite the glaring flaws, those in front and behind the camera probably had a fun time making this "extra" feature film, to use Urban Dictionary's definition.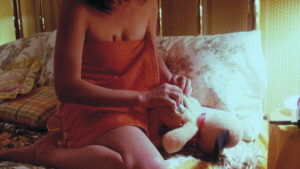 VIDEO AND AUDIO
Scanned in 2K from the only surviving 35mm theatrical print, this very raw 1.78:1 presentation retains a grindhouse appearance with every piece of dirt, speck of dust and strand of hair visible over our cast of players. Colour is very strong although it leans toward that warm signature 70s hue, much like an old photograph. There's no official listing on what audio track is on the disc, but it's loud AF, put it that way.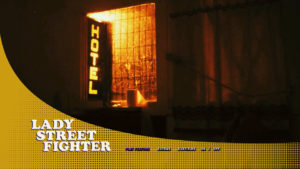 SPECIAL FEATURES
Commentary track with director James Bryan and the AGFA team
Street fightin' trailers from the AGFA vaults
Bonus movie: REVENGE OF LADY STREET FIGHTER, the unreleased sequel to LADY STREET FIGHTER, scanned in 2K from the original 35mm camera negative
Liner notes by Annie Choi of Bleeding Skull
101's special features for Lady Street Fighter come ported from the previous U.S Blu-ray. Fans and opponents of the film alike would greatly benefit from watching the commentary with director James Bryan as his, along with his interviewer from AGFA's, enthusiasm is very infectious. Filled with amusing anecdotes, many concerning the movie's star Renee Harmon, the commentary is also very informative and offers insight into micro-budget filmmaking from the time period. However, even the most adoring fan of Lady Street Fighter may want to take a break before checking out the disc's other major special feature, its sequel, The Revenge of Lady Street Fighter (1990). This is because the much-awaited follow-up is essentially a re-cut of the original feature, with about 10-15 minutes of new footage bookending the narrative and placed at strange intervals throughout. I would explain more of the sequel's plot, but it was, even more, confusing the first film—although, it's worth pointing out that James Bryan went through the effort to make the costumes and hairstyles look '70s appropriate.  – by Hannah Lynch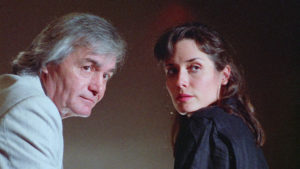 I quote the motto of my favourite podcast, We Hate Movies, when I say that "it's okay to like a movie" – whether it be objectively good or bad. Lady Street Fighter wasn't my cup of tea nor stick of celery, but it was very far from dull.
LADY STREET FIGHTER
(1981, director: James Bryan)
★★★
direct blu-ray screen captures
You can follow cinematic randomness on Twitter and Facebook where you'll find all my cinematic exploits. Thank you for visiting!