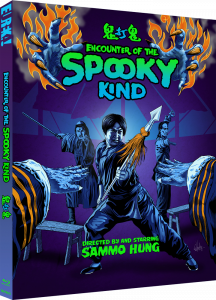 To say I have never heard of Sammo Hung will probably come as a shock to many, but I've just been given a crash course on who is undeniably Hong Kong's most prolific actors and directors. Hung's wacky cult classic, Encounter of the Spooky Kind, is now available on Blu-ray in the United Kingdom under Eureka Entertainment's highly collectible 'Masters of Cinema' series.
Bold Cheung (Hung), a rather modest individual known for his braveness has become a marked man by his boss, Master Tam, who's been having it off with Cheung's wife. Tam has a wizard dispatch Cheung, but the wizard's understudy comes to the aid of our hero and subsequent war of sorcery ensues.
Encounter of the Spooky Kind is regarded as one of Hong Kong's first horror-comedies, and as you would expect the humour is rampant throughout, which is integrated with the film's wild use of martial arts. The result is a hybrid form of slapstick that would probably kill or badly injure most untrained performers, but our unconventional protagonist with his solid build is impressive to say the least. His antics help establish a tone of high energy and silliness that peaks during each magical duel between our opposing wizards with Cheung caught in the middle having to fend off an assortment of supernatural incarnations.
While the time period isn't specified, the village setting seems to encompass traditional sensibilities that revolve around folklore and superstition, which is often the basis of Hong Kong genre cinema. Although, if this brand of filmmaking is uncharted territory for some of you, there is a sense of familiarity in how the various monsters are portrayed, in particular the vampire, who apart from the hopping is more or less the type of bloodsucker we all recognize.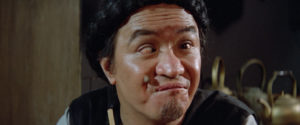 VIDEO AND AUDIO
Eureka has a worldwide debut under their belt in the form of a 1080p presentation from a brand new 2K restoration, and it certainly shows. Improved colour on the 2.39:1 image gives the very animated film more life and there's a nice film grain texture from the new scan, which is free of any visible damage. Cantonese audio tracks are presented in DTS-HD 2.0, both of which sound great and help to provide an authentic theatrical experience for the home viewer, while the superior 5.1 English dub has a noticeable richness, but naturally sounds very strange in contrast to the original language spoken by the actors.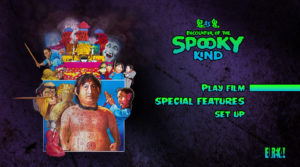 SPECIAL FEATURES
Limited Edition O-Card slipcase featuring new artwork by Darren Wheeling (2000 copies)
Limited Edition reversible poster featuring the film's original HK artwork (2000 copies)
Cantonese audio (original mono presentation)
Rare alternate Cantonese soundtrack
Optional English dubbed audio
Optional English Subtitles (newly translated for this release)
Brand new feature-length audio commentary by Asian film expert Frank Djeng (NY Asian Film Festival)
Archival interview with Sammo Hung
Alternate English opening & closing credits
Stills Gallery
Original trailer
Limited Edition collector's booklet featuring new writing by James Oliver (2000 copies)
Complete with Eureka's signature style O-Card slipcase, a booklet and a bonus poster, this Limited Edition of Encounter of the Spooky Kind is very much an accumulation of artwork, text and oral history of this Hong Kong classic that's akin to the style and embellished presentation that was rife during the golden years of VHS. Sammo Hung's interview is relatively short but gives newcomers an idea of his filmography while the booklet is more broad in regards to Hung and his 1980 classic.
I hope Eureka continue to release titles from this very specific era in Hong Kong's film history as they're a lot of fun, easy to watch, and are rich with eastern culture and tradition, even though the approach to storytelling is a little exploitative.
ENCOUNTER OF THE SPOOKY KIND
(1980), director: Sammo Hung)
★★★★
direct blu-ray screen captures
You can follow cinematic randomness on Twitter and Facebook where you'll find all my cinematic exploits. Thank you for visiting!