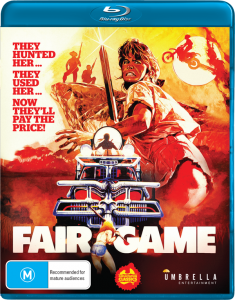 Anyone who's seen the documentary Not Quite Hollywood would recall Quentin Tarantino speaking with much enthusiasm about the audacity of tying a half-naked woman to the hood of a truck, an image which has become a fixture of Ozploitation cinema. Now for the first time on Blu-ray, Umbrella Entertainment have unleashed the Australian classic Fair Game to the masses, which tells the savage tale of a woman terrorised by three bored and psychotic kangaroo hunters, who set up camp on the fringes of her animal sanctuary.
With little plot to speak of, the senseless acts of violence and mayhem perpetrated by our three antagonists make up the bulk of the film and in a number of ways serve as a subtle hint to man's desecration of land, wildlife and the ancient indigenous spirit that encompasses all. The film's back and forth structure becomes a little tiresome, but the daring stunt work and action sequences more than make up for any shortcomings.
VIDEO & AUDIO
Obtained from a newly restored 2K master, the rustic colour pallet of the Australian outback burns through in rich detail and vibrancy, enabling viewers to almost feel the searing heat radiating off the arid location. Presented in 2.0 DTS-HD, audio is remarkable loud and clear, which certainly does justice to our antagonists' monster of a vehicle.
SPECIAL FEATURES
Audio commentary with Director Mario Andreacchio & Writer Rob George
Extended interviews with Cassandra Delaney from Not Quite Hollywood
On Location with Fair Game
Behind the Scenes – 1985 TV report from NW59, Action News
Behind the Scenes – 1985 TV report from ADS-7, State Affair
Behind the Scenes with Dean Bennett
Theatrical Trailer
Image Gallery containing behind the scenes stills and are production and promotion material
Animated Storyboard
Mario Andreacchio short films: Vandalism (1981) Break-In (1983) Taken by Storm (1984) Abduction …Who's Next? (1984) & Under Pressure (1986)
Fair Game is a tick in every box for collectors of cinematic obscurities; a time capsule of sorts to a style of filmmaking that has all become lost through the convenience of digital technology. You can find this extensive Blu-ray release in store or online at Umbrella Entertainment, at the recommended retail price of $34.99.
Note: Umbrella Entertainment have also released this film on DVD and Umbrella On Demand.
FAIR GAME  
(1986, dir: Mario Andreacchio)
★★★★
You can follow cinematic randomness on Twitter and Facebook where you'll find all my cinematic exploits. Thank you for visiting!