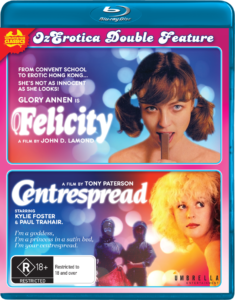 Umbrella Entertainment delivers its first 'OzErotic' double feature to Blu-ray in the form of John D. Lamond's Felicity and Tony Paterson's debut film Centrespread, two highly exploitative yet, profoundly different features.
Felicity follows a young woman's eagerness to live out her sexual fantasies but is confined to a monastic school, until a trip to Hong Kong allows her to finally embark on a long-awaited adventure. John D. Lamond passed away in October of 2018, an Australian filmmaker known famously as an auteur of Ozploitation cinema. While many of his features aimed to please, Felicity, in particular, revealed an obvious infatuation with Hong Kong itself. Between our titular lead's sexual escapades and journey for true love and desire, the Far East capitol is shown off in magnificent splendour. Street merchants and the overcrowded waterfront illustrates the rich cultural diversity among citizens and the contrast within their class system. Cinematographer Garry Wapshott's captures the cityscape beautifully, which funnily enough proves more enticing than the film's subject matter. Felicity's story is one of an awkward ascent into adulthood and despite the film's overtly sexual overtones and often smutty nature, it's a serviceable romantic-drama. Some of the performers leave a lot be desired, but to be fair, they probably weren't a priority during production.
Centrespread takes us into a dystopian future similar to the likes of Mad Max and The Chain Reaction, where not all is lost, but a drastic shift in society has occurred. Gerard is a photographer tasked with satisfying people's appetite for nude and sensationalized modelling, which often mixes violence and sex. When he meets Nikki, an innocent woman immune to the lure of fame, he begins to question his profession within the system of societal stratification. While Felicity is easily the more entertaining of the two films, Centrespread is the most interesting in terms of concept and design. It feels more like an art piece rather than a cohesive feature. The film is dominated with prolonged sequences of our protagonist at work, photographing a series of bizarrely staged and sometimes confronting scenarios. Gerard fills the void of spare time browsing antiquities of his much sought-after position, which serve as a reminder of a time when art was more about expression and individualism. It here where we get to see the growing dissatisfaction of catering to the system and its highly aggressive stance on personal freedom. Solace to Gerard's malaise is found in Nikki, who encompass a feeling of hope and optimism. Produced on an obviously low budget, the minimalist approach to production and style works well by utilising vacant warehouse space and repackaging existing technology for a more futuristic appearance.
VIDEO AND AUDIO
Both features look incredible in HD, further solidifying Umbrella's status as the master-restorers of Ozploitation cinema. Felicity, which has long been one of the label's flagship titles, is more radiant than ever with its signature 70s sheen of yellow and orange. The stunning presentation serves the Hong Kong cityscape well, especially during night scenes which glow vibrantly. Centrespread, the more obscure of the two, which has spent most of its life on VHS is given the re-birth fans have been longing for. Scanned in 2K from the original interpositive, the dystopian fantasy is appropriately grainy given the film's subject matter and perfectly balanced in regards to colour and contrast. Presented in 1.77:1 and 1.85:1 respectively, sound blares a crystal clear 2.0 DTS-HD Master Audio track for both films and the disc itself is region A, B & C encoded for universal playback.
SPECIAL FEATURES
Felicity
Audio commentary with Director John D. Lamond and star Glory Annen
Confessions of an R-Rated Movie maker featurette
Extended Not Quite Hollywood interviews with John D. Lamond, Glory Annen and Gary Wasphott
Image gallery
Theatrical Trailer
Centrespread
Behind The Centrespread featurette
Interviews with Producer Greg Lynch
Alternate UK cut
Theatrical Trailer
Image Gallery
Much to my surprise, there's a good amount of bonus content on offer for both films. John D. Lamond, speaking appropriately from the comfort of what I like to presume is a hotel bed, talks candidly about Felicity in Confessions of an R-Rated Movie. For a broader insight into the film, you can't go past the audio commentary with Lamond and actress Glory Annen. Some vintage behind-the-scenes footage offers a fascinating and quite revealing look at Centrespread, while some extended Not Quite Hollywood interviews with Producer Greg Lynch bring a nice retrospective take on the Ozploitation classic. If you're up for a re-watch, there's the Alternate UK cut which comes in at a slightly shorting runtime.
Umbrella's HD coupling of Felicity and Centrespread make a great addition to their even expanding Ozploitation catalogue and their presentation make it a juicy collector's item for physical media aficionados.
FELICITY / CENTRESPREAD
(1978 & 1981, dir: John D. Lamond & Tony Paterson)
★★★★
You can follow cinematic randomness on Twitter and Facebook where you'll find all my cinematic exploits. Thank you for visiting!