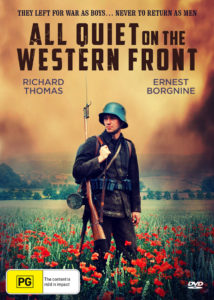 War movies are often told from the "good guys" perspective, depicting tales of triumph and courage in a very black and white fashion. Although, a more balanced take was attempted with the Hollywood epic, The Longest Day, in which the monumental D-Day landing portrayed a gung-ho Allied force against an over-confident German war machine. Another and more modest example came via television with a remake of All Quiet on the Western Front, out now on DVD through Via Vision Entertainment, which is an intimate story about a group of German schoolboys encouraged by their headmaster to join the war effort during WW1.
Richard Thomas, TV's favourite son, John Boy Walton, puts down his humble journal in exchange for a rifle as the selfless, Paul Baumer, our central character who endures the conflict at its most unforgiving. He's marched out to the front with a sense of national pride along with his brothers in arms, but as the battles rage and the years drag on, Paul, while never abandoning his good nature, becomes disillusioned; concluding that he and his fellow soldiers are mere pawns on the chessboard of politics.
All Quiet on the Western Front is only rated PG, but it proves that not every war film needs to be Saving Private Ryan in order to drive home the brutality and senselessness; for this made-for-TV production still manages to convey the essence of Erich Maria Remarque's 1920 novel through strong performances from its young cast, in particular, Thomas, who carries a warmth despite extreme physical and mental stress. Ernest Borgnine as an older soldier, Stanislaus Katczinsky, plays against type as Paul's mentor, yet that stoic and crass quality synonymous with the unmissable actor, is still on display, although in good measure.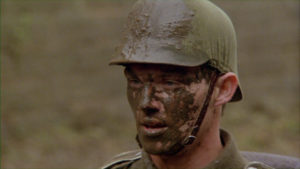 VIDEO AND AUDIO
With a Blu-ray release available in both the U.S. and UK, it's a shame Via Vision couldn't offer the same, but it's often a question of viability in such a comparably small market. Nevertheless, this DVD edition is NTSC formatted and comes from a solid SD master with English HOH subtitles in addition to the disc's 1.0 Mono track.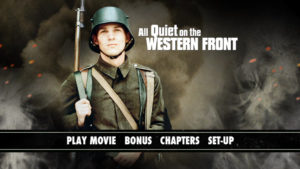 SPECIAL FEATURES
Still holding a grudge towards the mechanic nightmare that was VHS, I never watched my old copy All Quiet on the Western Front, released by Magna Pacific (remember them?), so I leapt at the chance to review Via Vision's release, who was kind enough to send a copy. As mentioned above, it's graphically tame, but a powerful story with themes that remain universal. Furthermore, it's a film that I think would serve well as an introduction to the subject of WWI for young viewers.
ALL QUIET ON THE WESTERN FRONT  
(TV 1979, director: Delbert Mann)
★★★½
Head over to the Via Vision Entertainment Facebook page for the latest releases, giveaways, great deals and more!
direct dvd screen captures
production stills provided by Via Vision Entertainment
You can follow cinematic randomness on Twitter and Facebook where you'll find all my cinematic exploits. Thank you for visiting!