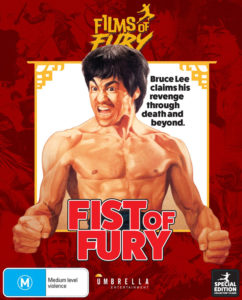 We eagerly awaited for Bruce Lee to unleash in The Big Boss as he played a quiet worker who swore against violence, but in his follow up feature Fist of Fury, his wrath is almost relentless in what became Hong Kong's biggest hit before Lee's third feature Way of the Dragon.  
Now available on Blu-ray under the martial arts sub-label, Films of Fury, through Umbrella Entertainment, this bare-knuckled kung fu classic follows a young student, Chen Zhen, who upon returning home, learns of his master's death, supposedly from illness. Consumed by grief and rage, Chen Zhen exacts revenge on the Japanese dojo believed to be responsible.
Fist of Fury doesn't have the same dedication to story-telling as in The Big Boss as it's abundantly clear that Lee is the main attraction, and rightfully so. However, this results in somewhat of an empty picture apart from all the fighting, which to this day remains impressive. Lee isn't the hero we met previously. He's a loose cannon, who is straight-up murdering his Japanese foes, between a shoe-horned romance. Also known as The Chinese Connection, which doesn't make much sense given the location, there is a gritty street-level quality here. It's a fair assumption to make that Raymond Chow was trying to borrow from American films of the time like The French Connection, but shortcuts with the production take you out of the moment. For example, the setting is supposedly 1910, yet there are scenes where you can clearly see the 1970s literally walking by. Many of the closed sets look very authentic and the film's tranquil and violent climactic scene between Lee and the criminal dojo master had a clear influence on Kill Bill.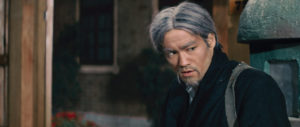 VIDEO AND AUDIO
Presented in 2.35:1, the often-panoramic image looks nice and crisp on modern screens, but it's a dated transfer with slightly plea colours. Whereas the 5.1 DTS HD Master Audio has tremendous impact, especially during fight sequences, although the dialogue is a little flat given the nature of dubbing during the era, among the tracks on offer go with Mandarin. I've heard the English dub on a previous DVD release and it's not pretty. English (Simplified Mandarin) subtitles are included.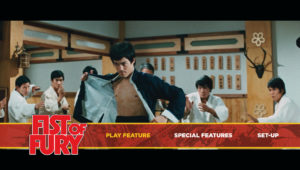 SPECIAL FEATURES
Feature documentary: Bruce Lee, the Legend
Interview with Yuen Wah
Interview Jun Natsumura, Nora Miao, Riki Hashimoto
Alternate Openings
Alternate Ending
Stills gallery
Trailers Re-edit 4K Trailer, Cantonese Trailer, English Trailer, Mandarin Trailer
The special features included with Fist of Fury mirror those from The Big Boss; an archival documentary on Bruce Lee's career, and older interviews from key cast and crew members. First up is Bruce Lee, The Legend (1984), another rose-tinted yet exploitative retrospective of the martial artist's life. Nonetheless, the documentary includes interesting behind-the-scenes footage of Game of Death and will be useful for viewers who don't know too much about the actor's career. Next up, Yuen Wah gives a 10-minute overview of his early career and contribution to Fist of Fury as Bruce Lee's body double. The final series of interviews are from 1993 and are composed of three supporting stars of the film, Jun Natsumura, Nora Miao, and Riki Hashimoto; all discuss their experience making Fist of Fury as well as provide personal anecdotes involving Bruce Lee. As Miao worked with the martial arts star three times and knew his family, her comments will be especially interesting to fans. – by Hannah Lynch
Fist of Fury is a little long for what it is, but Bruce Lee is at his absolute peak as a physical performer and it's no wonder the many fight reel videos (mostly on YouTube) of the superstar's filmography feature the classic so heavily.
FIST OF FURY
(1972, director: Wei Lo)
★★★★
direct blu-ray screen captures
You can follow cinematic randomness on Twitter and Facebook where you'll find all my cinematic exploits. Thank you for visiting!