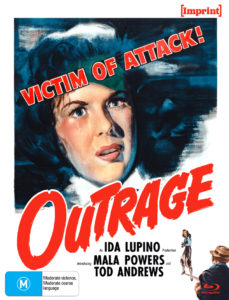 Imprint has brought many overlooked classics into the HD fold since launching in mid-2020, and one of their latest is Ida Lupino's obscure drama Outrage, making its worldwide debut on Blu-ray.
Newly engaged with the world at her feet, young woman, Ann Walton (Mala Powers), is raped while on her way home from work. Unable to cope with local gossip and her perceived tarnished image in the eyes of her husband to be, she runs away to Los Angeles but winds up in a small town where she tries to evade being discovered.
While categorised as a B-movie, the subject matter of rape is treated with a degree of sensitivity, which was unique for the time, but old-fashioned mentalities about what constitutes assault. Ann is treated as a fugitive even with the law on her side and the notion of victim blaming runs throughout the film with little mention of the assailant apart from initial police questioning. Outrage is a frustrating time capsule of a society that accepts there are many sick people among us but makes no effort in discouraging criminal acts like sexual assaults, only asking law-abiding citizens to take extra care.
Throughout our protagonist's journey, the kindness of strangers, particularly from local Bruce Ferguson (Tod Andrews), gives a feeling of hope and faith in our fellow man and the message of coming to terms with a traumatic experience is valid, but the issues that brought Ann to her lowly state present themselves again in the form of another very forward individual, who is not even questioned over his clearly inappropriate conduct. Ann once again is the one interrogated and made to feel she's done something wrong. I like to think the film means well, but it's constantly undercutting the "progress" it tries to make.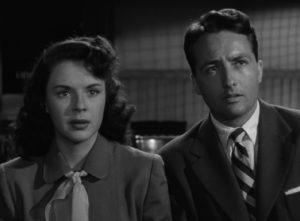 VIDEO AND AUDIO
Sourced from a 2K scan of the original negative carried out by Paramount Pictures, it is honestly not the most impressive transfer, whereas a full restoration would have likely produced a far superior 1.37:1 image. However, for a debut release on Blu-ray, it's more than decent and Imprint's packaging and cover design always manage to bolster the releases which lack the usual high quality and list of extras. LPCM 2.0 Mono doesn't offer a great deal for a film its age, but it's uncompressed audio, so there's no compromise in that department. English HOH subtitles are included.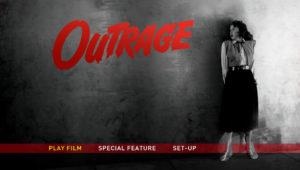 SPECIAL FEATURES
NEW Audio commentary by film critic Alexandra Heller-Nicholas (2021)
Alexandra, who has long been a champion of women in film from all eras, provides a very educational and modem take on Outrage, comparing its style and depiction to more contemporary classics, namely The Accused, all while discussing the social aspects.
Outrage is only 75 minutes long and is easily digestible despite the mild frustration I felt while watching. Mala Powers' emotional performance certainly doesn't underplay the horror of her experience and gives the film a raw quality for such a censored era in cinema. Whereas male lead Bruce Ferguson comes across as very genuine, a very typical nice guy with profound advice for Ann and the audience.
OUTRAGE
(1950, director: Ida Lupino)
★★★½
Head over to the Imprint Films Facebook page for the latest releases, giveaways, great deals and more!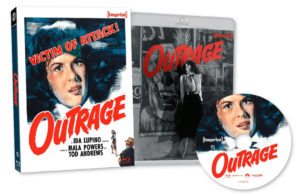 direct blu-ray screen captures
You can follow cinematic randomness on Twitter and Facebook where you'll find all my cinematic exploits. Thank you for visiting!