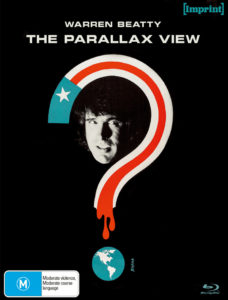 Assassinations plagued America's political landscape during the 1960s with three public slayings, President John F. Kennedy, Martin Luther King Jr. and presidential hopeful, Robert F. Kennedy. Each was dismissed as the act of a "lone gunman", but a nation's grief and growing resentment towers the establishment and glaring questions, particularly over JFK's death, fuelled numerous conspiracies theories.
Available now on Blu-ray from Imprint Films (No. 94), The Parallax View runs with the idea of an unknown organization guiding the hand of fate, for either their own gain or that of a third party. Warren Beatty as an ambitious reporter, Joe Frady, goes down one such 'rabbit hole' following a senator's graphic assassination atop of Seattle's Space Needle. With an opening that almost feels like a prelude to a dystopian society, the underlying and very sinister element of the film's plot stays within the realm of possibility as we gradually see how such organisations might function, almost like a 'Murder Incorporated'. The narrative soon delves into the pitfalls of subscribing to conspiracy theories, which Joe does, although reluctantly at first. Our lead follows his nose, much to the frustration of his editor played by Hume Cronyn, and it's through his sceptical nature where moments of doubt occur. Is he on the right track or has he inadvertently crossed paths with individuals who have something to hide that's completely unrelated? The obstacles Joe faces are a subtle way of saying that when you're that obsessed with a single theory, you'll connect anything and everything to it, leaving little room for logic. As the viewer, you're sucked into the paranoia along with our protagonist, and considering the age we live in at present, it's easy to get on board with the film's rather alarming premise.
Directed by Alan J. Pakula, this exploration of a fictional conspiracy served in a way as practice and jumping-off point for his next feature, All the President's Men, based on an underhanded plot that was very much real. Warren Beatty, a highly successful director in his own right, borrows elements from The Parallax View for his 1998 political stature, Bulworth, which interestingly has Beatty playing a strung-out senator, who plots to have himself killed.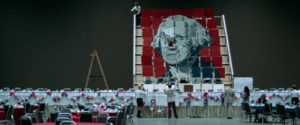 VIDEO AND AUDIO
Most of Imprint's releases come from standard 1080p master, often provided by Paramount, a studio known for keeping the majority of their classics in good shape. However, The Parallax View was among the few cherrypicked for NEW 4K restoration from the 35mm original camera negative. Presented in 2.39:1, the CinemaScope image offers a high level of detail, which isn't just limited to close-up shots; and the natural levels of colour in a way keep the film within the realm of reality. High amounts of film grain and digital noise are noticeable during darker scenes, but it's a realistic appearance. LPCM 2.0 Mono has a nice richness despite being far from immersive, but it's by no means a hindrance to the viewing experience. English HOH subtitles are included.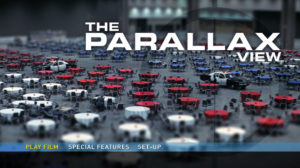 SPECIAL FEATURES
NEW Audio commentary by film historian Kevin Lyons (2021)
NEW Audio commentary by film critic/podcast producer Blake Howard (2021)
NEW Kim Newman on The Parallax View and conspiracy thrillers (2021)
NEW Matthew Sweet on The Parallax View (2021)
NEW Witness to A Conspiracy – video essay by Chris O'Neill (2021)
Theatrical Trailer
As shown in the list above, Imprint's release of The Parallax View comes with all-new special features including two commentaries and two interviews with film historians which help add perspective to this open-ended thriller. Kim Newman's retrospective on the sub-genre journeys through its history from Edwardian novels to the modern-day, whereas Matthew Sweet's interview, is an analysis of The Parallax View specifically; both run for a little over 20 minutes. For visual learners, the video essay by Chris O'Neill offers a concise, 10-minute, breakdown on The Parallax View's plot and themes which are presented through text overlayed on scenes from the film.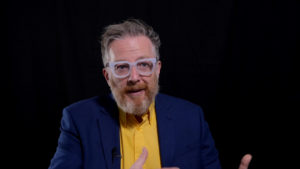 The Parallax View is not just an excellent title within its respective sub-genre give, but a near perfectly made thriller, that'll leave you impressed while feeling very cold due to its atmosphere and subject matter about those who "walk between the raindrops", to quote a line from Oliver Stone's JFK. Warren Beatty is at his best as an actor and Imprint's release captures the film's mood and style. I think the subject matter sins in better the second time around. I know it did for me. Perhaps it was seven years of added maturity.
THE PARALLAX VIEW
(1974, director: Alan J. Pakula)
★★★★½
direct blu-ray screen captures
You can follow cinematic randomness on Twitter and Facebook where you'll find all my cinematic exploits. Thank you for visiting!