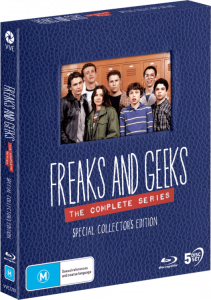 High school sucked; as it did for countless many. Chalk it down to natural law, but there was always comfort through television and film, my preferred means of escape. Freaks and Geeks came to Australia a little after it aired in the United States, but the ill-fated series had even less of a chance here as it went straight to a late-night slot on weeknights. Now over twenty years later, Paul Feig and Judd Apatow's adolescent snapshot of the early 80s is on Blu-ray in Australia thanks to Via Vision Entertainment.
Set during the school year of 1980-1981 in the fictional but recognisable suburb of Chippewa, Michigan, we meet our two factions of teens via siblings Lindsay and Sam Weir. The eldest, Lindsay (Linda Cardellini), a former "mathlete" wants to rebel from her perceived good girl image by hanging out with a group of slackers, labelled as the "Freaks". Whereas younger brother Sam forms a tight trio with his two pals, representing the "Geeks", who often fall victim to the social pitfalls of high school.
Freaks and Geeks serves as a time capsule for what you could say was a formative era for comedy and pop culture in general. It certainly was for the show's creator Paul Feig; a product of filmmakers Ivan Reitman and Harold Ramis. Caddyshack was in theatres, Steve Martin was the funniest man in America and Star Wars was decades away from becoming the catalyst for toxic fan culture. Nevertheless, a central theme of identity runs throughout as our characters struggle to work out who they are or who they want to become, and for some, it's just looking for a way to survive high school.
While the show is episodic, there is a feeling of growth among the teen players, each of whom face their own insecurities in both hilarious and poignant fashion, often simultaneously. James Franco is the perfect teenage dirtbag as the borderline dropout and bad boy, Daniel Desario, while Seth Rogan is the epitome of going through the motions as, Ken. Performances, in general, hit their mark, and despite several of the supporting characters being portrayed as rather stereotypical, they represent a pivotal part of teenage life, such as awkwardness, which I'm convinced is incurable. I personally saw myself mostly as Sam, shy and self-conscious, but towards the end of high school, I was able to relate more to Lindsay, stuck in a void of not knowing what to do.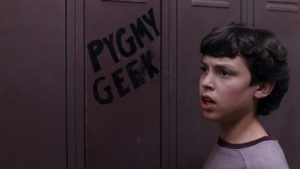 VIDEO AND AUDIO
Presented in 1.78:1 and not the original broadcast aspect ratio of 1.33:1, as seen on our television screens back in 99, Freaks and Geeks was fortunately shot in widescreen, so none of the image is lost. In fact, we gain a little extra and having been subject to HD remaster, the short-lived series looks like a film with natural colours, fine grain and a high level of detail. Improving upon the audio, a tight DTS-HD 5.1 track is a welcome upgrade from previously released DVD sets. If any show needed this calibre of surround sound, it's this one. Even if it's just for the opening rock Ballard by Joan Jett.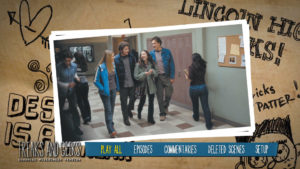 SPECIAL FEATURES
Conversation with Creator Paul Feig And Executive Producer Judd Apatow
28 Commentaries from Show Producers, Studio Executives, Cast Members, Crew
Over Two Hours of Audition Footage and Deleted Scenes from Every Episode
Outtakes, Bloopers and Alternate Takes from Every Episode
Behind-The-Scenes Footage
Original Show Promotional Footage
We have a bittersweet symphony of extras in this 5-disc Special Collector's Edition, much of which has been ported from the DVD edition released over a decade ago, but there's some new HD content from the U.S Blu-ray counterpart. Conversation with Creator Paul Feig And Executive Producer Judd Apatow is a must-watch for a retrospective take on the show and its conception, in addition to the 28 audio commentaries. There are only 18 episodes by the way, but everything's been saved it's presented as a nostalgic scrapbook for fans and newcomers. We felt robbed when Freaks and Geeks ended abruptly, but what's been compiled here has in some small part, made up for the loss.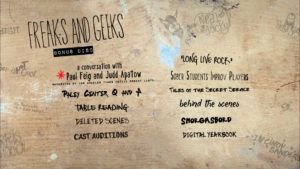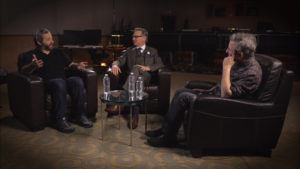 Freaks and Geeks is a mixtape of teen angst that clicked with me more than anything I had watched during my awkward youth. As much as I love it, there's always some hesitation to re-visit the series due to the feelings and memories it conjures up, but that's a compliment to the writing and performances, who were able to capture something that transcends generations.
FREAKS AND GEEKS
(1999-2000, creator: Paul Feig)
★★★★½
Head over to the Via Vision Entertainment Facebook page for the latest releases, giveaways, great deals and more!
direct blu-ray screen captures
You can follow cinematic randomness on Twitter and Facebook where you'll find all my cinematic exploits. Thank you for visiting!