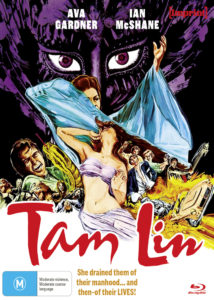 When the boutique label Imprint Films' announced they were releasing Tam Lin, there was a collective "What?" uttered across social media by physical media collectors, but that's by no means a knock against the film, just an indication of its level of obscurity.
Based on the old fairy ballad from Scotland, Tam Lin or The Ballad of Tam-Lin, The Devil's Widow and The Devil's Woman, depending on where you're from, was adapted to the screen by Roddy McDowall in what was his one and only directorial effort. It stars Ava Gardner as Michaela Cazaret, our elegant hostess, who may or may not be a witch of some variety. Her goal; seemingly is hosting a never-ending frolic at her country estate for her young friends from swinging London while she carries on a rather volatile romance with Ian McShane as a handsome outsider, Tom. While our male lead comes under the spell of Michaela, has his eye is on the more innocent Janet, played by Stephanie Beacham.
Initially quite confusing, then even more confusing, Tam Lin is the final gasp of the psychedelic age as our '24-Hour Party People' play frivolous games both literally and figuratively while this bizarre love triangle unfolds. It's a very interpretive film to say the least. I personally saw the story as an aging woman clinging to youth through her young hanger-on guests while trying to establish a type of meaningful relationship she's longed for. It ever so slightly suggests that a supernatural element is involved in relation to Michaela, who seems to have an unnatural influence on those around her, or gravity if you like, as it's hard to break free of her hold. She has a trusted helper in David Whitman as the watchful, Oliver, a sorceress' apprentice of sorts, who has a very Hammer Horror quality about him, along with the film itself in some small measure.
Tam Lin is competently made by Roddy McDowall, evident of his years behind the lens as a self-appointed Hollywood celebrity chronicler. He appears to throw all the things loves onto the screen and film every performer, set-piece and landscape beautifully. We may not all be picking up what he was putting down, but it's a memorable piece.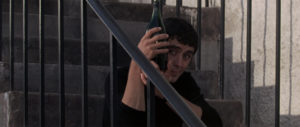 VIDEO AND AUDIO
Taking into consideration the film's obscurity and its re-discovery in the late 90s, Tam Lin hasn't undergone much work other than a simple 1080p scan of the film, which looks fine, but pales a little compared to many other titles released under Imprint. Colours are a little muted and the 2:35:1 image has a soft quality, but it's clear and free of any damage, such as mastering faults. The film's very free-spirited soundtrack comes through nicely in LCPM 2.0 Mono, although there are a few brief and early moments where the dialogue sounds like an old dusty vinyl record, but no overall no complaints. English HOH subtitles are included.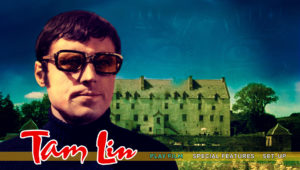 SPECIAL FEATURES
Audio commentary from author/journalist Dr Adam Scovell (2021)
Audio commentary by film historians Vic Pratt and Will Fowler (2021)
The Mother, The Magus and The Crone – visual essay by film historian Kat Ellinger (2021)
Legendary Ladies of the Silver Screen – Roddy McDowall remembers Ava Gardner and Tam Lin (1998)
Love You & Leave You for Dead – Ian McShane on Tam Lin (2021)
An Eerie Tale to Tell – Stephanie Beacham on Tam Lin (2021)
The Devil's Widow's Coven – interview with actress Delia Lindsay (2021)
The Man of the Hour – interview with actor Kiffer Weisselberg (aka David Whitman) (2021)
Occult Cuts – interview with 1st assistant editor Peter Boyle (2021)
Ballad of a B-Movie: Revisiting Tam Lin – interview with Roddy McDowall biographer David Del Valle (2021)
Theatrical Trailer
Photo Gallery
Imprint's release of Tam Lin comes with an impressive cache of newly produced special features. Despite being over 50 years old, many of the talented individuals who worked on the film are thankfully still living today, a fact Imprint utilised in their interviews. Stars Ian McShane and Stephanie Beacham each give their thoughts on Tam Lin, its troubled production and their co-stars in separate audio recordings (which are played over scenes from the movie) that run for around 10-15 minutes. David Whitman, who portrays the villainous Oliver gives the most detailed interview of the cast members, which goes for around 25 minutes, and shares many interesting anecdotes involving Ava Gardner, Roddy McDowell, and producer Alan Ladd. By contrast, Delia Lindsay who portrayed one of the story's many coven members shares the perspective of a supporting player working with such big-name stars. As far as narrative deep dives are concerned, thankfully a video essay by horror film historian Kat Ellinger is included, which helps add context to, and clears up questions about the sometimes-confusing psychedelic folk tale. – by Hannah Lynch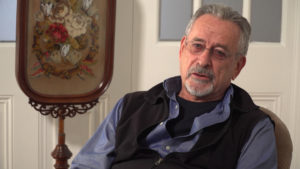 Tam Lin might just be the most genre-ambiguous film ever made. It's whatever you want it to be, depending on your mood. Imprint Films have given new life to this rescued classic, which takes a spot next to Jonathan Livingston Seagull as the label's most unique titles.
TAM LIN
(1970, director: Roddy McDowall)
★★★½
Head over to the Imprint Films Facebook page for the latest releases, giveaways, great deals and more!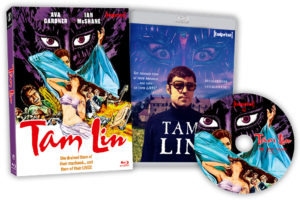 direct blu-ray screen captures
You can follow cinematic randomness on Twitter and Facebook where you'll find all my cinematic exploits. Thank you for visiting!