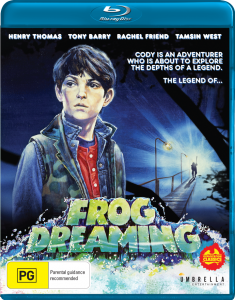 Capping off 2018's slate of 'Ozploitation Classics' Umbrella Entertainment have given Brian Trenchard-Smith's childhood-centric Frog Dreaming (The Quest, The Go-Kids) a welcome HD upgrade, restored from a new 4K scan. Often dubbed a 'VHS favourite' among those who grew up during the mid-80s and early 90s, Cody is young American boy living in Australia, following the death of his parents. Still grieving their loss, his eagerness to explore his new home finds him caught up in an Aboriginal myth.
I had never seen Frog Dreaming as a child, but I do remember often casually gazing at the cover at my local video store as a child, usually before picking up either The Goonies or Explorers. Having seen it, I unfortunately wasn't entirely taken in by the film's story, which struck me as very flimsy and not particularly well thought out. Many scenes felt merely stitched together with little regard given to story or any form of real development. On the other hand, Frog Dreaming does embody that typical 'Australianness' of 80s cinema with all its lingo, casualness and shameless fashion. I noticed one background character wearing a jumper with a kangaroo holding a jar of vegemite, which in itself speaks volumes. Antics displayed by the characters represents a wide variety of 'Aussie' stereotypes, but are thankfully toned down accordingly for the target audience. There is an emphasis on Aboriginal dreamtime culture, which is a subject that's always fascinated me and one that lends itself to so much interpretation with a firm anchoring point to nature and land. While it's a prominent part of the narrative, I found the context a little confusing and not very well defined, which amounts to a missed opportunity, ultimately hindering my interest in the film. Henry Thomas suits the lead role of young Cody and delivers by far the strongest performance, off-set by Rachel Friend as Cody's close friend, Wendy, and Tamsin West as her rambunctious little sister Jane. Our trio of youngers maintain the film's positive a youthful vibe, although their dialogue is truly bizarre, as if it came from someone who had little grasp on the English language.
VIDEO AND AUDIO
I think it's fair to compare Umbrella's string of remastered 'Ozploitation Classics' to that of the Hammer Films back catalogue under Studio Canal. Both offer a very distinctive spectrums of colours, presented with a level of sharpness and clarity that never fails to impress, especially considering the film's level of obscurity. Frog Dreaming's vibrant display of orange, yellows, browns and greens paints the film's rural location in rich detail and accurately reflect the summery climate. Sound pales somewhat in comparison under a 2.0 English DTS-HD track, which is perfectly clear nonetheless, but doesn't quite have that immersive quality. Fortunately for overseas consumers Frog Dreaming is region free encoded, so international playback is optimised.
SPECIAL FEATURES
Audio commentary with Director Brian Trench-Smith, Editor Brian Kavanagh, Costume Designer Aphrodite Kondos and Not Quite Hollywood Director Mark Hartley
Extended interviews from Not Quite Hollywood
The Depths of a Legend: Looking back on Frog Dreaming (with Henry Thomas and Brian Trenchard-Smith)
The Go Kids: looking back on Frog Dreaming (with Rachel Friend and Tamsin West)
The Dream Quest: shooting locations revisited
Theatrical trailer
Image Gallery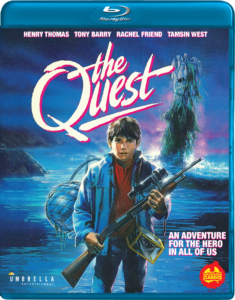 Despite not being entirely on board with the film itself, I was thoroughly pleased with all other aspects of this exceptional Blu-ray release. Retrospective featurettes re-acquaint audiences with director Brian Trenchard-Smith and former cast members Henry Thomas, Rachel Friend and Tamsin West, who all share fond memories of the film's production. The Dream Quest: shooting locations revisited proves to be a perfect example of how small communities, particularly those in Australia, hardly change over time. While many smaller buildings sit in state of steady decay, the humble pub more often than not takes precedence. Umbrella have pieced together a wonderful image gallery, comprising of behind-the-scenes, productions stills and various home video cover art; some of which give a rather ominous and inaccurate impression of the child-friendly classic. Simon Sherry's artwork is on point as always, capturing the film's retro appearance on both sides of the reversible sleeve.
Frog Dreaming is a true slice of Aussie childhood nostalgia which life-long fan will likely enjoy revisiting and one which stands as a staple title in Brian Trenchard-Smith's staggering filmography of genre classics.
FROG DREAMING
(1986, dir: Brian Trenchard-Smith)
★★★★
You can follow cinematic randomness on Twitter and Facebook where you'll find all my cinematic exploits. Thank you for visiting!