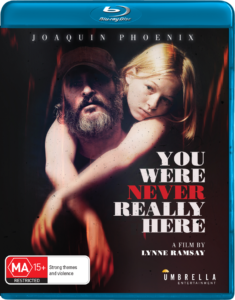 Scottish-born director Lynne Ramsay only has a handful of films to her name, but is synonymous with well-crafted and hard-edged narratives. Her latest feature, You Were Never Really Here had come with much anticipation ahead of its brief run in Australian cinemas last September. Now available on Blu-ray from Umbrella Entertainment, the brutal crime-drama has been welcomed by home audiences. Joaquin Phoenix stars as unassuming hired-gun Joe, a traumatised ex-soldier and government agent, who makes a dangerous living tracking down and rescuing trafficked girls.
You Were Never Really Here wastes no time in getting inside the viewer's head. It's a film plagued with flashbacks of childhood trauma experienced by our lead, who's only display of genuine humanity comes from the time spent with his aging mother and shielding the young victims he's tasked to save. The film's plot maintains a sense of mystery with no expository dialogue to aid the audience, just quiet conversations with the need-to-know details, often eluding to something unspeakable. Francis Ford Coppola's The Conversation appears to have been a considerable influence, pertaining to the style of "what's not said" and the heinous element that lingers throughout, in addition to an obvious reference to that infamous toilet flush. Joaquin Phoenix's tortured performance as the emotionally burdened Joe journeys us down a very dark path via a "job" that takes an unexpected turn, marred with moments of ultra-violence. What lies ahead is either the edge of his sanity or liberation. You Were Never Really Here is unconventional and raw; a product of 70s filmmaking which rarely shied away from the most confronting of subject matter and often ending ambiguously. It gets to the point quickly, dispensing with the pleasantries or un-pleasantries of Joe's unceremonious introduction.
VIDEO AND AUDIO
I often find new releases titles on disc difficult to review as there's no form of restoration or remastering to critique, so to put it plainly, You Were Never Really Here looks and sounds beautiful. I must say however, high definition certainly does lend itself a lot to the many lingering shots of Joe, capturing the years of pent up trauma behind his almost lifeless gaze. Ramsay's style of photography also benefits greatly, picking up both the subtle and more glaring details with jarring effect. Sound packs a solid punch in 5.1 DTS-HD Master Audio with every thud of that ball-peen hammer uncomfortably resonating in one's brain. Unfortunately, this Blu-ray release is bare-bones, but clearly there is no compromise on quality.
You Were Never Really Here may not entirely be what you're expecting. It's slow-paced, even for 90s minutes, but operates on a different level than most mainstream offerings of a similar nature.      
YOU WERE NEVER REALLY HERE
(2017, dir: Lynne Ramsay)
★★★½
You can follow cinematic randomness on Twitter and Facebook where you'll find all my cinematic exploits. Thank you for visiting!