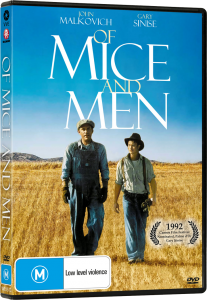 Visions of Year 9 English spring to mind at the very mention John Steinbeck's depression era novella, which has seen more than its fair share of screen adaptations over the years. Arguably the most prominent since the 1939 original starring Burgess Meredith and Lon Chaney Jr. is screenwriter Horton Foote's 1992 retelling under the direction of Gary Sinise. New to DVD from Vision Entertainment, Of Mice and Men is the bittersweet story of two drifters, Lenny and George, who earn money working the dry wheat fields of California during the 1930s. Lenny is slow, but a man of huge stature, while George is a frustrated but a good natured individual, despite being faced with constant struggle.
Of Mice and Men is a story that welcomes analytical discussion, which is why it's been such a fixture within high school curriculum for so long. I've always been drawn to the sense of self-reward our characters take from an honest day's work, whether it be through a game of cards or sitting by an old tree watching the sun set. However, the sadness of enduring such strenuous labour to just merely get by is still apparent. Sinise captures these poignant feelings through both his direction and relatable performance as George and demonstrates how Lenny's child-like behaviour rubs off easily on almost everyone he meets, easing the burden of their reality. Lenny and George cling to a dream of one day owning a patch of land, to live off and thrive, but the unpredictable nature of hard times reinforce the harsh truth of it being nothing more than a fantasy. Despite this futility, it's a comforting element to the narrative. John Malkovich is wonderful as Lenny in a performance that's both delightful and heartbreaking while Gary Sinise embodies the every-man qualities of George effortlessly. Behind his anger and resentment, there's love and a profound sense of decency, much of which he gives to Lenny. Supporting players are perfectly cast such as Casey Siemaszko (Three O'clock High) as Curly, a little man of both body and mind, who is off-set beautifully by the elderly farm hand Candy, played by the late Ray Walston.
VIDEO AND AUDIO
Of Mice and Men comes presented in 1.85:1 widescreen on a region 4 disc with an immersive Dolby 5.1 soundtrack, amounting to the highest level of quality capable via standard definition. I feel a Blu-ray release would have been easy to achieve, but I've come to learn that applying the HD treatment can be an expensive venture for any distributor.
SPECIAL FEATURES
Feature Commentary with Director
In Conversation with Director and Screenwriter
The Making of Of Mice and Men
Deleted Scenes with Commentary
Makeup Tests for the Main Characters
Sherilyn Fenn Screen Test
Theatrical Trailer
I really must commend the efforts of Via Vision Entertainment for presenting such a quality release on DVD, nostalgic of the enduring format's glory days as the go-to source of home media. Two vintage featurettes, In Conversation with Director and Screenwriter and The Making of Of Mice and Men reveal the attention to detail and authenticity that went into the film's production. Interviews with the cast and crew provide insight into John Steinbeck's story in addition to their own opinions and thoughts regarding Hollywood adaptation. Makeup and screen tests are often among bonus content these days, but still serve well as additional behind-the-scenes footage for those wanting to learn more about the film. For those hungry for additional story material, this release comes complete with almost twenty minutes of deleted scenes with commentary to add insight on the background and fate of each clip.
Of Mice and Men may have once been a tiresome chore during our student days, but age serves the timeless classic well, not to mention it's universal themes companionship and acceptance. It's a stunning portrait of the human condition still relevant to this day.
OF MICE AND MEN
(1992, dir Gary Sinise)
★★★★
You can follow cinematic randomness on Twitter and Facebook where you'll find all my cinematic exploits. Thank you for visiting!