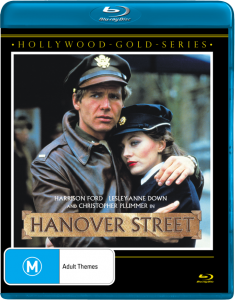 Upon the opening credits it feels as though you're being whisked away to a romanticised version of the past, where courage and sacrifice stood firm against those who wished to do us harm. Set in London 1943, a fateful entanglement between brave American bomber pilot Lt. David Halloran (Harrison Ford) and British nurse Margaret Sellinger (Lesley-Anne-Down) during an air raid sparks a passionate affair, despite the latter being married.
Love affects us in a multitude of ways, some more profound than others. In the case of David, the almost blind courage he displays during bombing runs over Germany begins to falter at the thought of not seeing his lover again should the unthinkable happen while high above the clouds. Margaret is torn between her feelings for David and her husband Paul (Christopher Plummer), a capable intelligence officer who feels he lacks the more appealing attributes of his military counterparts. There's no victim and no real villain outside the conflict of war in this poignant story, just three individuals in a complicated situation, who the audience can easily emphasize with. Romantic encounters and action sequences split the films tone with added levity during intense moments, ensuring wider appeal for viewers.
Shock Entertainment have produced a modest release of this classic title from Columbia Pictures' back catalogue, presented in 1.78:1 widescreen with a clear and well-balanced DTS-HD audio track in English 2.0, in addition to vibrant picture quality. Also included is a menu and chapter selection for your convenience.
Hanover Street is an often overlooked feature in Harrison Ford's filmography, nestled between Star Wars and Raiders of the Lost Ark, it certainly showed there was more to Ford's onscreen persona than a rugged wise-cracking action star.
HANOVER STREET
(1979, dir: Peter Hyams)
★★★★