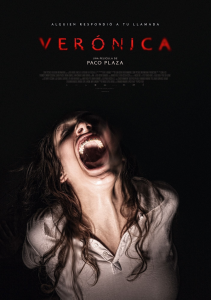 Six months after playing with an Ouija board, Madrid teenager Estafania Gutierrez Lazaro died suddenly and inexplicably in August of 1991. Known as the "Vallecas" case, the series of events which allegedly took place have often been likened to the controversial Enfield Poltergeist case in Britain. Spanish director Paco Plaza, creator of the popular [REC] legacy, has taken the key aspects of this chilling story and adapted it to the big screen in the form of Verónica, the latest horror sensation to ascend on streaming giant Netflix.
Played convincingly by newcomer Sandra Escacena, our titular lead is a 15-year-old high school student with the added responsibility of caring for her three younger siblings while their single mother works extensive hours to make ends meet. After an attempt to contact her deceased father with two classmates via Ouija board, Verónica is besieged by a supernatural force. I rarely find myself scared by modern horror movies and Verónica was no exception, although the film certainly does have atmosphere and you can feel the sinister presence that stalks our young protagonist. Supernatural instances aren't overplayed, they're momentary and well executed, utilising visual tricks and anomalies to place doubt in the viewer's mind over what they're seeing on screen. Set during the early 90s, the absences of modern gadgetry and widespread internet access allows a feeling of greater isolation as occurrences intensify, resulting in a feeling of formality for older fans of the genre.
These days it seems movies come and go in almost a blink of an eye, regardless of popularity or format, so add Verónica to your Netflix que before it escapes your radar.
VERONICA  
(2017, dir: Paco Plaza)
★★★½
You can follow cinematic randomness on Twitter and Facebook where you'll find all my cinematic exploits. Thank you for visiting!