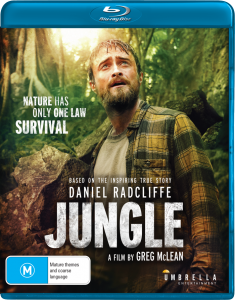 Daniel Radcliffe returns to the wilderness, not as the versatile dead body we saw in 2016's Swiss Army Man, but as young Israeli adventurer Yossi Ghinsberg in the biographical drama Jungle from Australian director Greg McLean (Wolf Creek). This survivalist feature was subject to a limited theatrical run following its premier at the Melbourne International Film Festival in August of 2017, and subsequently released by Umbrella Entertainment. Now available on Blu-ray from the home-grown distributor, I was finally able to sit down and enjoy what I've been aching to see for the past 9 months.
In search for an Indian village deep within the Bolivian jungle Yossi, his two traveling companions, and a somewhat suspicious guide soon realize their harsh environment is starting to overtake them. After numerous attempts to reach civilisation, our lead becomes separated from his companions and finds himself alone and desperate to survive. It's amazing how you can constantly be in awe of something so deadly, looking upon it as both a gift and burden. Yossi's journey is one of unshakable faith, courage and determination; attributes that make his harrowing journey such a jarring and engaging experience for the viewer. Filmed on location on Queensland's lush Mount Tamborine, the densely green foliage is the perfect stand-in for film's Bolivian setting and is captured beautifully by cinematography Stefan Duscio.
VIDEO & AUDIO
Jungle is a showpiece for high definition formats, presented in 2.36:1 widescreen and 5.1 DTS-HD Master Audio for the most heightening of home cinema experience, where you'll easily become immersed by the film's outdoor locations and their sheer size.
SPECIAL FEATURES
While not exclusive to this particular release, supplement material really gives viewers the full package, including a candid insight into the production from those in and behind the scenes, amounting to over two hours' worth of interviews.
Becoming Yossi Featurette
The Making of the Yossi Ginsberg Story
Cast and Crew Interviews
Theatrical Trailer
Greg Mclean has adapted an extraordinary true story to the big screen in a practical, realistic and an effective manner, owing a lot to Daniel Radcliffe's gruelling performance, who gives what may well be his best performance to date. Jungle can be purchased in stores and online at Umbrella Entertainment.
Note: Umbrella Entertainment have also released this film on DVD and Umbrella On Demand.  
JUNGLE
(2017, dir: Greg McLean)
★★★★
You can follow cinematic randomness on Twitter and Facebook where you'll find all my cinematic exploits. Thank you for visiting!