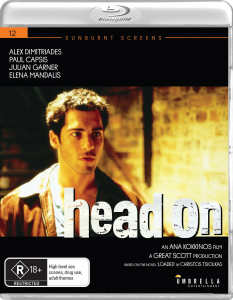 I grew up on stereotypes, with the term, 'Wog', in my vocabulary, often used by my father in both an affectionate and derogatory manner, which was sometimes simultaneous. While I often laughed at the many blanket notions made towards certain ethnic groups, mainly Greeks and Italians, I was always fascinated by different cultures and traditions.
However, through the medium of film and television, I've been educated on how traditions can sometimes be a burden on young adults, particularly those who are unsure of themselves. Head On, written and directed by Ana Kokkinos (The Slap), follows a young Greek-Australian man, Ari, played by Alex Dimitriades, who finds himself torn between the expectation of his elders and the need to discover his own truth.
Ari is a partially closeted homosexual, depending on the social circle, and often seeks sexual gratification wherever he can find it, but his self-loathing personality and anger gets in the way of obtaining any form of emotional connection. However, our lead has a kindred spirit with trans friend, Toula, played by fellow Greek-Australian actor, Paul Capsis. Set more or less over the course of 24 hours, Ari is on a bender of sex, drugs and rage and it's a pretty graphic and confronting ride, earning its explicate classification. In many ways the film is a summarization of being 19 and what a nowhere year it is; school is over, yet you're not really feeling like an adult and you'rere consumed by indecisiveness while feeling jaded towards the world around you.
As an Australian film, the Melbourne setting is a real display of multiculturalism, that comes to fruition during an ethnic club scene that's been described as neither Australian nor Greek by Dimitriades in a retrospective interview. It's hard to describe, but I feel that's such a true statement, and it reflects Ari's state of mind, not to mention his hot and cold relationship with his background. One minute he's dancing the Sirtaki like a god, then screaming into the street at nameless faces.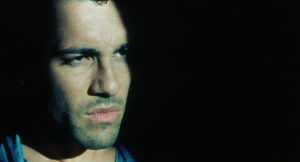 VIDEO AND AUDIO
Umbrella Entertainment first released Head On in 2014 on Blu-ray and now with the formation of dedicated sub-label, Sunburnt Screens, the R-rated drama makes Volume 12. Although, it's not exactly an upgrade. Presented in 1.85:1 widescreen, the 1080p transfer to is a very raw scan of the film with all the subtle flicks and 'cigarette burns' present throughout, indicating a reel change for the projectionist bay during its run-in cinemas. While it's technically HD, the picture won't impress a lot of collectors and fans, but I think it suits the film's gritty quality. Strangely, only a 2.0 Mono DTDS- HD Master Audio track is available on the disc, whereas the previous release offered 5.1. It sounds good regardless, but mono of course has its limitations.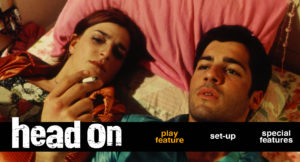 SPECIAL FEATURES
NEW Audio Commentary with Director Ana Kokkinos
Head On – Six Years On (Historical Featurette)
Paul Capsis Music Video
Head On in Athens
Behind the Scenes Photos Gallery
Theatrical Trailer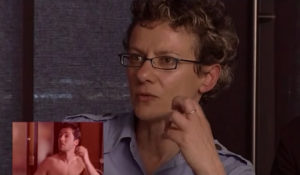 Aside from its commentary, this recent edition of Head On ports all its special features from a previous Blu-ray release. While now 17-years-old itself, the Six Years On retrospective is an insightful and entertaining sit down with some of the cast and crew members during a re-watch of the film which runs for a little over 45 minutes. Due to its age, the most interesting thing about the featurette is seeing how much attitudes have changed in regard to the movie's themes, especially in comparison with director Ana Kokkinos recent viewpoints stated in the commentary. Head On in Athens details the film's premiere in Greece, but much of it is presented without subtitles. Still, along with the Paul Capsis music video, the aforementioned feature is a neat time capsule.
I enjoyed Head On a lot more than I expected, in part for its street-level quality and the representation of Melbourne after dark, which is another world entirely. Umbrella's new Blu-ray release does have a couple of shortcomings, but it's well worth the purchase if you haven't seen the film before and the bonus content, while mostly dated, add a lot of value.
HEAD ON
(1998 dir: Ana Kokkinos)
★★★★
direct blu-ray screen captures
You can follow cinematic randomness on Twitter and Facebook where you'll find all my cinematic exploits. Thank you for visiting!