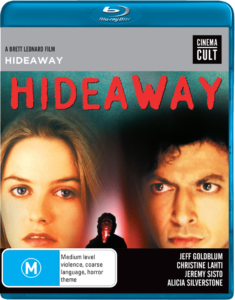 Home video often meant a second life for underperforming films, enabling them to eventually find an audience, but sadly there were some that still feel through the cracks. Hideaway was one of those casualties, a film practically written off upon its release, but has since been revived by Cinema Cult for its first ever Blu-ray release. Jeff Goldblum stars as husband and father Hatch Harrison (terrible name), who after a near-fatal car accident emerges seemingly unscathed, but is plagued by frightening visions. He soon discovers that he has somehow become psychically connected to a serial killer.
Based on the novel by author (and Stephen King's arch rival), Dean Koontz, there's a large element of strange to this mostly forgotten horror-fantasy, which offers up an interesting idea, but unfortunately botches the execution. An overwhelming barrage of 'not ready for feature film' digital effects are an uncomfortable yet amusing sight, while illustrating an interesting interpretation of the afterlife. Hideaway is an easy enough film to follow contrary to how it may sound, but there's clearly a pre-occupation with visual enhancements, which undercuts the story. Centred around a theme of lingering grief and premature death, the question of what's on the other side is explored from a perspective of both good and evil. What is more luring, reuniting with loved ones or the prospect of absolute power via a passage of dark forces? Our two opposing characters embody this attitude as they seek each other out. Suffice to say, it's far from a boring experience and while Jeff Goldblum's performance is a little patchy as lead character Hatch, he was a good choice for the role. Christine Lahti, Jeremy Sisto, Alfred Molina and Alicia Silverstone (on the cusp of Clueless fame) fill out the supporting cast and are all fine and each character feels significant.
VIDEO AND AUDIO
In line with the film's grungy tone and aesthetic, colours are quite bland, like the effect of an overcast day. However, the overall presentation for this debut release deserves a lot of points for crisp picture in 2.35:1 widescreen and strong audio in Dolby 2.0, amplifying the hard soundtrack. MPEG-4 AVC encoded in 1080p resolution and region B, the first HD treatment of Hideaway thankfully is more than adequate.
Reception to Cinema Cult's acquisition and subsequent release of Hideaway has been met with a generally positive response and is a perfect choice for their catalogue. I think it's terrific that another Australian-based label has a world exclusive Blu-ray title, especially one that's so reflective of the mid-90's edgy style and mood.
HIDEAWAY
(1995, dir: Brett Leonard)
★★★½
direct blu-ray screen captures
You can follow cinematic randomness on Twitter and Facebook where you'll find all my cinematic exploits. Thank you for visiting!