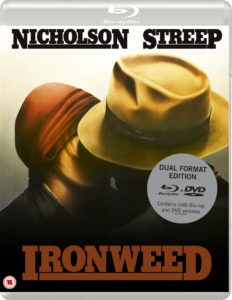 I'm a big fan of Jack Nicholson. I practically grew up watching Batman and I think his performance in About Schmidt is among his most underappreciated, despite earning an Oscar nomination. Although, I've come to realise that there's a large bulk if titles I haven't seen, including until recently, Ironweed, which has made its Blu-ray debut in the UK through Eureka Entertainment.
Set in 1936, Francis Phelan (Nicolson), an alcoholic vagabond wanders aimlessly around his home city of Albany, New York, many years after deserting his family over the guilt of accidentally killing his infant son. Over a few long days, Francis starches by, working gritty odd jobs while reacquainting with his fellow "bums" and occasional lover Helen Archer, an equally tortured soul with a haunted past. Call it morbid curiosity if you like, but I'm particularly drawn to films that explore those who are homeless or living the fringes of society. While it's heartbreaking and not something people are comfortable with acknowledging, the reality is that major cities and towns are home to several such individuals. Many times those who live in such a way, are those whose lives have gone catastrophically wrong, and now have very little, if anything, to call their own. It's easy to shrug the homeless off as merely bums or vagrants, but Ironweed makes the valid point of keeping in mind that these lost individuals were once "somebody", even if it was just being an innocent child, as Francis points out during one of several devastating scenes. We spend the film's first half following Francis on his travels, which gives a nice sense of community that exists among those in the same situation such as with casual friend Rudy, played by Tom Waits, and as mentioned above, Helen, played by Meryl Streep. The latter's past is more ambiguous compared to what we learn about Francis but is nonetheless tragic. Helen symbolises the importance and need for dignity, if only an ounce, and while she is stubborn with accepting where her lot is in life, the warmth of nostalgia she encompasses with Francis is touching. Jack Nicholson and Meryl Streep are both tremendous in their shattered and Oscar-nominated performances as Francis and Helen, whose paths eventually deviate, but their moments of reprieve offer a glimmer of light in what's portrayed as a cold world, both literally and figuratively.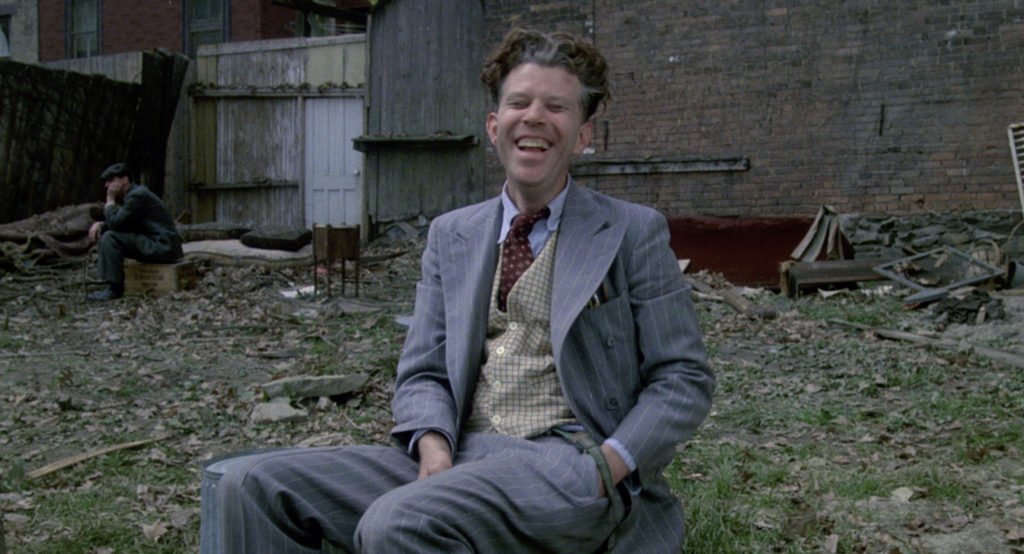 VIDEO AND AUDIO
While not sourced from a 4K or 2K scan, the 1080p film transfer still looks impressive considering the little time Ironweed has spent on the physical media market. Presented in 1.85:1 widescreen, image is not the sharpest, but there's a gentle softness which suits the bland pallet of colours, accentuating the winter season and our characters' constant plight. Furthermore, the picture is very clean with no sign of damage to the film, which retains grain and texture, giving it a nice aged appearance.  Sound is uncompressed LPCM audio, which makes a thunderous entrance during the opening credits and maintains solid volume throughout the dialogue-heavy story while bringing out the variety of background sounds of Albany.
SPECIAL FEATURES
In addition to being a dual-format release, there's a collector's booklet featuring new essays on the film by Lee Gambin and Simon Ward.
If you look at the films that were being released in 1987, there wasn't much of an appetite for a brooding Depression-era drama, at over 2 hours long, which is probably a key reason why it didn't perform well. Nevertheless, Ironweed is a beautifully adapted film from the Pulitzer Prize-winning novel by William Kennedy. It's structured well with strong direction from the late Hector Babenco, crafting a story about the struggle of confronting one's past and life, all the while being hounded by the ghosts of guilt.
IRONWEED
(1987, dir: Hector Babenco)
★★★★
direct blu-ray screen captures
You can follow cinematic randomness on Twitter and Facebook where you'll find all my cinematic exploits. Thank you for visiting!