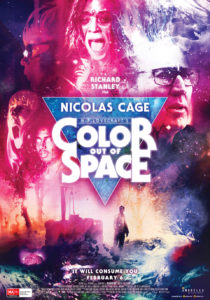 HP. Lovecraft died in 1937, famed "American writer of weird fiction and horror fiction" as described in Wikipedia. Over eighty years later, his name remains a major selling point for film fans, many of whom have been eagerly awaiting the release of Color Out of Space, now in cinemas across Australia through Umbrella Entertainment partnered with Monster Fest.
Directed by Richard Stanley (Hardware) this cosmic nightmare is the genre filmmaker's first feature film in decades, setting audiences down on a secluded farm where the Gardner family have carved out a peaceful, but slightly strained existence. When a meteorite suddenly strikes their humble abode, the environment takes on an otherworldly form, emanating bursts of bright unnatural lights from seemingly nowhere with horrific results instore for those caught under in its spectrum and field of influence. I like the idea of Color Out of Space, as I do with most Lovecraft tales and the film's first half is generally interesting as we get acquainted with the Gardner's, who, aren't as tightknit as husband and father Nathan (Nicolas Cage) likes to believe. Shortly after the extra-terrestrial object arrives, the weirdness well and truly kicks in with body horror, violent outbursts, and animal deformity all under a resonating pink and a purple hue. I was reminded somewhat of Tobe Hooper's remake of Invaders from Mars, a story not as straightforward as one would expect, slightly nonsensical, and with a number of graphic turns that are very unsettling. Among all the chaos we're suddenly bombarded with I could detect hints of a subtle environmental theme pertaining to the water supply, which, seems to be the preferred means of travel for our alien visitor. I'm not entirely sure what the message was, because not surprisingly Color Out of Space becomes filled with "Cage Moments" for a good portion of the film's duration, which takes away from the story's potential. Nicolas Cage is decent in the film, but it's not a memorable role nor performance, while co-star Joely Richardson (Event Horizon) is more or less on the same level as his wife, Theresa. Unfortunately, most of the characters are bland, except Tommy Chong as off-the-grid neighbour Ezra, and the lack of cohesiveness make the 1 hour and 50-minute runtime a struggle.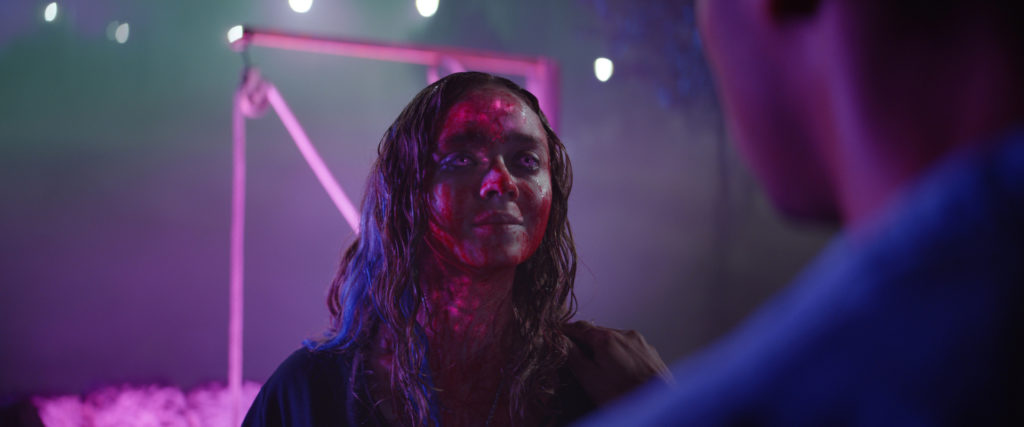 Color Out of Space doesn't disappoint with visuals that are impressive for an indie feature and pay homage to classics like Carpenter's remake of The Thing. While the film is certainly unique, it was hard to get on board, but I can see a lot of people enjoying it and I'm sure a theatre setting will heighten the experience.
COLOUR OUT OF SPACE
(2019, dir: Richard Stanley)
★★★
production stills courtesy of Monster Pictures
You can follow cinematic randomness on Twitter and Facebook where you'll find all my cinematic exploits. Thank you for visiting!