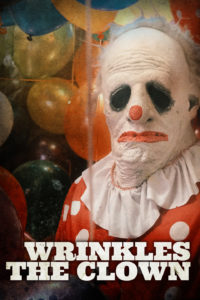 Online videos go viral on a daily basis as practically everyone has the means and potential to make one; the but stories behind them can vary in comparison, often boiling down to just a moment of silliness being captured on camera. However, in 2014 an ominous video appeared on YouTube of a clown emerging from underneath a sleeping child's bed, supposedly hired by the parents to frighten her for misbehaving. Wrinkles the Clown is a documentary feature that looks at the subsequent response to the eerie video sensation, diving into internet lore and the growing obsession toward scary clowns.
Wrinkles lives in Southwest Florida, a semi-retired citizen living out of his van who speaks in a thick New York accent to further his disguise. We never see his face, but the camera regularly follows him during his day-to-day life, whether it be making breakfast or answering some of the thousands of calls from kids and parents alike wanting their own interaction with Wrinkles. Between these candid moments, the film often digresses, looking at parents who use threats of Wrinkles to discipline their kids, the reaction from children themselves and the myth surrounding "scary clowns" that's been fuelled by the likes of Pennywise and the Joker in mainstream cinema. While I liked this approach, as it broadens the subject matter, it's short-lived, because when the mask comes off, so to speak, my interested quickly demised. Without going into spoilers, it's the mystery that keeps you engaged, in addition to the social side of the story that asks interesting questions about one's desire for fear and the sinister side to clowning that transcends both fiction and real life. I would have liked if it was explored further, instead of being shown with the wizard behind the curtain. Nevertheless, it's a fascinating documentary that's worth seeing regardless of personal interests.
Wrinkles the Clown begins streaming from February 5th on digital platforms iTunes, Google
Play, Foxtel Box Office, Fetch and Sky On Demand (New Zealand) through Filmink Presents.
WRINKLES THE CLOWN
(2019, dir: Michael Beach Nichols)
★★★½
production stills courtesy of FilmInk Presents 
You can follow cinematic randomness on Twitter and Facebook where you'll find all my cinematic exploits. Thank you for visiting!