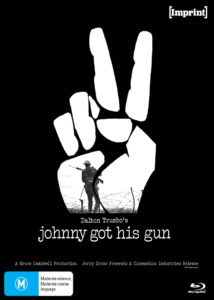 Dalton Trumbo was a prolific screenwriter famously blacklisted with nine other industry professionals by the House Un-American Activities Committee. Many years after his exile, and understandably jaded, but no less talented Trumbo, adapted his 1939 anti-war novel, Johnny Got His Gun for the big screen, sitting in the director's chair for the first time. No, for the first time in an English-speaking territory, the semi-independent classic has come to Blu-ray thanks to Imprint Films in Australia.
After suffering a horrific injury during WWI, young American soldier Joe Bonham (Timothy Bottoms) lies on a hospital bed with neither his arms nor legs, left with just one of the five basic human senses, touch. All but removed from reality and the passage of time, Joe recounts cherished memories and lost love as fantasies regularly intrude, testing his sanity.
Trumbo clearly saw the escalating ugliness of the Vietnam War as an opportune time to make this picture about the futility of war and how it reduces so many to mere vessels of consciousness. Joe symbolises the young spirit of optimistic patriots, proud to fight for democracy, or what they're led to believe is democracy. He ponders this notion and along with his future through his mind's eye, which takes the viewer through a non-linear dreamscape of visions, which conjure up a variety of feelings.
What's especially poignant about Joe's story, is his life before the call to arms. He remembers his family and girlfriend, which provides warmth as he lies prisoner in his own body. Although, it's the relationship with his father that I think beautifully echoes a universal sentiment of how some memories or instances can blind us to how a person truly feels, particularly those with parents who are hard to read.
Timothy Bottoms made his screen debut playing Joe, a young actor fresh out of high school, whose innocent quality proved a perfect fit for Trumbo's screenplay. His soft voice carries the anguish and sadness from within his inner monologue, touching the audience. In a small but noted supporting role, Jason Robards plays Joe's somewhat distant father but has a rather darkly comedic theatrical moment, that counters the actor's often gruff demeanour.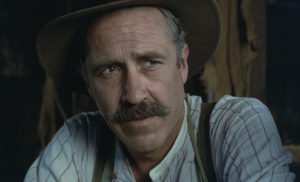 VIDEO AND AUDIO
Presented in 1.66:1, a slight variance from the 1.85:1 aspect ratio, Johnny Got His Gun is kind of a no-thrills 1080p treatment with a washed-out quality, that so happens to suit the film's flashback narrative and our protagonists' distorted reality. Imprint's emphasis on authenticity delivers another uncompressed LPCM 2.0 Mono track, which has a nice pure sound for what is a dialogue-heavy drama.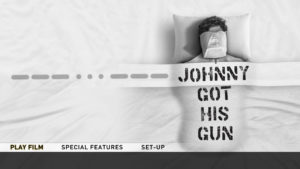 SPECIAL FEATURES
NEW Audio commentary by cinema author and critic Matthew Asprey Gear (2021)
Dalton Trumbo: Rebel In Hollywood – documentary
Interview with actor Timothy Bottoms
Behind-The-Scenes Footage with commentary by Timothy Bottoms and director of photography Jules Brenner
1940 Radio Adaptation starring James Cagney
Theatrical Trailer
Imprint's edition of Johnny Got His Gun comes with an all-new commentary track by Matthew Aspey Gear, which serves as a serviceable companion to the film. Also not seen, or in this case heard, on previous releases is the 1940 Radio Play which is an exciting curio due to starring pre-code icon James Cagney; to keep listeners engaged an audio visualiser is presented as the dialogue plays. Ported from a previous 2008 DVD edition are three featurettes, all in standard definition. Despite running over an hour, the Dalton Trumbo documentary, Rebel in Hollywood, goes by like a breeze and features interviews from various individuals who helped work on Johnny Got His Gun such as cinematographer Jules Brenner and actress Martha Hunt. Leading man Timothy Bottoms is shown in a separate interview which runs for around 10 minutes and is heard on a short commentary for a behind-the-scenes featurette on the film's four key dream sequences.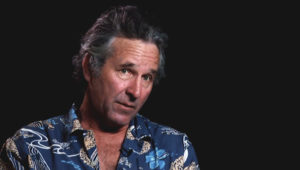 I'd be remiss if I didn't shout out the exclusive artwork for the limited edition's inner cover which depicts our hero's limbless body amid a crisp white background, with SOS written in Morse code at the bottom of his bed (uh, actually it's OSO…but it's still a cool addition to the artwork, and I doubt no other dorks would double-check if it's correct!) – by Hannah Lynch
I write and publish this review of Johnny Got His Gun on Imprint Films' two-year anniversary, which I hope will steer more movie-going folk towards the obscure piece, which I neglected to point out earlier, features Donald Sutherland playing Christ. However, he's a little sombre and burdened with the task of ushering the fallen to the next life in a subtle absurdist fashion, adding to the film's anti-war message.
JOHNNY GOT HIS GUN
(1971, director: Dalton Trumbo)
★★★★
Head over to the Imprint Films Facebook page for the latest releases, giveaways, great deals and more!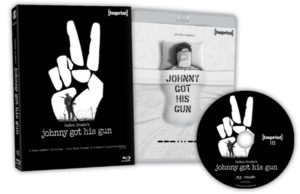 direct blu-ray screen captures
You can follow cinematic randomness on Twitter and Facebook where you'll find all my cinematic exploits. Thank you for visiting!