If you're i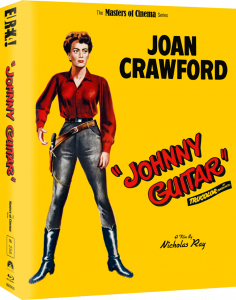 nto movies but haven't seen any starring Joan Crawford, you're probably at least aware of her legendary status, for both the right and wrong reasons. I've only seen What Ever Happened to Baby Jane, which is probably the best place to start, but for something a bit more genre heavy, Eureka Entertainment has released the classic western Johnny Guitar under their very collectable Masters of Cinema Series.
Crawford is front and centre as the strong-willed saloon owner, Vienna, who has a shaky relationship with members of the community despite wanting to develop their sleeping town into something prosperous and long-lasting. When an old flame, the titular Johnny Guitar (Sterling Hayden), walks through her doors and accusations of murder are thrown her way, everything she built and hoped for comes under threat.
Westerns were a dime-a-dozen during the 50s, you could probably catch one every week at the local movie house; but Johnny Guitar, while it ticks many of the boxes, is an unconventional tale with elements of noir and sophistication not commonly found in Hollywood's interpretation of the Old West.
It's kind of a shame the film couldn't be named after our female lead, but the story is derived from a pulp novel of the same name, which was probably easier to market toward film audiences of the time. Sterling Hayden is a nice match for Crawford as her co-star, he has those classic elements that make a stoic hero, but in Johnny's case, his old days as a gunslinger have taken an emotional toll. He's the catalyst for our story; the villain of which is played by Mercedes McCambridge as the vindictive Emma, who like Vienna, holds her own against the male-dominated population, even bending the will of her sell-appointed posse of so-called justice.
Shoot-outs and other western-style skirmishes aren't a regular occurrence in Johnny Guitar, but the film's drawn-out climax really pays off, thanks in part to the film's gang of alleged silver miners. They're an assorted group, led by Scott Brady, whose only ambition appears to be just looking good for the camera, whereas Ernest Borgnine is playing his usual self.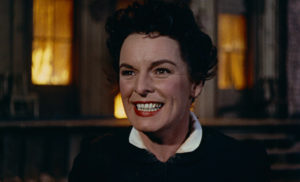 VIDEO AND AUDIO
Maybe it's the new HDMI cable I purchased, but I'm quite stunned by how impressive the 1.66:1 picture comes through on this UK disc. Colours seem impossibly vibrant yet very naturalistic to the film's dry setting and film grain adds a lot of texture and gives the illusion you're watching a high-end film projection. Johnny Guitar was the first movie I watched through the new surround sound system I recently upgraded to and while the LPCM 2.20 Mono track didn't exactly push the unit's limits, there was a noticeable richness of sound strong base and with clear dialogue.
SPECIAL FEATURES
Limited Edition Hardbound Slipcase (3000 copies)
1080p presentation on Blu-ray from a 4K restoration of the original film elements, framed in the film's originally intended aspect ratio of 1.66:1
Brand new audio commentary by film scholar Adrian Martin
Brand new introduction by critic Geoff Andrew, author of The Films of Nicholas Ray: The Poet of Nightfall
Brand new video piece by Tony Rayns
Brand new video essay by David Cairns
Brand new interview with Susan Ray
Archival introduction to Johnny Guitar by Martin Scorsese
Trailer
A Limited Edition 60-page illustrated collector's book featuring two new essays by western expert Howard Hughes, and an archival interview with director Nicholas Ray (3000 copies)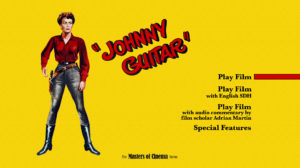 Viewers with little to no background knowledge on Johnny Guitar will find themselves experts on the subject by the time they're through with Eureka's special feature supplements. Clocking in at around fifteen minutes each, the respective video interviews with film critics Geoff Andrew and Tony Rayns provide both in-depth, but short overviews on subjects in front and behind the camera. While the former gives an analysis of the movie's themes and storytelling, the latter discusses the individuals who worked on the picture, and its legacy. "Stranger" is a 25-minute featurette and assortment of interviews both new and old with those who knew director Nicholas Ray, personally, with a heavy focus on his work on Johnny Guitar. The filmmaker's wife, Susan, reads some of his thoughts on the picture and his experiences with the actors who starred in it. For those who prefer written analysis and interviews, Eureka includes a generously packed 60-page booklet featuring two new essays.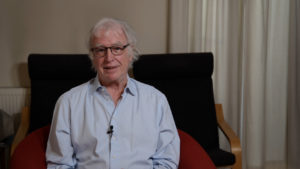 Johnny Guitar is substance over style, of which there is still plenty, and I suspect you'll find this classic mentioned in lists with names like, "The Greatest Westerns You've Probably Never Heard Of". However, this Blu-ray from Eureka marks the third HD release in the past five years, so it's clearly getting the attention it deserves, and this edition is definitely the one to own.
JOHNNY GUITAR
(1954 dir: Nicholas Ray)
★★★★½
direct blu-ray screen captures
You can follow cinematic randomness on Twitter and Facebook where you'll find all my cinematic exploits. Thank you for visiting!