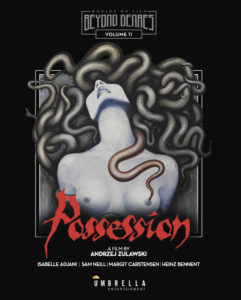 Sam Neill has a remarkably large following, not only in Australia but overseas. His filmography speaks from itself, from Australian indie cinema to Jurassic Park, and he was once in line to play James Bond before Timothy Dalton was eventually cast. Neill also has a repertoire for playing some very strange and frightening characters. Fresh off his role as anti-Christ, Damien Thorn, in The Final Conflict, the Irish born actor took second billing in Andrzej Zulawski's tortured psychological thriller, Possession; out now on Blu-ray from Umbrella Entertainment, under the label's signature Beyond Genres sub-label.
Upon returning home from an unknown assignment, Mark (Sam Neill), a West Berlin spy, finds that his wife, Anna (Isabelle Adjani), wants a divorce for reasons she won't give. What follows is a domestic breakdown that gives way to disturbing behaviour exhibited by Anna, who seems to be in tune with a force or being that's undeniably supernatural and sinister in nature, complete with tentacles.
It's hard to describe Possession, but to give you an idea, just think Marriage Story, except it makes no sense whatsoever and the verbal altercations between husband and wife will leave you utterly exhausted. Fundamentally, Andrzej Zulawski uses the film as a means of dealing with his own divorce along with the anger and turmoil that came with it. These negative feelings and thoughts, mainly jealously and paranoia on Mark's part, who is unable to wrap his head around his wife's sudden revelation, is materialised via fleeting glimpses of a grotesque creature that seem to have its way with Anna.
The style in which Possession is presented is unconventional to say the least. There's a narrative in place and the film does begin on "normal" footing, but the bizarreness takes hold rather quickly, granted the performances from Isabelle Adjani and Sam Neill are extremely powerful. I don't know how actors get into that kind of headspace, but they clearly tapped into something very deep and emotional.
VIDEO AND AUDIO
Befitting to the Cold War setting of West Berlin, the colours are very muted and the ambience, in general, is quite dull and depressing. Although, the picture quality is excellent in 1.66:1 widescreen that offers a high level of texture and detail, evident of a quality HD film scan. The film's more jarring colours such as blood and other strange bodily fluids have a realistic shade, appearing all- the-more disgusting to the viewer. Coming through the speakers is a 2.0 Mono DTS-HD Master Audio track, but honesty, you wouldn't know it and for a film that's quite heavy on dialogue and screaming, it's quite jarring. English subtitles are included, and the disc is labelled as region B locked.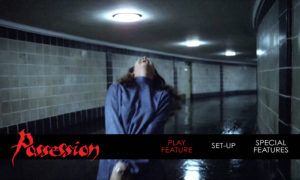 SPECIAL FEATURES
Audio commentary with Director Andrzej Żuławski
Audio commentary with Co-writer Frederic Tuten
The Other Side of the Wall: The Making of Possession
Interview with with Director Andrzej Żuławski
US Cut of Possession
Repossessed – Featurette on the US Cut of Possession
A Divided City – Location Featurette
The Sounds of Possession – Interview with Composer Andrzej Żuławski
Our friend in the West – Interview with Producer Christian Ferry
Basha – Poster Analysis Featurette
International Theatrical Trailer
US Theatrical Trailer
All of Beyond Genre's special features for Possession are ported from the 2013 UK Blu-Ray release, but they nonetheless are highly in-depth, and expansive. Running a little over 50 minutes, The Other Side of the Wall, takes the viewer through the film's entire making of process from its pre-production to continued legacy. Separated into several different sections, the featurette includes interviews with many of Possession's key players including its director, scriptwriter, producer, and composer, who all offer candid anecdotes and insights. More detailed and lengthy one-on-ones with director Andrzej Zulawlski and composer Andrzej Korzynski are also included in two separate features, which specifically look at the making-of through the point of view of each man's field. The most unique editions to the featurette line-up are the butchered U.S cut of Possession, which runs a short 77 minutes. However, for those who don't want to sit through the short alternate presentation, another feature, Repossessed, outlines the changes from the original film. Often an overlooked art, Basha, is a short overview of the career of the Polish poster designer who created the film's iconic tentacle-heavy artwork.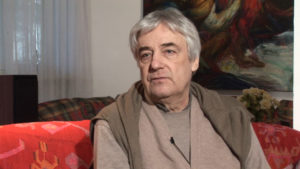 I don't think you're supposed to enjoy Possession, but it's an experience nonetheless and it's a classic that's been waiting for a label like Beyond Genre to embrace the cult following and of course the film's bizarre imagery.
POSSESSION
(1981 dir: Andrzej Zulawski)
★★★★
direct blu-ray screen captures
You can follow cinematic randomness on Twitter and Facebook where you'll find all my cinematic exploits. Thank you for visiting!