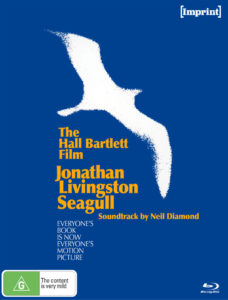 Many of us probably look at seagulls as a mild annoyance when at the beach; begging for chips or any scrap of food that might fall their way. We don't normally ponder our own existence or the meaning of life while gazing at the seaside birds, but the film, Jonathan Livingston Seagull, takes audiences on a tranquil flight in an effort to answer the eternal questions.
I doubt anyone saw it coming, nor did anyone ask for it, but Imprint Films have brought the unconventional classic to their growing Blu-ray catalogue, a visionary piece based on Richard Bach's bestselling novel. We follow our eloquently named gull on his quest to achieve perfect flight, refusing to conform to his flock's ridged rules and standard, which results in Jonathan's expulsion. What follows is a journey of discovery through literal space and time.
Jonathan Livingston Seagull does not discuss topics one would normally expect, such as something in line with a strong environmental theme. That's not to say one isn't present. In fact, there's a not-so-subtle dig at mankind's blatant disregard towards nature, which comes via the disturbing sight of a seemingly endless rubbish dump. While the images are jarring, the cinematography is exquisite, as it is all throughout the film. Instead this pictures becomes a lesson in Eastern philosophy, revolving around the notion of repeating life's cycles until we get it right, thus becoming one with the "universe". There's even an infusion of western schools of thought when once at a perfect state, our title bird tries to teach other outcast gulls to love their oppressors as themselves. Unsurprisingly, Jonathan meets several enlightened characters along the way, helping to bridge his own views with the practices and spiritual undertakings of this new frontier, all the while set to a triumphant soundtrack provided by Neil Diamond; perfect for the solitary bird. Despite being quite an unusual film, one can't help be slightly mesmerised by the majestic beautify of the feature as a whole and while the voice acting can be a little corny at times, James Franciscus (Beneath the Planet of the Apes) as Jonathan takes the material seriously, coming across as very sincere in his delivery.
"…on your deathbed, you will receive total consciousness." So I got that goin' for me, which is nice. – Bill Murray as Carl Spackler, Caddyshack
VIDEO AND AUDIO
I was reasonably impressed with the overall quality, which granted, is decent for a debut release, but doesn't quite measure up to the technical limits of the HD format, which result from 2K or 4K scans and restorations. The 2.35:1 image is very crisp for the most part, the play on colours, in conjunction with natural lighting, produces some nice effects which show up well on this region-free Blu-ray. Sound is rather limited in LPCM 2.0 Mono, but Neil Diamond's musical contributions come through nicely, and the sounds of the world are very clear and distinct. English subtitles are included.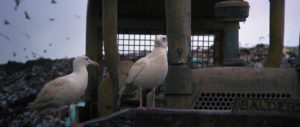 SPECIAL FEATURES
Exclusive Audio Commentary by filmmaker Adam Zanzie
Photo Gallery
Unsurprisingly, there's not much terms of bonus content, but Adam Zanzie's commentary is a valued insight from a contemporary filmmaker and of course Imprint's premium packaging adds a lot to this release, particularly the inside artwork which differs greatly from the slipcover, which is very similar to the novel. I like the warm ambiance and simplistic depiction of Jonathan, which seems befitting to the 70's artistic style. I'd print and frame it if I could get hold of a high-resolution copy.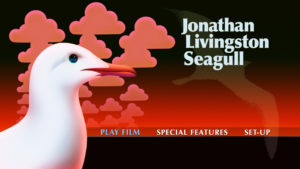 Since this will be my last review of 2020, I would like to take the opportunity to thank Imprint Films for their generosity since launching back in May. Much like other boutique labels, Imprint has given home viewers the chance to watch and discover many classic titles that might have otherwise gone unseen, including Jonathan Livingston Seagull. It's also important to note that there's still faith and viability in the physical media market, which is significant in light of the most prominent year for streaming services.
JONATHAN LIVINGSTON SEAGULL  
(1973, director: Hall Bartlett)
★★★½
Head over to the Imprint Films Facebook page for the latest releases, giveaways, great deals and more!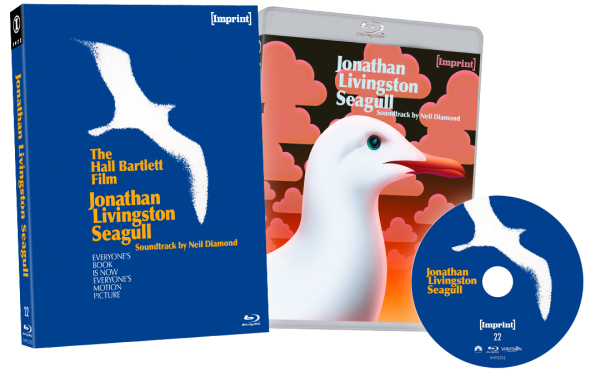 direct blu-ray screen captures
You can follow cinematic randomness on Twitter and Facebook where you'll find all my cinematic exploits. Thank you for visiting!