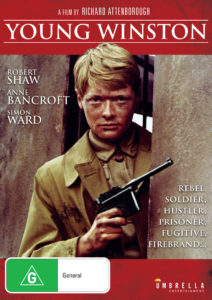 Needless to say, Winston Churchill has been immortalised on both film and television numerous times, often receiving a mixed response from historians and the general movie-going public. Although, the legend or myth of Churchill served Gary Oldman well in winning his overdue Oscar for Darkest Hour. 45 years' prior, the British leader's formative years were explored in detail in Richard Attenborough's biography epic, Young Winston, out now on DVD from Umbrella Entertainment.
Viewers follow 'Winnie' from his unhappy and regimented school days to military service in Sudan and the Second Boer War, followed by his entry into politics. Wedged between these pivotal chapters in the-life-of, are the complicated relationships and emotional turmoil endured by the young Englishman. Simon Ward plays Winston, who at the time was probably known mostly for his role in Hammer's Frankenstein Must Be Destroyed, which to his credit, is one of the better entries in that series. Ward does bear a striking resemblance to young Winston, even providing a spot-on voice impression of the older and most recognisable version of Churchill during the films multiple bursts of narration. In terms of overall performance, Ward is excellent and personifies the larger than life figure better than most have attempted before and since. Michael Audreson as 13-years old Winston is an extraordinary piece of casting due to his likeness to Ward; to the extent that one would almost assume he's a younger relative. The younger actor's performance is very earnest and helps smooth the transition to his adult counterpart. No expense was spared in this rather grandiose production, which in part comes inspired by the sweeping epic, Lawrence of Arabia, especially during the scenes of military exploits. Set design and locations are all very fitting and really do give a sense of authenticity, although, the film's narrative is somewhat long-winded and very dialogue-heavy; far from an action-oriented biography many probably expected. Seasoned performers, Robert Shaw and Anne Bancroft as Winston's parents, Lord Randolph Churchill and Lady Jennie Churchill, give the film balance and a degree of maturity that's counter to their wildly ambitious son. Despite a distant relationship, both literally and figuratively, the parental love and approval sought by Winston through the glory of achievements is a touching sentiment and very true of an aristocratic upbringing.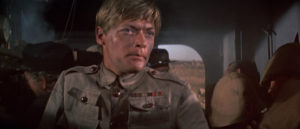 VIDEO AND AUDIO
While there's no menu screen, the quality of this region 4 DVD is impressive, which boasts a very sharp 2.35:1 image with decent colour and the Dolby 2.0 Mono track is one of the loudest I've heard on the SD format. English subtitles are not included, although it's worth noting that the disc is NTSC formatted, which adds considerable quality.
We often fall into the trap of taking history lessons from films and television series; The Crown being one latest prime example, but I feel Young Winston strives for accuracy even though I'm sure there are a few embellishments here and there for the sake of theatrics. While the film is quite lengthy, it's worth your time nonetheless.
YOUNG WINSTON  
(1972, director: Richard Attenborough)
★★★½
direct dvd screen captures
You can follow cinematic randomness on Twitter and Facebook where you'll find all my cinematic exploits. Thank you for visiting!