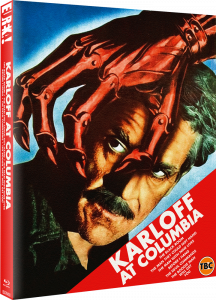 Boris Karloff might just have been the most gainfully employed actor of the 1930s and 40s. While he was appearing in sequels and gothic thrillers at Universal Picture he made what was presumably a short walk over to Columbia Pictures. It's here at the rival studio where he made six films over seven years, between 1935 to 1942, which are available on a two-disc Blu-ray set from Eureka Entertainment under Karloff at Columbia.
FILMS
The Black Room (1935)
The Man They Could Not Hang (1939)
The Man with Nine Lives (1940)
Before I Hang (1940)
The Devil Commands (1941)
The Boogieman Will Get You (1942)
I'm reluctant to say these six titles offer variety as most explore more or less the same idea, but they are, however, bookended by polar opposites that are equally entertaining. The Man They Could Not Hang, The Man with Nine Lives, Before I Hang and The Devil Commands all follow an idea of conquering death or reaching beyond the grave by way of radical science, with Karloff playing well-intended doctors on the verge of a breakthrough. He achieves re-animation in The Man They Could Not Hang, which becomes a rather elaborate revenge thriller after Karloff as Dr. Savaard is sentence to hang for the death of a colleague. Our lead's descent into madness is what gives the film its legs and is a character trait that Karloff is well-known for portraying.
The idea of bringing back the dead carries over into The Man with Nine Lives; this time using cryogenic science, which takes audiences to an underground dwelling where Karloff as Dr. Leon Kravaal works to perfect his method with some unwilling test subjects. I liked the setting for this title, which feels far more isolated from the others and the explanation for the abundance of ice from a glacial arm is actually realistic. Narratively speaking, we get two solid chapters and the lead up to meeting Dr Kravaal gives off Friday the 13th vibes with an ominous warning from the shore of a secluded lake.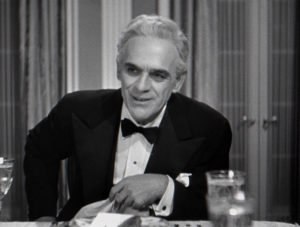 Before I Hang is I feel the least creative among this set and rather stagnant too. Karloff as physician, Dr. John Garth, creates a serum that has a very Jekyll-&-Hyde effect that's underwhelming and gets very repetitive for a movie that's only 61 minutes long. I think the issue lies within its execution, which clearly wasn't given much thought. The Devil Commands has a sinister side that's more on the surface with Karloff once again playing a scientist, but this time he's obsessed with communicating with his dead wife, following a tragic accident. While not particularly enjoyable, this horror and science-fiction hybrid is easily the most 'out there' with its concept and interestingly, Karloff is in some way the victim with a fraudulent psychic, played by Anne Revere, pulling the strings.
The Black Room gives viewers two Karloffs for the price of one, with the horror icon playing identical twin brothers who are connected to a centuries-old prophesy, which foresees the younger sibling murdering the older. Without giving anything away, there's an Edgar Allan Poe quality to this piece, which has a mild gothic atmosphere and Karloff excels playing both brothers of opposing personalities. The Black Room is clever, well-crafted and will keep you guessing. Changing up the tone entirely, The Boogieman Will Get You is comedy-horror and partly a parody of what we've seen in the previous five features. While trying to convert an old historic house into a hotel, a young woman and her fiancée endure the antics of the oddball inhabitants and strange goings on down in the cellar. Karloff shares the screen with Peter Lorre, who plays the local mayor with many hats, and a kitten tucked away in his jacket. With not much of a plot or story to speak of, the random series of events and odd moments exhibited by our characters are nonsensical at best; but for all intent and purposes, it's a lot of fun. Hilariously, there's still room for Karloff to play 'mad scientist' and in this case he's a precursor to Doc Brown, who is working to create "supermen", which I can't help feel is subtle dig at Nazi ideology.
Presented in 1080p and the original aspect ratio of 1.37:1, the overall quality of these six films are generally impressive given their age. While they're not all in pristine condition, clarity and sharpness is present for the most part, except for many outdoor scenes that have not help up as well. As for sound, it's naturally rather basic, but as they're no specific details on their sourcing listed by Eureka, there's not much more I can say other than each track is perfectly serviceable.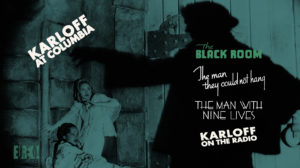 SPECIAL FEATURES
Limited Edition O-Card slipcase (3000 copies)
Presented in 1080p (All Six Films)
Optional English SDH subtitles
NEW Audio Commentaries on The Black Room, Before I Hang, and The Boogie Man Will Get You with Kevin Lyons and Jonathan Rigby
NEW Audio Commentaries on The Man They Could Not Hang, The Man with Nine Lives, and The Devil Commands with author Stephen Jones and author / critic Kim Newman
A LIMITED EDITION collector's booklet featuring writing on all six films by Karloff expert Stephen, film critic and author Jon Towlson, and film scholar Craig Ian Mann (3000 copies)
Eureka's art department deserves much praise for the cover design, that's well worth framing if you can get hold of a sizeable digital copy for print. It doesn't play up the horror too much, but implies a theme of one being taken over by madness. I recommend diving into the commentaries as three out of the six movies has Jonathan Rigby giving his interpretations, a man whose knowledge seemingly has no limit. I like to think this set will sell well, so I would definitely get in early, because missing out on the 25-page collector's booklet would be a shame. It's filled with some amazing production stills, excerpt from the scripts, and of course, the extensive writings are very informative.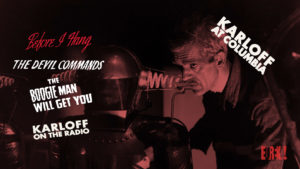 Karloff at Columbia is a wonderfully curated collection that encapsulates a very prosperous chapter in the career of Bris Karloff, who really must be admired for giving his all in practically every film he's made. I honestly can't think of a bad or even sub-par performance from the actor.
KARLOFF AT COLUMBIA  
(1935-1942, director: Various)
★★★★
direct blu-ray screen captures
You can follow cinematic randomness on Twitter and Facebook where you'll find all my cinematic exploits. Thank you for visiting!