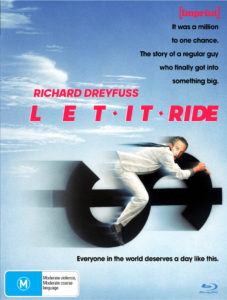 I attended my first family reunion at a racecourse when I was six. There were no horses in sight that day, but I remember sneaking over the rail to find countless hoof prints of impressive size and uniform. I'm not a gambler, but like most who aren't I often live the risk-filled lifestyle vicariously through movies. Let It Ride might just be the perfect title for that very thing, that's neither a cautionary tale nor an outright celebration of winning, but it has, however, made its worldwide debut on Blu-ray from Imprint Films.
Richard Dreyfuss is at his most excitable as a problem gambler, Jay Trotter, a broke cab driver whose horse comes in after hearing the word on a hot tip. Spurred on by his perceived good fortune and a rise in social status, he continues to try his luck, unable to stop as the stakes get higher.
Rather than dive into the many issues that arise from compulsive gambling, like having our hero spend the film dodging bookies and loan sharks, Let It Ride introduces us to a community of optimistic losers, exploring the contrast between their more successful counterparts. They convene at a low-key bar within close proximity to the local track. Why? Because the drinks are cheaper. It's here where Trotter and his fellow cab driver buddy, Looney (David Johansen), plan their next bet with what little they have while casually exchanging verbal jabs with other punters. Trotter's sizeable win on a longshot grants him entry into the more exclusive player's lounge overlooking the course and occupied with gamblers who can afford to lose. However, when a horse comes for one among this social group, the reaction far from celebratory and rather mean-spirited compared to the almost king's welcome our white-hot protagonist receives from his peers. In a subtle way, it plays into the thrill gained from needless risk as opposed to playing with nothing really at stake.
As a comedy, the film is very off-the-wall with Dreyfuss on eleven, constantly screaming into the sky and in the faces of the film's colourful supporting cast of characters, who themselves are hilariously eccentric. It's a day at the races that feels more like an open asylum in some instances, due to a somewhat absurdist approach to the story and antics. Teri Garr plays Trotter's long-suffering wife, Pam, who bookends the film. She isn't given much to do but serves as motivation for her husband to stop gambling, which is fleshed out in the deleted scenes, but according to the director, Joe Pytka, the studio wanted more comedy than substance. David Johansen, known famously as a member of the band, New York Dolls, is a fun, loud, and cartoonish sidekick with a thick NY accent and a face that's hard to miss. He lives up to his name, Looney, as he definitely acts like a member of the animated troupe. Allen Garfield, who sadly passed away last year, along with Jenifer Tilly and randomly, Michelle Phillips of The Mamas & the Papas, fill out the wealthier supporting cast, each equally as odd as those below.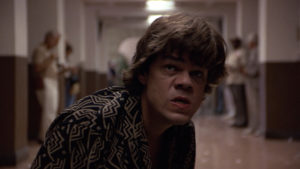 VIDEO AND AUDIO
Acquired from Paramount, the 1080p presentation is a nice upgrade from the DVD and makes for a decent debut Blu-ray with solid colour and an image that's very clean. It does however lack a bit of sharpness, which is most noticeable during some of the indoor scenes. However, segments filmed in the daylight, mostly out among the race track, make a positive impression and capture the wide array of colours common at a late '80s racetrack. The region-free disc's DTS 5.1 track sounds terrific, in particular the film's soundtrack.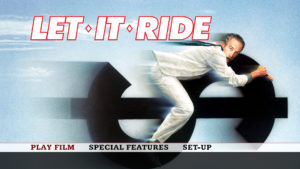 SPECIAL FEATURES
Audio Commentary by Film Historian Scott Harrison (2020)
"The Finish Line: Directing Let It Ride" – An interview with director Joe Pytka (2020)
Deleted Scenes
Theatrical Trailer
Limited Edition slipcase with unique artwork on the first 1500 copies
Scott Harrison begins his trivia-rich commentary with a few comments on studio logos, highlighting the presence and weight they carry when presenting the feature film. I can't say I've heard anyone take a moment to acknowledge the iconic emblems, but I certainly appreciated it. Harrison is very much a fan of Let It Ride, considering it one the most underrated 80s comedies, and to hear a commentary from that perspective is even more enjoyable. The Finish Line: Directing Let It Ride is a brief but informative insight into the film's production and its release, which was hindered by poor marketing on Paramount's part. Deleted scenes shed some light on Trotter's personal life, the longest being a revealing Gambler's Anonymous meeting, one that Joe Pytka wanted to be kept in the film. The source of is an old video master, so the quality is very poor in comparison with the film itself, but that's to be expected. Artwork doesn't vary too much, although Imprint's slipcase is more creative. I do like the insider cover, which is the very recognizable home video art that I probably glanced at every time I visited my local video store.
Imprint's bet on Let It Ride will no doubt pay off as the buzz surrounding this release has been very positive and the added prestige by the boutique label is naturally very enticing to long-time fans who are eager to upgrade their copy.
LET IT RIDE
(1989, director: Joe Pytka)
★★★★
Head over to the Imprint Films Facebook page for the latest releases, giveaways, great deals and more!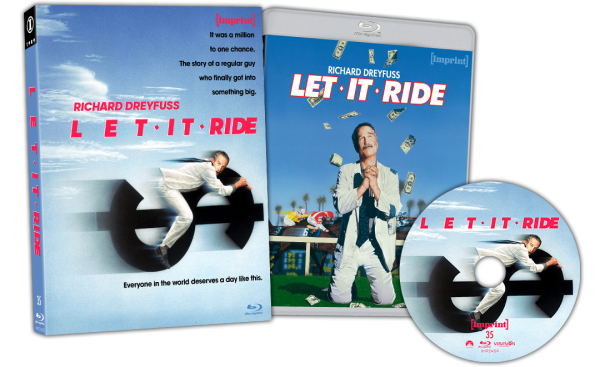 direct blu-ray screen captures
You can follow cinematic randomness on Twitter and Facebook where you'll find all my cinematic exploits. Thank you for visiting!