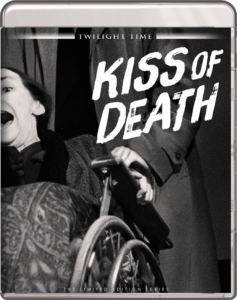 If you've ever wondered where many of those film-noir clichés come from, like sharply dressed gangsters and their snappy lingo, well look no further than Henry Hathaway's Kiss of Death, a genre icon. Currently on Blu-ray from Twilight Time Movies, leading man Victor Mature stars as a petty crook, Nick Bianco, who is persuaded to roll over on his accomplices for a more lenient prison sentence after a botched jewellery heist. However, before the enticing offer was made, Nick crossed paths with the notorious Tommy Udo, played by Richard Widmark in his debut role.
We quickly learn that Nick isn't your typical criminal, rather a man driven by desperation to support his family. His reality worsens after a three-year stretch behind bars without any correspondence from his wife. Despite his often sullen demeanour, he's a sympathetic lead who we want to see succeed upon beginning his new life outside, and the film does a great job of building the story around this idea of reform and newfound honesty. However, throughout there's a constant tension from those he's subsequently crossed, in particular Udo. Widmark's portrayal as the psycho killer has since defined the film, even overshowing Mature in the lead role. Twilight Time have capitalised on the character's popularity with a very jarring cover image pulled from the film's most disturbing scene. You never know where you stand with Udo, who's aggressive friendliness and devilish laughter maintains a level of high anxiety within the viewer. Stylistically, the film offers a broad range of striking shots, with cinematography that feels very modern for 1947, heightening the criminal underworld we find ourselves plunged into. Nevertheless, our story is one of redemption and while not everyone like Nick gets a lucky break, the Hollywood happy ending takes precedence over welcomed attempts to explore a moral grey area and scenes that dared to push the envelope in regards to implied violence, which haven't lost their impact.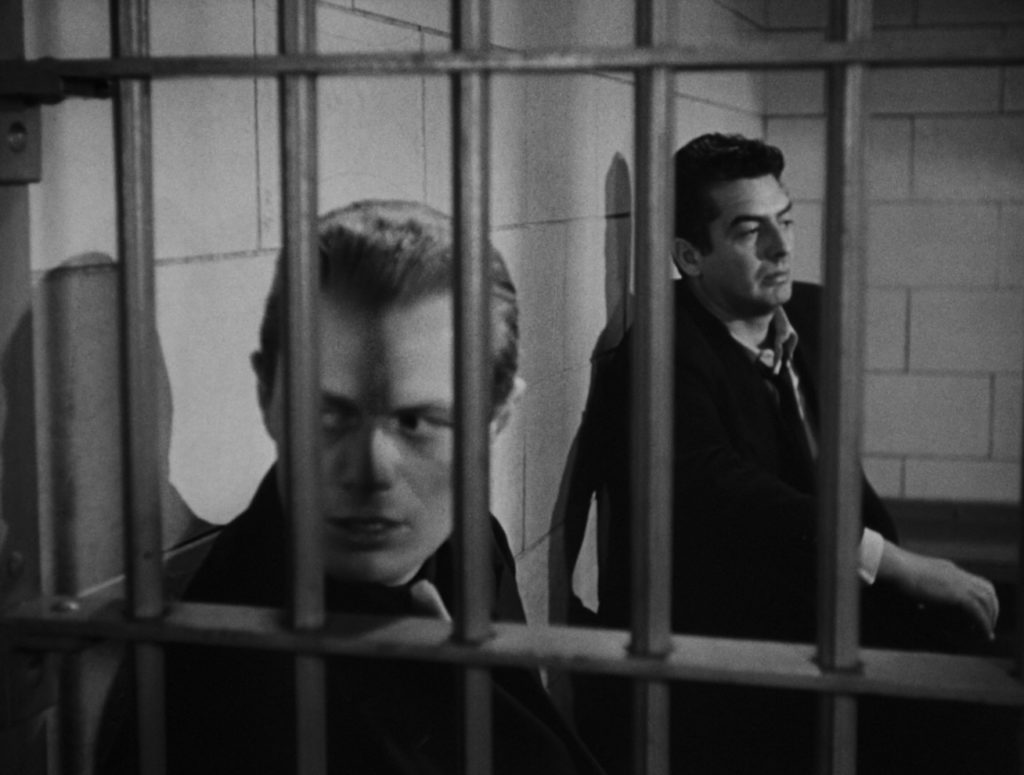 VIDEO AND AUDIO
Presented in 1.33:1 (4:3 pillarbox on 16:9 displays) Kiss of Death might just be the best looking feature among Twilight Time's extensive catalogue of black & white classics. Strong brightness, deep blacks and a gentle amount of film grain complements the image, that remains consistent from start to finish; while dual audio track 2.0 DTS-HD MA and 1.0 provide a clear and audible listening experience.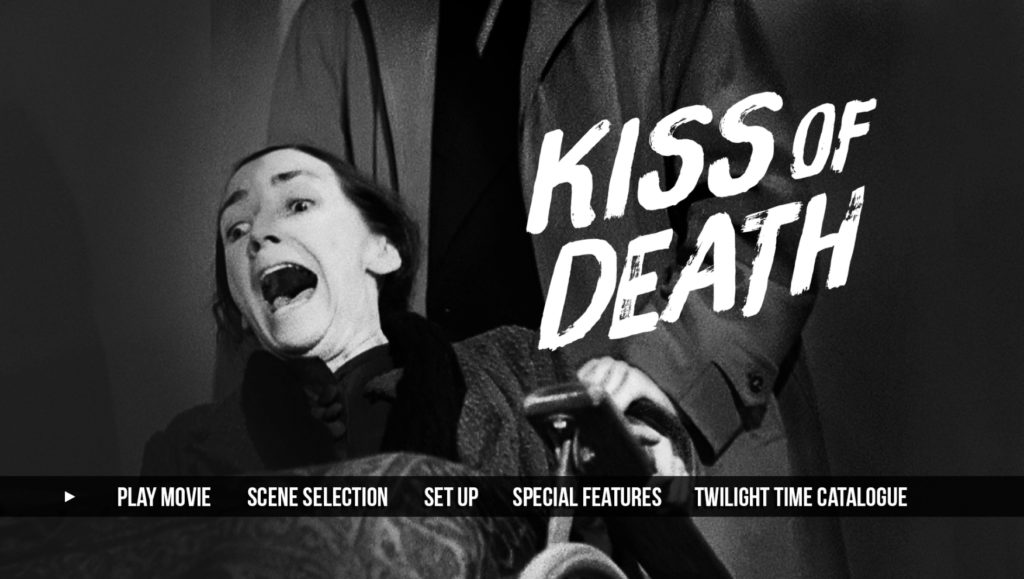 SPECIAL FEATURES
Isolated Music Track
Audio Commentary with Film Historian Julie Kirgo and Nick Redman
Audio Commentary with Film Historian James Ursini and Alain Silver
Original Theatrical Trailer
6 Page Booklet
Given the significance towards film-noir as a genre, it's only appropriate that this Blu-ray received two audio commentaries from four prominent film historians, including Twilight Time regular contributor Julie Kirgo. Her comments on Widmark's classic scene in which he pushes that helpless old woman down the stairs, presumably to her death, are quite amusing in how she describes the character's mindset and facial expression. Kirgo also provides the must-read essay inside the 6-page booklet, which leans towards the prowess of Tommy Udo via some stunning photographs. Staple bonus feature in the form of an Isolated Music track, is not without usefulness despite Kiss of Death being largely built on its dialogue and the original trailer helps to transport viewers back to the 1940s.
Kiss of Death has been available to buy since February 2017, limited to 3000 units, so if it's ringing your bell, snatch up a copy while you cane because this is one 20th Century Fox property you won't find streaming on Disney Plus.
KISS OF DEATH
(1947, dir: Henry Hathaway)
★★★★
direct blu-ray screen captures
You can follow cinematic randomness on Twitter and Facebook where you'll find all my cinematic exploits. Thank you for visiting!