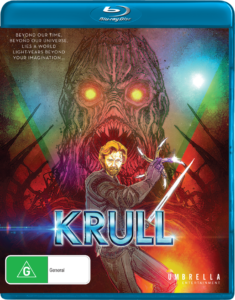 I had heard of Krull before, but never gave the lesser known title much thought as I was preoccupied with more prominent titles like Willow and Ladyhawke. What lead to me finally watching Krull was finding it listed among the '10 Best Star Wars Rip-Offs'. While it's far less obvious than others, the swashbuckling adventure is solid film in its own right and is out now on Blu-ray from Umbrella Entertainment.
Our adventure follows a young kingdom-less prince, Colwyn, who sets out with a fellowship of rag-tag companions to rescue his bride from a ruling force of alien invaders who are hiding inside an otherworldly fortress. Krull doesn't try to the hide its similarities with the galaxy far, far away and that's probably why it's able to stand on its own as an earthly-bound quest to vanquish evil with a loose extra-terrestrial element. Our characters offer a broad variety of antics, ranging from the mythical qualities embodied by the likes of Cyclops and Ergo, to the more scoundrel-like shenanigans from a band of rough-necks. Everyone is very quick to embrace their dangerous adventure despite some initial reluctance and the subsequent bond they form along the way sends a positive message to the films target audience. Produced on a fairly modest budget of $16 million, production value doesn't quite measure up to the 'Hollywood' standard, but the effort that's gone into the film is self-evident. Those behind the scenes clearly had great time working with a smörgåsbord of practical effects, which to be fair look a little dated for the time, but there's an innocent quality to them which makes them so appealing and fun to watch. Ken Marshall is a fitting choice as Colwyn, an everyman of sorts with a youthful spirit that resonates through the fast-paced narrative. Supporting cast all give notable performances and not one feels left aside, including a young Liam Neeson as the brave bandit Kegan.
VIDEO AND AUDIO
Much to my surprise, Umbrella have unfortunately cut a major corner by simply placing a label on what is clearly a Sony disc, menu and all. I'm not sure what lead to this decision, but given that the majority of their Blu-ray titles are produced entry from scratch, it's a disappointing effort. On a more positive note, picture offers dazzling colours befitting of underrated fantasy, with strong clarity and brightness throughout, while sounds resonate triumphantly, James Horner's score especially, under 5.1 DTS-HD MA. Presented in 2.34:1 widescreen, the disc appears to be optimised for region free playback despite stating otherwise.
SPECIAL FEATURES/BONUS MATERIAL
Cast and Crew Audio Commentary
Behind the Scenes Commentary
Journey to Krull Featurette
Marvel Comics Adaptation
Trailer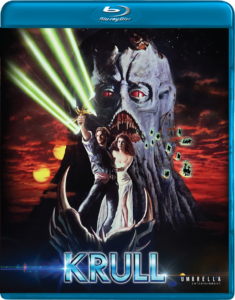 Mill Creek Entertainment released Krull last year under their exclusive 'Retro VHS' line with accompanying artwork, but the disc was bare-bones. Umbrella offer a modest selection of bonus material, with the vintage featurette Journey to Krull being the best slice in terms of 80s nostalgia. Marvel Comics Adaptation is an interesting look at film in comic book form, running for 38-minutes, but the icing on the cake is Simon Sherry's rainbow-esque artwork on a reversible sleeve with the original design minus the Australian ratings logo.
I'm glad that Krull is back in Australian's physical media market after a long hiatus since its original release on DVD over 15 years ago.
KRULL    
(1983, dir: Peter Yates)
★★★½
direct blu-ray screen captures
You can follow cinematic randomness on Twitter and Facebook where you'll find all my cinematic exploits. Thank you for visiting!