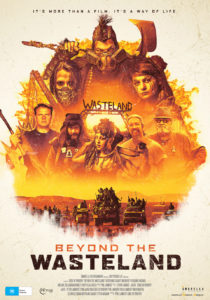 We seem to enjoy flirting with the apocalypse through film and television, from nuclear annihilation to plagues of zombies devouring humanity. Over forty years ago, film audiences were shown what a global cataclysm might be like if experienced in Australia, built on the frighteningly realistic premise of the world running out of petroleum told through the eyes of a weary antihero, Max Rockatansky, aka Mad Max.
Beyond the Wasteland is a documentary feature that focuses on the devoted and expressive fan culture surrounding director George Miller's enduring movie franchise. Filmed in Australia, USA, Italy, France, Japan, and Germany we meet a colourful variety of fans who have taken their love, or should I say obsession, with Mad Max to a whole other level, be it in the form of cosplay, prop replication or becoming a rogue scholar on the subject.
Much of the feature is centred around the very lively French-Australian, Bertrand Cadart, whose claim to fame is playing one of Toecutter's crazed biker underlings, Clunk. Sadly, for Cadart, he's battling stage IV leukaemia, although it hasn't dampened his spirit as he drives his V8 Interceptor from the Sunshine Coast to the filming location of Mad Max 2, Silverton, NSW which has become the "mecca" for fans to convene from around the world. It's between Cadart's pitstops that we get to know our other international subjects, like an American former pool cleaner who has become the Lord Humungus reborn in mind, body and spirit. Then on the flip side, we have a young Frenchman who, on a more intellectual level, redefines the term 'deep dive' with his extensive writings on the Mad Max universe, which he aims to compile into one complete book.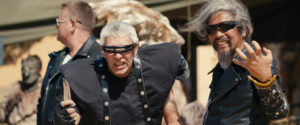 Despite having not much affection for the original Mad Max, I gravitate more to its first two sequels, I've always loved the subtle mythology that engulfs the story about a wandering individual in a world that's descended to motorised barbarism. I think it reflects the unique history of Australia as both a nation and a geological wonder. Iva Davies of Icehouse summed it up perfectly with the band's 1982 hit, Great Southern Land, "Anyone will tell you it's a prisoner island. Hidden in the summer for a million years." Beyond the Wasteland echoes this sentiment through the many faces who celebrate the highly unique cinematic vision of the future. Unfortunately, there's not much love shown towards Beyond Thunderdome, but understandably Mad Max 2 and the fuel-injected 2015 sequel Fury Road tend to attract more fans due to their outlandish and vehicle-centric style.
I haven't seen a documentary this inspiring and broad for a long time. Fan cult never ceases to be a fascinating subject, but this particular global community goes way beyond that of collecting multiple editions of home video releases along with the odd t-shirt and poster.

Beyond the Wasteland is now playing in selected cinemas across Australia – You can find all the dates and locations over at monsterfest.com.au
BEYOND THE WASTELAND
(2021, director: Eddie Beyrouthy)
★★★★½
production stills courtesy of Monster Fest 
You can follow cinematic randomness on Twitter and Facebook where you'll find all my cinematic exploits. Thank you for visiting!