In light of actor Anthony Hopkins' upset win on Oscar night, which wrapped around 1:30pm here in Australia, my partner and I finished our night by watching Ma Rainey's Black Bottom via the convenience of Netflix. Not only did the music/drama exceed expectations, but prove to be a rather poignant social dissection of a minority's status in white society during the late 1920s. Although the film was not without a few light moments, such a Ma Rainey's demand for a Coke to help cope with the Chicago summer heat.
Whether this detail was accurate to the real Ma Rainey or not, Viola Davis' incarnation of the blues legend creating indicated that she had quite the taste for the sugar-rich soda. I imagine she would have really benefited from Diet Coke, judging by the way she aggressively downed those green glass bottles, but the slightly healthier substitute did not hit refrigerators until 1982.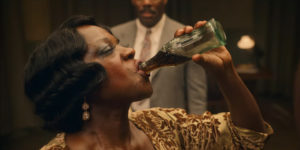 Ma Rainey's Black Bottom showcases a lot of energy from most of its cast, which Coke very well may have contributed, but nevertheless, the performances fromViola Davis and the late Chadwick Boseman are your reason to stream. Boseman lays it all out as the frustrated and insolent horn player.
You can follow cinematic randomness on Twitter and Facebook where you'll find all my cinematic exploits. Thank you for visiting!