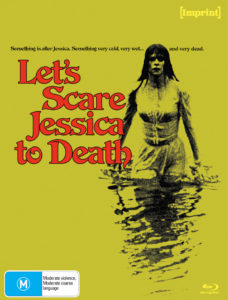 Imprint has taken a while with dishing out their horror titles, granted they did hit the ground running with a string of exclusive releases, but now in 2022 Australia's flagship label are catering more and more to fans of the most popular genre. Let's Scare Jessica to Death, an eerier and sleepy classic from Paramount, was among December's batch of psychological terror, in the company of Stir of Echoes, The Gift, Tam Lin and The Medusa Touch.
When released from a mental institution, Jessica, escapes the urban chaos of New York City with her husband, Duncan, and their friendly third wheel bestie, Woody, for the quiet life on a secluded little island in Connecticut. However, something's gravely off in their new environment as Jessica crosses paths with the supernatural, or is her fragile mind once again becoming undone?
I think we've all had that moment or film that's changed the way we look at horror movies. For me, it was Carnival of Souls, which was a lesson in subtly and ambiguity, and what you can do with a limited budget. Let's Scare Jessica to Death seems to be of the same school of thought, although the films' mystery never offers any form of clarity nor explanation, leaving its conclusion open to interpretation and debate.
Hints of an ominous nature occur early on as our trio take a ferry to their new home. They're greeted with an unfounded animosity by the elderly locals before arriving at their rundown farmhouse, purchased by Duncan; exhibiting a beautifully haunting quality. When inside they find a drifter, Emily, who has taken up residence. Her presence serves as the catalyst for the unravelling of events that follow, including the beginning of our protagonists' anguish. Suggestions of local legends and Jessica's fascination with the past elude to what may or may not hold sway over the seemingly forgotten community. Notes to vampirism are made, although not so much in the typical sense (I read it as a metaphor to those who become lost in the void that is insanity).
Zohra Lampert is astonishingly convincing as Jessica, who captures that slight manic persona of an individual who is forever questioning whether they're going crazy, and the relief they feel when what they saw is confirmed as real. Her co-stars, while played by a relatively unknown cast of actors, all contribute to the film's intended effect, especially Mariclare Costello as the almost spectral Emily.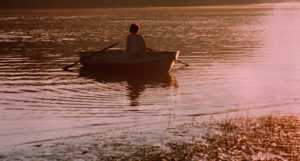 VIDEO AND AUDIO
Imprint have advertised the 1080p transfer as coming from Paramount Pictures, which I assume was also used by Scream Factory for their 2020 release and it's an impressive one at that. Watching it on a new 55" screen added even more life and quality the 50-year-old flick, which wasn't just limited to close up shots. Every scene had an eye-catching quality with vibrant natural colours and moderate film grain, adding much texture to the 1.85:1 image. The disc's LPCM 2.0 Mono track of course has its limitations, but two channels are always better than one, and in this case, sound is very clear, raw and robust in volume. English HOH subtitles are included.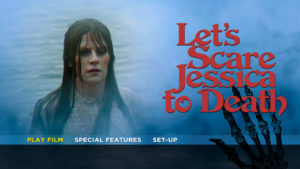 SPECIAL FEATURES
Audio commentary with director John Hancock and producer Bill Badalato (2020)
Audio commentary by Kat Ellinger, author and editor-in-chief of Diabolique Magazine (2021)
Audio commentary by film critic Kim Newman and film director Prano Bailey-Bond (2021)
Art Saved My Life – interview with composer Orville Stoeber
Scare Tactics: Reflections on a Seventies Horror Classic – interview with film historian Kim Newman
She Walks These Hills: Let's Scare Jessica to Death Locations, Then and Now – featurette
Theatrical Trailer
TV Spot and Radio Spots
Photo Gallery
Imprint's release of Let's Scare Jessica to Death comes with two new commentaries, one from Kat Ellinger which offers a refreshing female perspective to the woman-led horror feature, and another from Kim Newman whose love of the film is quite infectious! Newman goes further in-depth on his personal history as a fan of this psychological classic in a ported featurette from Scream Factory entitled "Scare Tactics". The two other supplements as well as a third commentary are also from the prior U.S edition but are welcome inclusions to this release. "Art Saved My Life" is a sit down with the composer of Let's Scare Jessica to Death who offers insight into the time period the film was made as well as his professional relationship with its director, John Handcock. "She Walks These Hills" depicts a location comparison, and while it's sad to learn the ominous house from the film is in such disarray, the featurette is a good example of how little small towns change in 50 years.  – by Hannah Lynch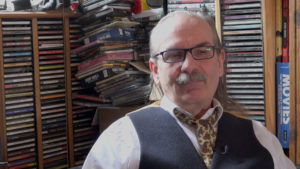 Let's Scare Jessica to Death washed ashore Down Under just as I had all but given up on importing a copy from the US. Imprint's release is a perfect 'collective edition' that merges previously produced bonus material with the label's signature packaging and design. I expect this one to soon sell out soon.
LET'S SCARE JESSICA TO DEATH
(1971, director: John D. Hancock)
★★★★½
Head over to the Imprint Films Facebook page for the latest releases, giveaways, great deals and more!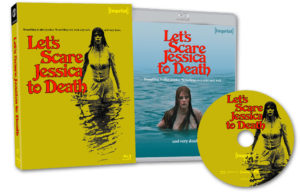 direct blu-ray screen captures
You can follow cinematic randomness on Twitter and Facebook where you'll find all my cinematic exploits. Thank you for visiting!