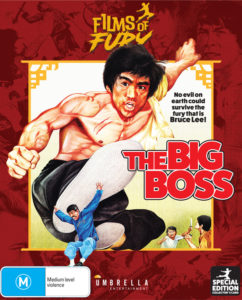 I remember being obsessed with Bruce Lee for a short while during childhood (somewhere between the Incredible Crash Dummies and Mighty Max) as the martial artist was enjoying a resurgence in popularity following the release of Dragon: The Bruce Lee "Story". Hollywood's take on the iconic figure has always been very summarised, but Umbrella Entertainment is bringing Lee's Hong Kong filmography back to home media with the launch of Films of Fury, beginning with the breakout title, The Big Boss.
Having sworn an oath against violence for his mother's sake, a young man works with his cousin at an ice factory, which unbeknownst to them is used as a front for criminal activities, controlled by a ruthless kingpin.
Lee had already enjoyed some marginal success in the United States as an actor before returning to Hong Kong as a calculated means of gaining more prowess as a movie star, by launching himself through the nation's popular film industry. So, you could imagine the slight torture his fans must have felt when introduced to a hero who refuses to fight, but fortunately, every man has a breaking point.
Even though the action is limited during most of this 100-minute Kung-Fu spectacle, there's enough of a story to keep you invested in our characters, who including Lee as Cheng Chao-an, are a pleasant clique of friends. Their ambition to work, rest, eat and enjoy the simple pleasures of life is admirable in contrast to their village's seedy underbelly of corruption, drugs and prostitution. Lee is a coiled spring of lethal energy and when he finally snaps, not only is it especially satisfying to watch the master at work, but the film changes gear dramatically, culminating in an intense final fight.
For a genre feature that's half a century old, The Big Boss' legacy may not be as substantial as that of world-renowned Enter the Dragon, but its influence is beyond question and as a vehicle for Bruce Lee's skill and ability as a physical performer, it's offered the perfect dose to audiences who were yet to discover the then rising star.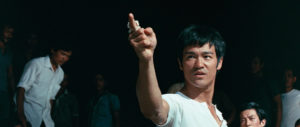 VIDEO AND AUDIO
While the source of this release is unclear, it's an amazing transfer both visually, and audibly. Presented in 2.35:1, the cinemascope image does have a signature bend through standard widescreen televisions, but in terms of quality, it's fantastic despite some minor damage to the film itself. There's a nice level of contrast, which seems to enhance the film's very vibrant colour pallet. Meanwhile, the soundtrack is varied, yet amazingly immersive in 5.1 DTS HD Master Audio; I was constantly tricked into thinking my neighbour's dogs were at it again, but it was in fact the background effects. Quality of dialogue is poorer in comparison, which in my case was on the Mandarin track, but the digital upgrade the film has undergone has improved the viewing experience immensely.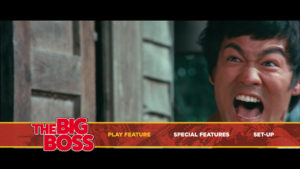 SPECIAL FEATURES
Feature documentary: Bruce Lee the Man, the Legend
Bruce Lee vs Peter Thomas
Interview with Tung Wai
Rare scene extension
Alternate openings
Alternate ending
Stills Gallery
Trailers
Umbrella's release of The Big Boss comes with an assortment of suppletory material found on previous releases of the film. Most notable is the inclusion of an HD restoration of the 1973 documentary Bruce Lee the Man, The Legend. While rushed, and a rose-tinted view of the martial artist, the production is an interesting curio for its footage of Lee's funeral, and clips he shot for Game of Death which wasn't released in its final version. Also available on this disc are two short featurettes, Bruce Lee vs Peter Thomas and an interview with actor Tung Wai, both of which appear to be from the early-to-mid 2000s. Alternate and cut scenes from The Big Boss round out the special features of this disc.
Umbrella really has taken their love of sub-labels to the next level with Films of Fury, which is a nice addition and counter to Beyond Genres, Sunburnt Screen, and Ozploitation Classics. The packaging itself justifies the purchase with its array of original artwork and theatrical posters, one of which is printed on a limited-edition collector's card. The Big Boss is a near-perfect release and the movie itself lives up to its reputation as a seminal Hong Kong classic.
THE BIG BIOSS
(1971, director: Wei Lo)
★★★★
direct blu-ray screen captures
You can follow cinematic randomness on Twitter and Facebook where you'll find all my cinematic exploits. Thank you for visiting!