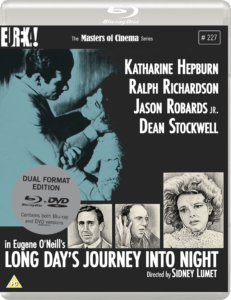 I hadn't heard of Long Day's Journey into Night until I came across the 1987 television production, days after Kevin Spacey's swift #MeToo downfall. While I couldn't help being fascinated by the subject matter, I was turned off by the actor's presence. Now, the first big-screen adaptation of Eugene O'Neill's classic play comes to Blu-ray for the first time in the UK from Eureka Entertainment under their 'Masters of Cinema' series.
Centred around the Tyrone family in their seaside Connecticut home, husband and wife James and Mary, along with their two adult sons; the eldest, James Jr. and Edmund endure a day of turmoil and heart-rendering pain. One that appears to have been a long time coming, concerning resentment and issues that have lingered under the surface.
It's not surprising that Long Day's Journey into Night is an intense dialogue-driven film given its four powerful performances from Katharine Hepburn, Ralph Richardson, Jason Robards Jr. and Dean Stockwell. To say the Tyrone's are dysfunctional would be a gross understatement as their idea of civil conversation is often laced with snide remarks pertaining to either one's affliction, shortcomings or past discrepancies. James Jr. is branded a failure by his parents for his lack of prospect and drive, while the younger Edmund seems to be looked on more favourably despite his deteriorating health. James Sr. laments over his days as an actor with bitterness over performing the same role in a play that he purchased, despite serving him well financially. The patriarch's wife, Mary, mentally wanders in and out as an elderly figure longing for her younger days in the convent, hopelessly addicted to morphine from what is implied to be a hang-over effect of postnatal depression. Over the course of a day, the family indulges in a cycle of conflict; spouting blame and accusation for their own failings. The three Tyrone men are alcoholics with a fondness for whisky, a bottle of which they regularly dilute with water after sneaking a drink, reinforcing the film's central theme of denial. Cleverly it's rarely seen out of frame as it beckons to the self-loathing trio throughout the picture. It's very clear that this harrowing story comes from a very personal place and will likely hit home for a lot of viewers as it did for me. Growing up, my immediate and extended family were burdened by alcoholism, but it was rarely acknowledged and never addressed, despite its destructive effects. Watching the film, I could understand the reluctance and fear to confront what was very apparent, despite it being obviously frustrating. Sidney Lumet's direction keeps the film confined to one location, true to the play, although the film opens outside of the Tyrone house overlooking the marina. Now, this could have simply been unavoidable, but it's clear the many boats out on the water are not from 1912. However, maybe we're watching a now ghostly family reliving the same day over and over again as if it were their own private purgatory. Performances are all exceptional, but it's worth noting that a young Dean Stockwell turns in what is arguably his best dramatic effort as the tortured Edmund. Jason Robards Jr. does what he does best: shouting with unbridled rage while Ralph Richardson puts on a dignified facade as the harmfully stingy head of the household, James Sr.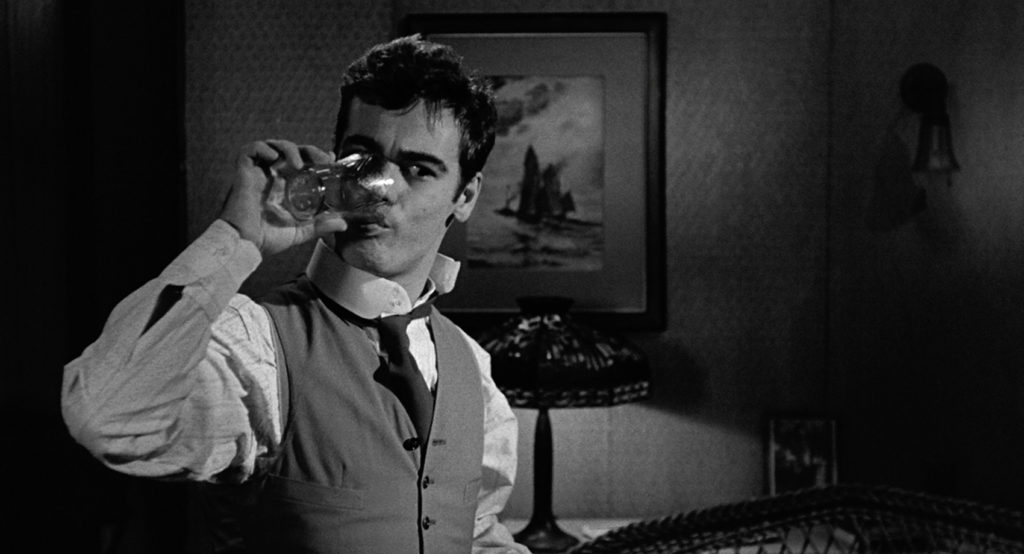 VIDEO AND AUDIO
Presented in the film's original aspect ratio of 1.85:1, the AVC encoded Blu-ray (Region B) disc has been sourced from a high-definition digital transfer with an LPCM 2.0 Mono (48kHz, 24-bit) audio track and includes English subtitles. The image itself is impressive, which brings out a lot of details, especially in close up shots, while the balance between black white is very solid, amounting to a very stable picture. Despite a basic sound treatment, it's more than adequate for the dialogue-heavy film and prevents the release from being too polished. In addition to the Blu-ray is a Region 2 progressive encoded DVD with English subtitles.
SPECIAL FEATURES
Feature-length audio commentary by author Scott Harrison
Sidney Lumet's Stage Adaptations – a video essay by Lee Gambin
Collector's Booklet – featuring writing on the film by Alexandra Heller-Nicholas, and Philip Kemp: and an archival article by Richard Combs on Sidney Lumet, which includes a short interview with the director himself.
Trailer
With a strong emphasis on film history and the source material by Eugene O'Neill, this versatile dual-format release of Long Day's Journey into Night is not only a worthy collector's item but perfect for any high school English class. Lee Gambin's video essay runs for roughly 30-minutes and takes the viewers through a slideshow comprised of theatrical posters and still images take from the various works by Sidney Lumet. Inside the case is a wonderfully coloured 27-page booklet that features a deep-dive into the film and behind-the-scenes by Alexandra Heller-Nicholas; who along Gambin are both prominent members of the film society, Cinemaniacs, in Melbourne, Australia.
Long Day's Journey into Night is a lot to digest over its near three-hour runtime, which can be daunting at first, but once you're invested you won't feel it and probably come out feeling better about the gripes you have with your own family.
LONG DAY'S JOURNEY INTO NIGHT    
(1962, director: Sidney Lumet)
★★★★
direct blu-ray screen captures
You can follow cinematic randomness on Twitter and Facebook where you'll find all my cinematic exploits. Thank you for visiting!