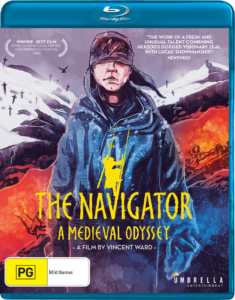 Originally slated as for release via Umbrella's exclusive label Beyond Genres: Worlds on Film last year, The Navigator: A Medieval Odyssey was unfortunately downgraded to a standard Blu-ray release in April. However, Vincent Ward's acclaimed adventure-fantasy returns to home video in impressive clarity with new bonus content, not to mention striking artwork from Simon Sherry, evidence of what was first indented. Beginning in 14th century England, men from a mining village seeking salvation from the Black Death are guided by a young boy's vision as they tunnel into the earth, breaking through to 20th century New Zealand.
The Navigator wastes little time in transporting the viewer to a world that's vastly different yet similar to our own, with characters who live in a constant state of hardship and fear of a dreaded plague sweeping across the land. Their devout religious belief gives them a heightened view of reality, allowing for the use of symbolic visuals pertaining to both the looming danger and sought after relief. Griffin is the film's central figure, a young boy who propels his adult peers from medieval to modern times. Much mystery surrounds the story and our main protagonist's heavy burden, which goes mostly unanswered, serving more as a means for affirmation of faith and divine intervention. During our time in the sprawling metropolis of modern-day New Zealand, the film takes on a light and somewhat playful fish-out-of-water narrative, with our band of explorer's navigating a world of endless amazement. However, the seriousness of their intended mission is not diminished. They never question their location as a future point in time, simply as something they've never seen before. Much like a child's first trip to the big city. Performances are very exaggerated, or so they seem next to those from the few present-day characters we encounter, but are powerful and carry a lot of weight, Hamish Gough as Griffin especially. While character actors such as Marshall Napier, Chris Haywood and newcomer at the time, Bruce Lyons, don't fail in making a memorable impression.
VIDEO AND AUDIO
Umbrella's HD treatments are very consistent with very few missteps and The Navigator boats a visual transfer that will likely never be topped within the 1080p realm. Heavy on film grain, the back and forth presentation of black/white to colour help to enhance the stunning contrast between the film's two distinct worlds, rich with detail and texture. Sound is a little low in volume via the 2.0 DTS-HD MA track, but the quality is far from poor and still gives off an immersive sensation throughout.
SPECIAL FEATURES
Path of the Navigator: Vincent Ward's Odyssey (An all-new 40-minute interview featurette with Director, Vincent Ward)
Trailer
Image Gallery
Considering the film's high concept, a bare-bones release of The Navigator would have been a travesty, but fortunately, we're treated to an extensive interview with Vincent Ward, who talks at length about the film. From his initial vision to the global response following its release. Ward provides great insight into the production, especially how he managed utilizes limited resources to achieve a look and aesthetic common found in a big-budget production. With the addition of an HD theatrical trailer, the disc is capped off with a nice 12-minute image gallery, featuring promotional and home video artwork, which I'm sure will evoke a lot of nostalgia from long-time fans.
The Navigator: A Medieval Odyssey offers visual splendour that's transcendent of conventional story-telling, illustrating ideas and poignant themes of despair and loss unlike many films before or since. We watch movies to escape, but this imaginative other-worldly journey will leave you feeling as if you've genuinely been somewhere else.
THE NAVIGATOR: A MEDIEVAL ODYSSEY   
(1988, dir: Vincent Ward)
★★★★
direct blu-ray screen captures
You can follow cinematic randomness on Twitter and Facebook where you'll find all my cinematic exploits. Thank you for visiting!