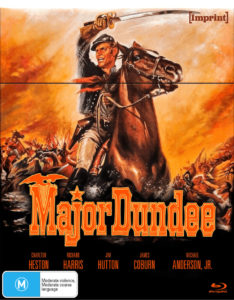 If you haven't heard of Major Dundee, don't worry, it's not related to Crocodile Dundee, but I wouldn't be surprised if the creators lifted the name for Paul Hogan's iconic character. Directed by Sam Peckinpah, this big studio Hollywood western was recently inducted into the Blu-ray catalogue of Imprint Films, already selling out on their web site, which isn't surprising given the calibre of this edition.
All-American leading man Charlton Heston is our titular "hero", and I use the term loosely, who takes it upon himself to conquer a marauding band of Apache. With a small army comprising of Union troops, Confederate prisoners and civilian mercenaries, Dundee illegally enters Mexico in pursuit.
Peckinpah's contribution to the western genre can be likened to that of John Ford. However, his hands were very much tied in the case of Major Dundee, by Columbia Pictures and their scissor-happy fingers. While we still get an enjoyable movie with a nice ensemble of characters, the story is a little vanilla and lacks the style synonymous with Peckinpah. There's no slow-motion and you can tell the bursts of violence have been edited down for tonal reasons; but there's still Warren Oates, even though his part is minor. We're invited along to play 'Cowboys and Indians' throughout the course of the film, under the notion that Native Americans have no place in the United States. I'd like to think Peckinpah's first cut gave us a less black-and-white interpretation, but I don't know. Heston had an intense rivalry with co-star Richard Harris who plays Capt. Benjamin Tyreen, an Irish immigrant turned Confederate officer. They share different attitudes and principles but maintained fragile mutual respect that is regularly tested. Harris's charming performance is a nice counter to Heston's very unpleasant demeanour, amounting to a magnetic duo each with their own personal goals. James Coburn as a one-armed mercenary, Samuel Potts, unfortunately, doesn't get a lot to do, but I suspect much of his contribution wound up on the cutting room floor. Major Dundee is shot well, showcasing the rugged terrain 'south of the border' with its dry climate that almost leaves the viewer feeling parched.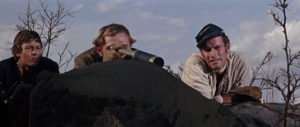 VIDEO AND AUDIO
Typical of Hollywood westerns filmed in Panavision, Major Dundee has a certain look, which is preserved by the 4K scan of the 2.35:1 image used on this very premium Blu-ray release, which has a rustic and dry colour pallet since the film was shot in Mexico. As far as sharpness and clarity is concerned, there's really nothing to fault as the image is very consistent overall. Sound makes the biggest impression in DTS-HD 5.1 Surround, which is very immersive for a film of its age. English subtitles are included and like all of Imprint's releases, both discs are region-free, ripe for the international market.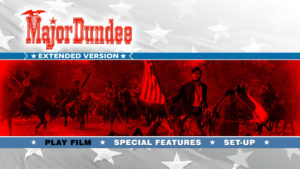 SPECIAL FEATURES
Includes the 2005 4K extended cut scan & original theatrical cut.
NEW 2020 Audio Commentary by film historians Glenn Erickson and Alan Rode (Extended Cut)
Passion & The Poetry: The Dundee Odyssey – Mike Siegel 's 2019 feature length documentary on the making of Major Dundee with L.Q. Jones, James Coburn, Lupita Peckinpah, Chalo Gonzalez & more. (76min)
Mike Siegel: About the Passion & Poetry Project – New English language version. Filmmaker Mike Siegel talks about his beginnings and his ongoing film historical project about director Sam Peckinpah. (40 minutes)
Passion & Poetry: Peckinpah Anecdotes: Nine actors telling stories about working with legendary director Sam Peckinpah. (30min)
English DTS-HD Master Audio 5.1 (new score by Christopher Caliendo) (Extended Cut)
English DTS-HD Master Audio 1.0 (original score by Daniele Amfitheatrof) (Extended Cut)
English DTS-HD Master Audio 1.0 (original score by Daniele Amfitheatrof) (Theatrical Cut)
Audio Commentary with Film Historians Nick Redman, Paul Seydor, Garner Simmons, and David Weddle.
Isolated score by Christopher Caliendo in DTS-HD Master Audio 2.0 stereo (Extended Cut)
Isolated score by Daniele Amfitheatrof in DTS-HD Master Audio 2.0 stereo (Theatrical Cut)
Extended deleted scenes/outtakes with commentary by Glenn Erickson
Original Trailers
Trailer Artwork Outtakes
Exhibitor Promo Reel Excerpt
"Riding for a Fall" vintage featurette (in color)
English HOH Subtitles
Major Dundee is by far the most stacked release from Imprint Films to date. Packed in a very durable and quality hard-cover box, that looks like something the Marlboro Man should be holding on Rodeo Drive, both the theatrical and extended cut come in separate cases with their own distinguishing artwork. Limited to 1500 copies.
Extended / Deleted Scenes are conveniently listed on the theatrical cover's rear, you know what you're missing, while the extended cut disc offers the bulk of bonus material. I recommend watching Passion & The Poetry: The Dundee Odyssey, which runs for around 75 minutes, and features some very candid interviews with some of the stars, supporting players and crew members. It's a documentary that adds a lot of value to this set and if you felt a little underwhelmed by Major Dundee, the retrospective address a lot of the issue that plagued the production, particularly the interference by the studio who had little faith in Peckinpah's vision. Riding for a Fall is a nice 7 minutes' vintage featurette that gives due credit to the many stunt men who worked on the film, which is nice considering they were never credited officially upon the film's release. I don't think I've seen this many audio options in a Blu-ray release, so if you really appreciate the art of film composing, you're in for a real treat with some isolated tracks and a new score.
There's always compromise when a film is produced from many areas, but there was clearly too much with Major Dundee. I would say watch the theatrical cut, as I think it would work much better for passing. Imprint Film's release warrants the purchase more than the film itself and its wealth of bonus material is a real cinematic history lesson. Major Dundee is still available at JB Hi-Fi, in stores and online.
MAJOR DUNDEE
(1965, director: Sam Peckinpah)
★★★★½
Head over to the Imprint Films Facebook page for the latest releases, giveaways, great deals and more!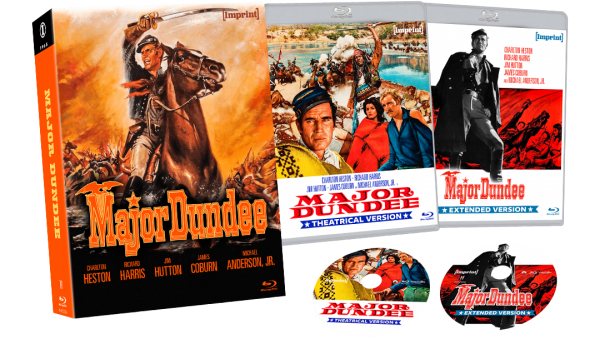 direct blu-ray screen captures (extended cut)
You can follow cinematic randomness on Twitter and Facebook where you'll find all my cinematic exploits. Thank you for visiting!