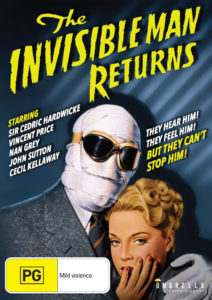 Umbrella Entertainment has added to their modest library of 'Universal Classics' with The Invisible Man Returns, out now on DVD; the first of four sequels in The Invisible Man film series. Vincent Price stars as the titular lead, Geoffrey Radcliffe, who's been falsely accused of murder, but narrowly escapes the hangman's noose when injected with the invisibility drug, replicated by Dr. Frank Griffin, the brother of the Claude Rains in the original film. Armed with his new ability, Geoffrey sets out to clear his name while his literal transparency is slowly driving him insane; an unfortunate side effect of the drug.
While often marketed as one of 'Universal Classic Monsters' The Invisible Man Returns is probably the least applicable as what we basically have here is a rather conventional crime-drama, but with the added novelty of invisibility. That's not to say it's an inferior entry, quite the contrary in fact. The film is easy to follow, it's nicely passed and the invisible gimmick is used regularly, but not in a hokey way. It never undercuts the performances nor the plot. Vincent Price is maniacal and unhinged as Geoffrey Radcliffe and while it's strange not being able to see the actor, his distinctive voice almost breaks down his see-through exterior. Sir Cedric Hardwicke is the film's true villain, who is very slimy as Radcliffe's cousin, Richard Cobb, who clearly has something to hide, which is quite ironic given the circumstances. The special effects still manage to impressive to this day; the mechanics of which are hard to figure out. Whereas these days, we simply just cite computer software as the primary tool used to make 'movie magic'.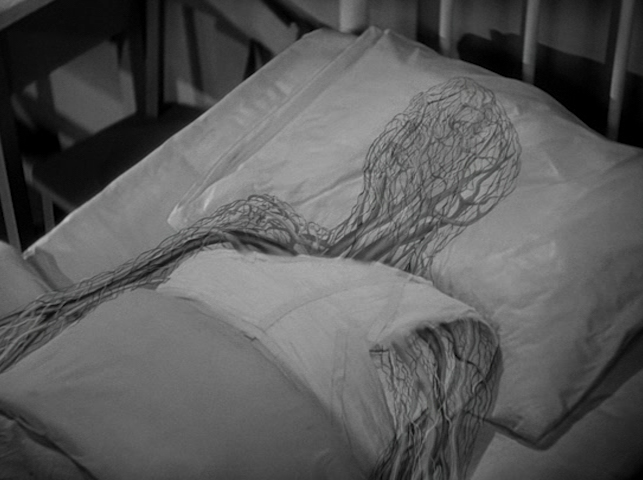 VIDEO AND AUDIO
NTSC formatted and sourced from a remastered print, this is an exceptional DVD transfer from Umbrella Entertainment that offers a very clean 1.33:1 presentation of the film. One could argue that DVD is actually the best format for this particle film series, as a lot of practical film-trickery is still relatively hidden compared to HD editions, which often prove to be a little too revealing. The Dolby 2.0 Mono track is very stock -standard for films of this era; they're serviceable, but you won't be blown away by them.
The Invisible Man Returns is a solid follow-up, which has some connective tissue with the original, but is not a continuation. Vincent Price makes the character his own, allowing the film to stand further apart from the more elaborate and less grounded sequels.
THE INVISIBLE MAN RETURNS
(1940, director: Joe May)
★★★
direct dvd screen captures
You can follow cinematic randomness on Twitter and Facebook where you'll find all my cinematic exploits. Thank you for visiting!